Uma Thurman and Celebrity Powder Mishap Pictures and Tutorial
3 Easy Ways to Avoid Makeup Powder Mishaps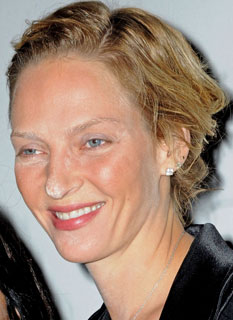 Poor Uma Thurman! It's unclear why someone with skin as gorgeous as hers even needs makeup, but last night she became the latest victim in a rash of celebrity powder mishaps that show just how easy it is for powder puffing to go wrong. I empathize. Something like this has happened to most people at some point or another, and most of us are just lucky there aren't paparazzi photographs to prove it. So how do you prevent yourself from becoming a member of the powder brigade? For a few easy tips, just keep reading.
Use a setting powder instead of a mineral powder: Setting powders have more pigment, so you're less likely to get that "white out" effect.
Take a picture of yourself before you head out: If you know you're going to be photographed, this will really help show you any inadvertent lit-up spots.
Blend, blend, blend: Even once your powder looks pretty even, take a couple extra seconds to fully pat or sweep your powder down into your skin. Doing so will help it last longer, too.