Uma Thurman Pulp Fiction Halloween Costume
Halloween Costume Idea: Mia From Pulp Fiction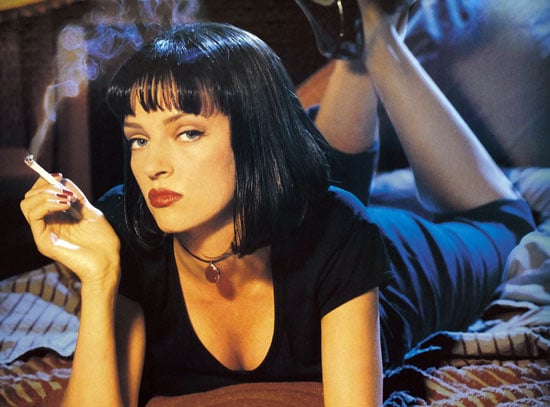 The costume: Mia Wallace
If ever there was an easy-to-put-together Halloween costume, it's Uma Thurman's Mia Wallace character from Pulp Fiction. And if ever there was a sexy movie poster, it's this one. (Well, smoky treat aside.)
Hair and makeup: Uma famously wore Chanel's classic Vamp nail polish for the flick, and Revlon's red-black Vixen polish is another possibility. Of course, you'll also need a black, pageboy-style wig and plenty of '90s-trendy brick-red lipstick. To finish, use a touch of black liner and mascara to set the bad-girl mood.
What to wear: All it takes is three basics: a black v-neck t-shirt, capris, and a pair of sky-high stilettos. Add a black, corded choker with a red pendant, and you'll be Quentin Tarantino's latest muse in no time flat.
Take it to the next level: Speaking of flat(s), for a Jack Rabbit Slims Twist Contest version, just substitute the heels for black flats, and the black tee for a long, white button-down. And you really want to get gory, carry around a faux needle for your shot of adrenaline later on in the evening.