Urban Decay Longest Lasting Lipstick
What We're Sweet On: Lip Color That Really, Truly Doesn't Quit
As POPSUGAR editors, we independently select and write about stuff we love and think you'll like too. POPSUGAR has affiliate and advertising partnerships so we get revenue from sharing this content and from your purchase.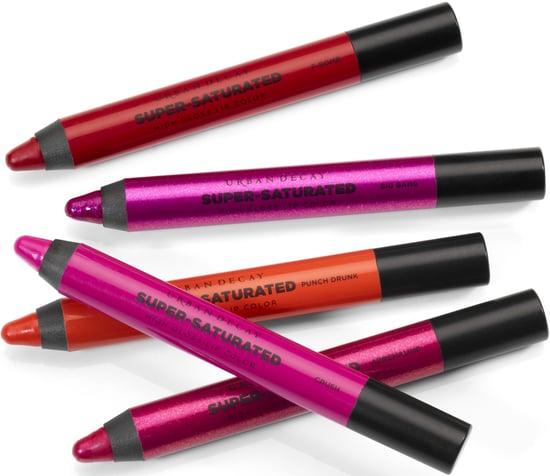 Forget long wear lipstick and stains. Right now, we're wondering if we'll never need to reapply again. When we tried Urban Decay Super-Saturated lip color ($19), we expected it to be bright, but we didn't expect it to last through breakfast, lunch, and snacks seemingly unfazed. In fact, we just assumed it had worn off when we caught ourselves in the bathroom mirror and realized that it was still there and almost as vivid as it had been six hours before. It's almost like it was challenging us.
The secret to its invincibility appears to lie in its massive pigment payoff. We've been applying the orange and fuchsia shades (Punch Drunk and Crush, respectively) together to create a custom neon pink, then blotting and pressing it into our lips for a matte finish. And even after that, the stuff's so highly pigmented that it stays around for the rest of the day. It's much brighter (and longer lasting) than almost any lip stain we've tried.
The only downside is that the high opacity limits the color's versatility. You can blot it down or try to dilute it with gloss, but you'll be working a long time before you get any kind of sheer or subtle result. Still, we'd never knock anything with this much staying power, and if you love vibrant lip color, you may finally have met your match. We know we did.