Vampire Perfume Now Actually Exists
Is This What Eric Northman Smells Like?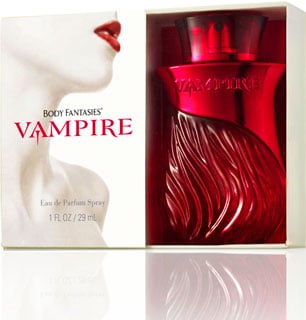 Have an intense desire to become a sparklevamp, but at a loss for how to get bitten? Well, Body Fantasies, the drugstore perfumer you may remember from middle school, has just the thing. Its new scent, Vampire ($13.50), is sure to have any nearby monsters prowling for you. According to the box, Vampire "incites notice, comment, and, inevitably, desire." Inevitably!
While it's slightly preferable to wearing a bulb of garlic, most people over the age of 11 probably aren't going to find it toothsome (or fangsome, as the case may be). However, it would make an excellent gag gift for your favorite Twihard or True Blood fan, and it's a masterpiece of zeitgeist-y marketing. Well played, Body Fantasies. Well played.