Vena Cava Fall 2011 Beauty Report
Vena Cava Goes Back to the '90s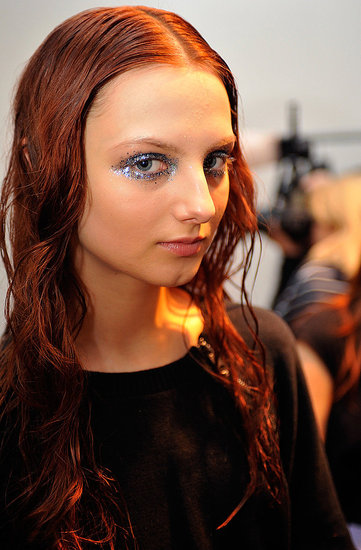 Reignite your dormant Jordan Catalano crush, because at Vena Cava, it was all about the '90s. See more photos and the full rundown after the jump.
Makeup: MAC makeup artist Christian McCulloch created a grunge-inspired look in a palette of gunmetal slate-petrol blue but glammed it up with glitter. Eyes were decorated with a mixture of art store sparkles and MAC Glitter in 3D Silver, Silver and Purple Reflects. "[The look is] on the way to being strung out, but before we get there," McCulloch explained. The chunky glitter combined reflective and matte iterations. (Yes, matte glitter.) An Aquaphor-esque emollient served as an adhesive for the glitter, which McCulloch pressed on with his fingers, using a brush in the lash line. MAC Strobe Liquid highlighted the cheekbones of the models' otherwise clean, fresh skin. Nudish pink lips completed the look.


Nails: Nonie Crème is officially the Donald Trump of hand real estate: Working for Butter London for Beauty.com, she changed the nail game by painting rings of polish onto the models' fingers just below the first knuckle. "It's like wearable art; you allow it to deconstruct," Crème explained. Three to four rings per finger were painted, with no more than two fingers per hand. "It's great to polish an area where you can't wear jewelry because it would fall off," Crème noted. Shades included Royal Navy, Scoundrel, Flouro, Tramp Stamp, and Union Jack Black, and the talons themselves were glossed with a crisp top coat.
Hair: Ted Gibson for Beauty.com was inspired by '90s grunge with a Christy Turlington interpretation (an inTurlitation?). Hair was center-parted and coated with a mix of Ted Gibson Tame It Shine Lotion and Fix It Gel emulsifying in the hands before being applied to the part and ends. "It looks grungy, like, 2-, 3- or even 4-day-old hair," Gibson explained. "It's not about being pretty and soft." Models wore berets on the runway, showcasing a wavy texture on the bottom of the hair. Ted achieved the look by working the product through the locks before blow-drying and twisting the hair around his fingers to create a ropy, gummed-up constitution.