Backstage before the 2015 Victoria's Secret Fashion Show [1], lead makeup artist Dick Page was shaking his head. "We've got some naughty Angels who are sneaking off and doing things," he mused.
We asked him to clarify.
"The girls sneak off and they contour!" he joked. "They just ignore me. They're naughty, they're bad. But mostly, if I had my way, it would be they just look really fresh and healthy. They're wearing wings for Christ's sake. They're wearing wings, and bras, and panties. It's a spectacle, but there should be honesty about the beauty."
This was not Dick's first time heading up the makeup for the show, so he felt comfortable kidding around. Before these bad-girl Angels added their own flair, he gave them all romantic no-makeup makeup looks.
"There's nothing graphic or sharp about it," he said of this year's inspiration. "Everything is transparent."
He was also influenced by this year's diverse crew of models. "There's a great table of girls — a great range racially and stylistically. It is a nice broad spectrum, so I don't really want to screw that up," he said.
Keep reading to learn how to DIY [2] the makeup from this year's show, all illustrated by Dick on model Flavia Lucini.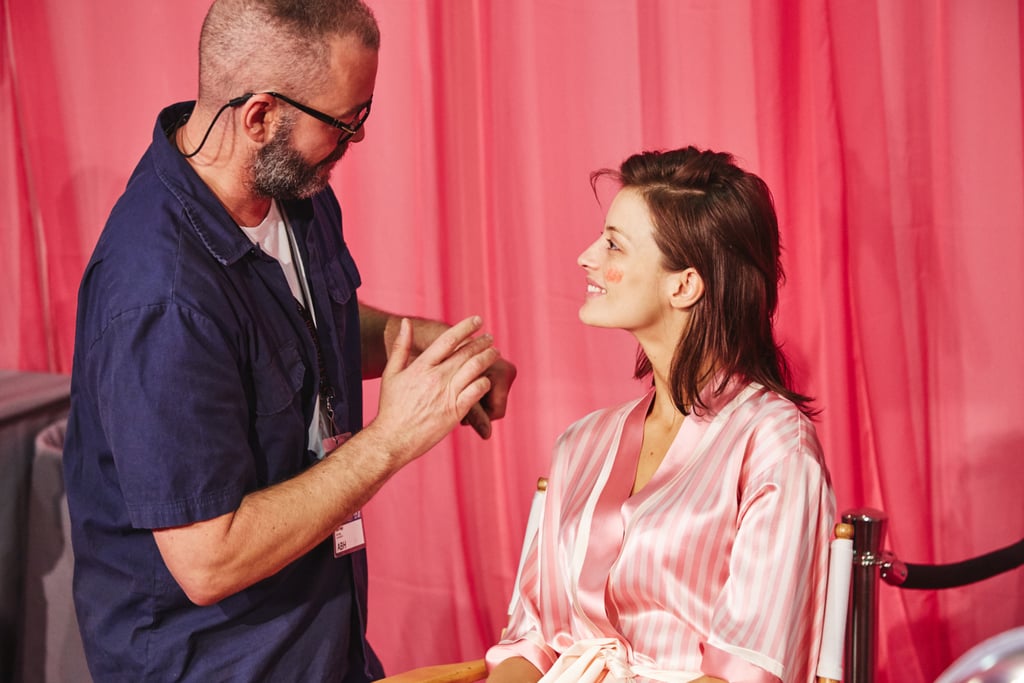 "It's super simple — starting with red," Dick said. "The red color on the cheek is the main event for me. That's the thing that makes the girls look so healthy and fresh."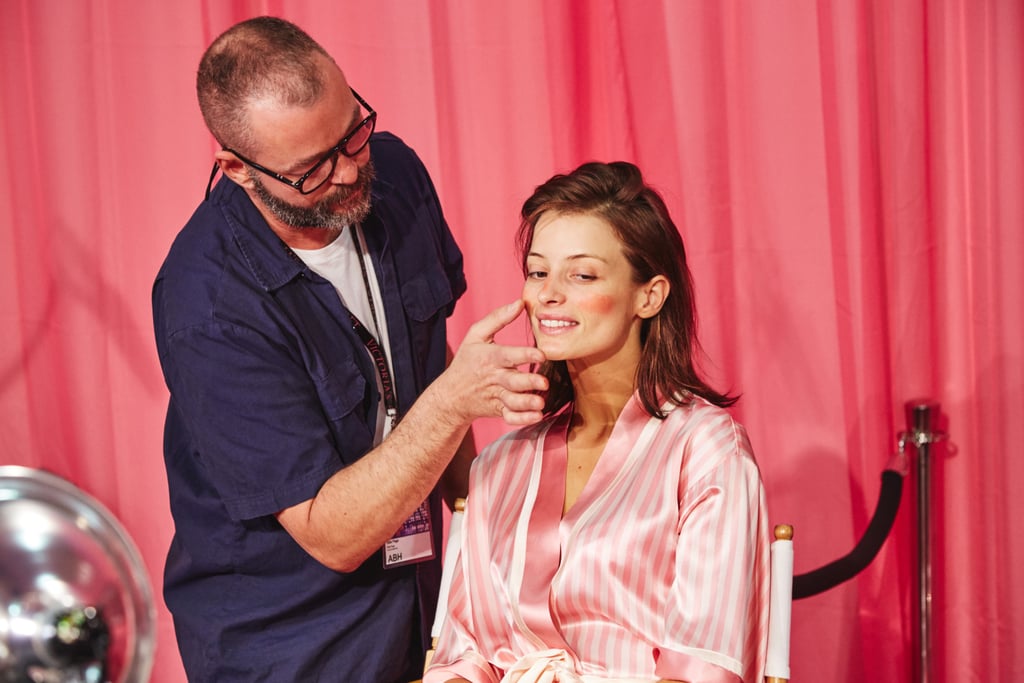 Here, he applied a rouge cream blush.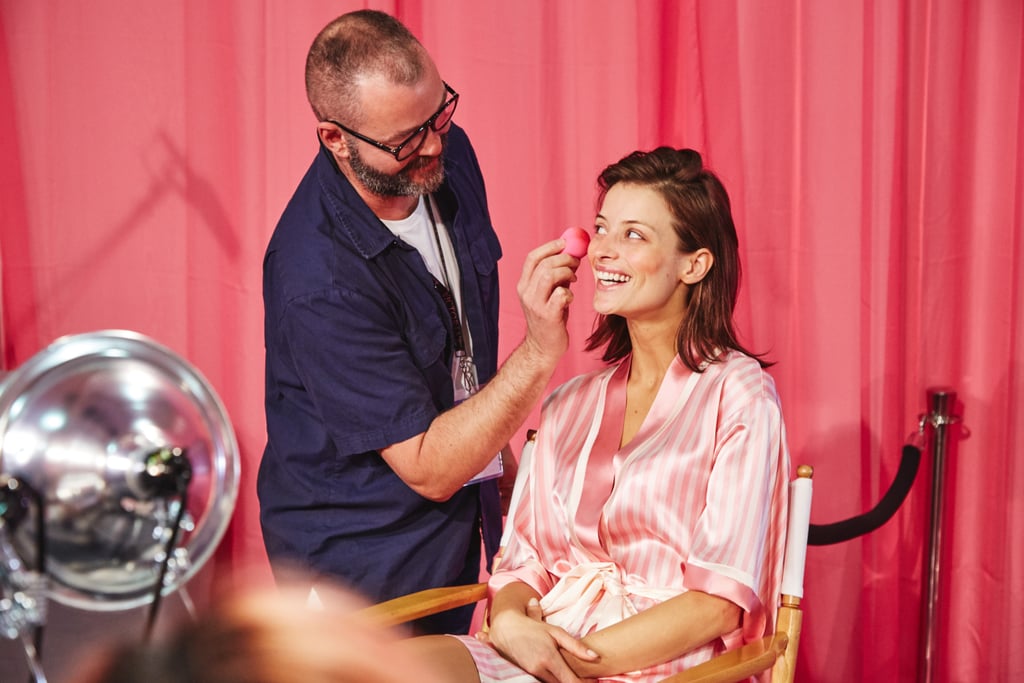 He diffused it with a BeautyBlender sponge [3].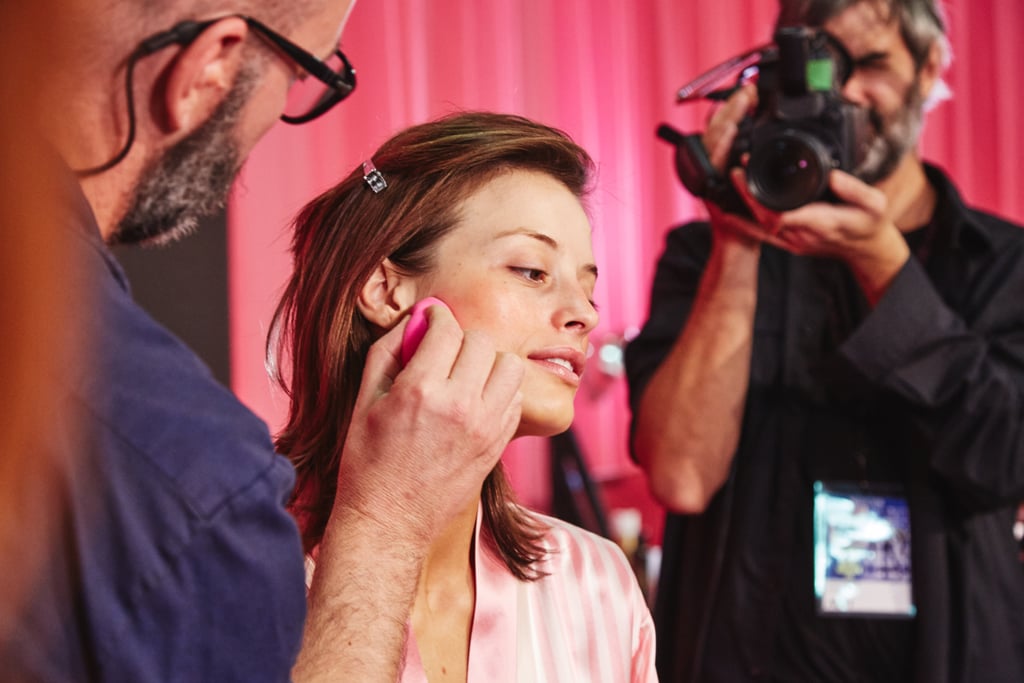 The color popped against the apples of her cheeks.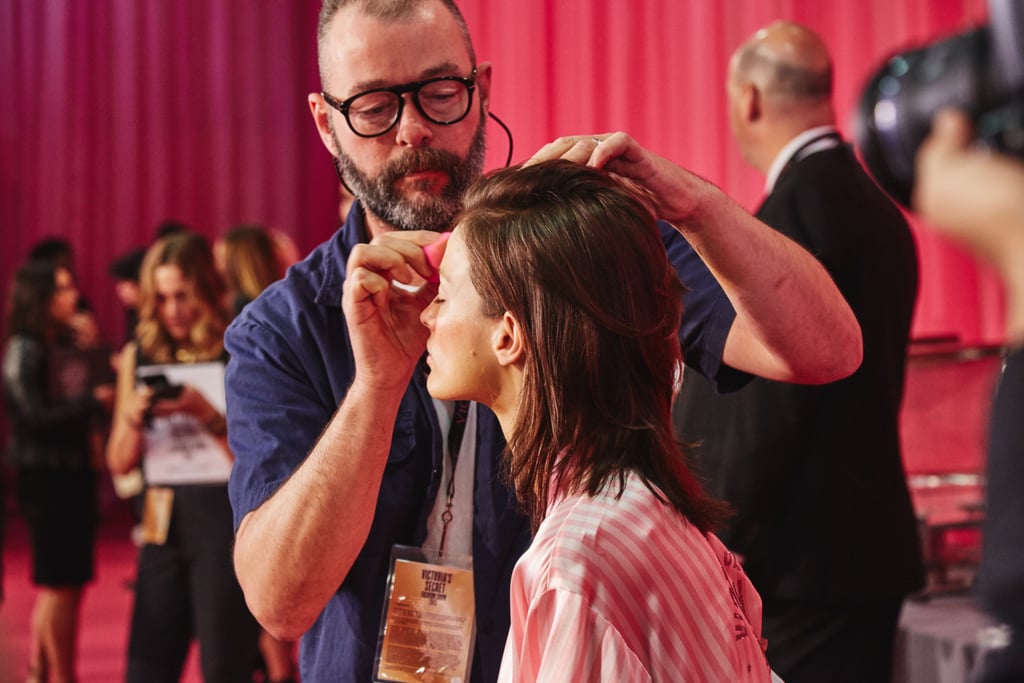 "I [apply blush] before foundation," Dick explained. "Dot a little bit on the nose, a little bit on the girl's smile, and blend it out. [Just use] a little bit of foundation."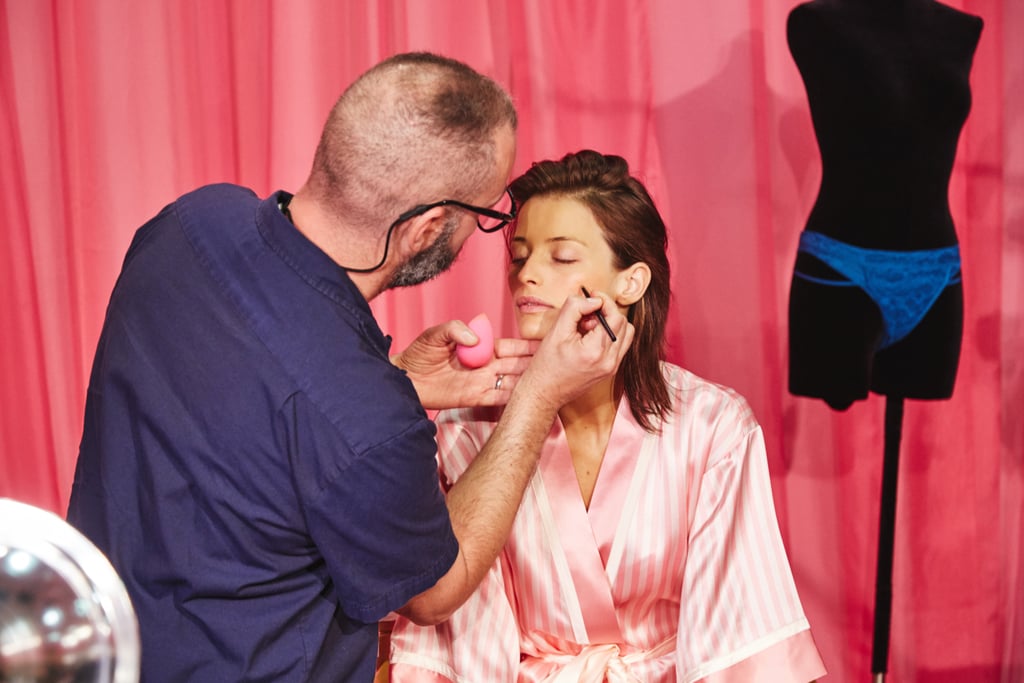 "The main thing is the foundation is [that it] warms up the face, because quite often the bodies are brown and the face is still pale," Dick noted.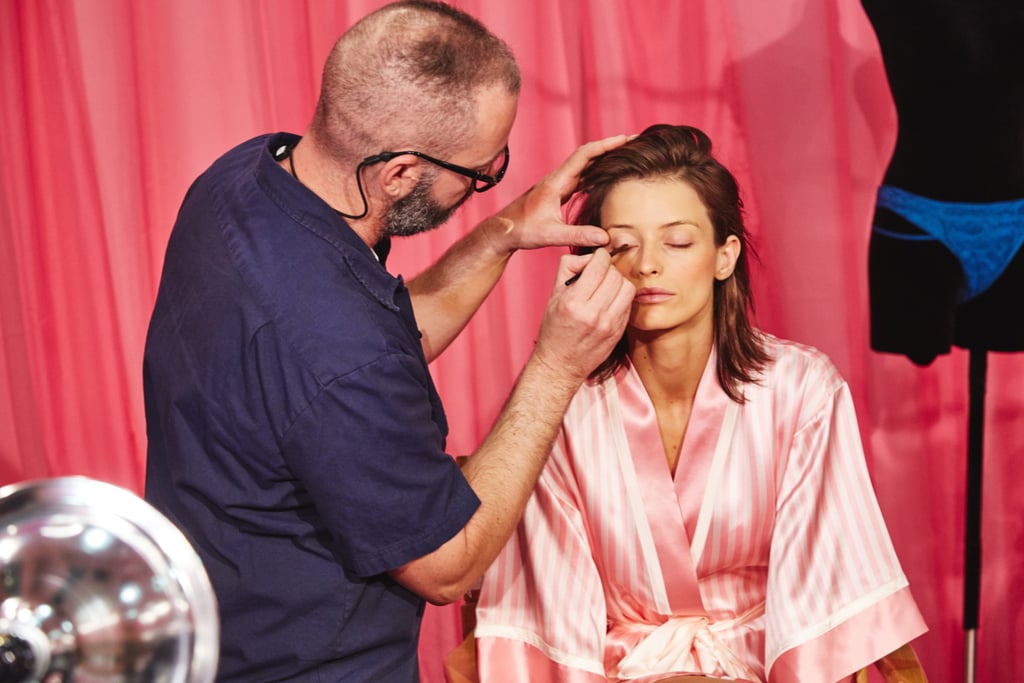 Dick described the eye shadow as "a trace of greenish-gold brown."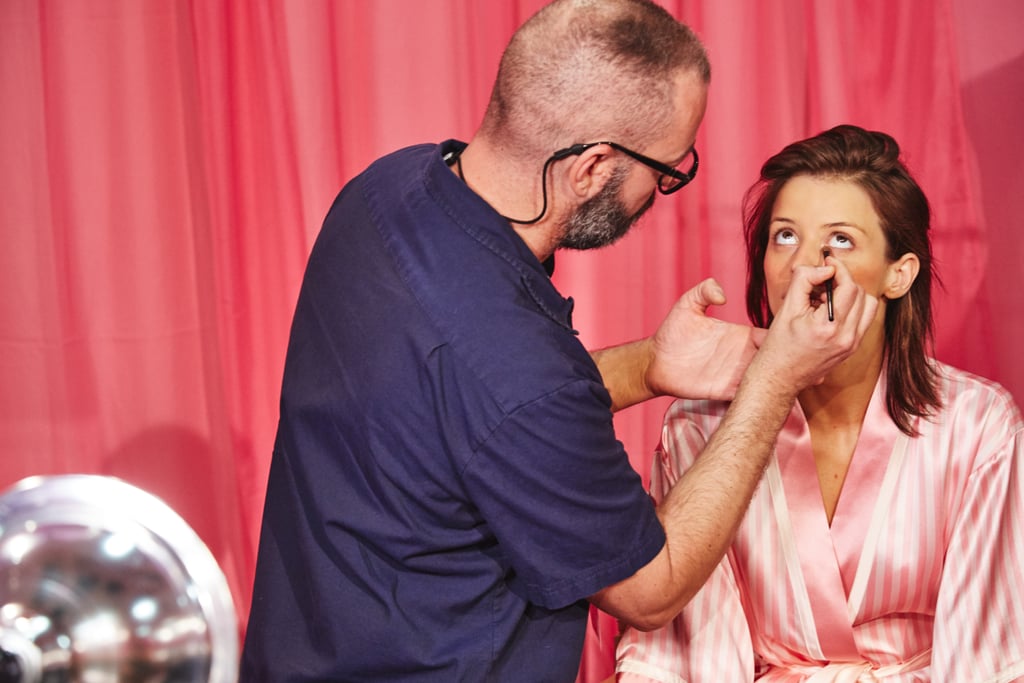 He added a "little flash of highlight on either corner of the eye." He described the color as pearl with a bit of violet gold.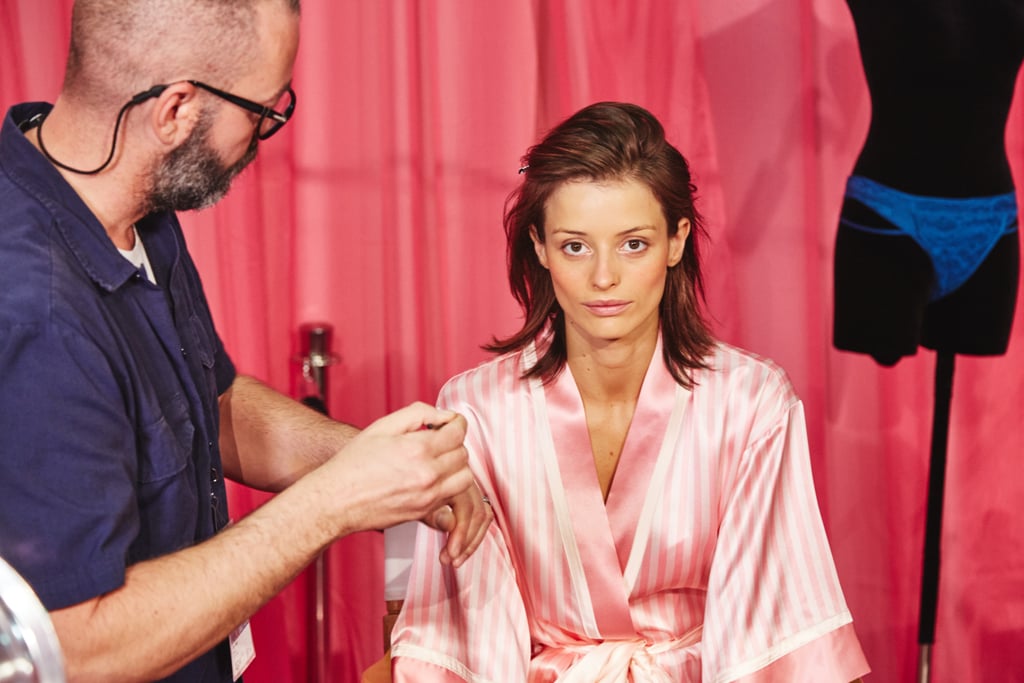 The highlights made her features look ethereal.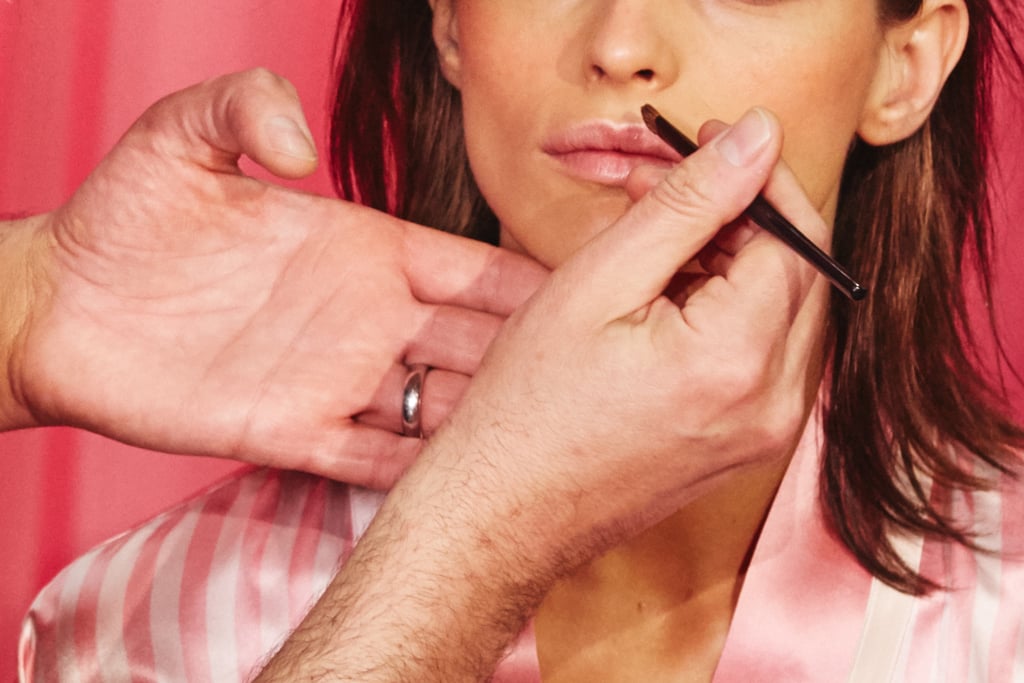 He dusted highlighter on the Cupid's bow of the lip.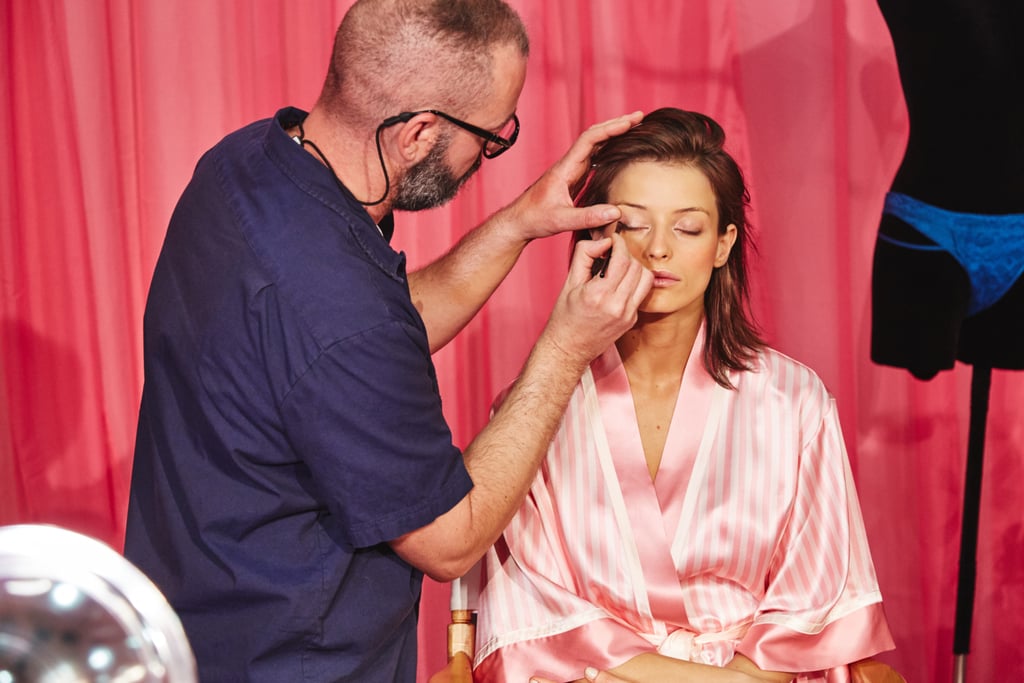 Dick added a bit of black liner above and below the eye. "It's a cream liner that's quite liquid-y and it dries down," he said.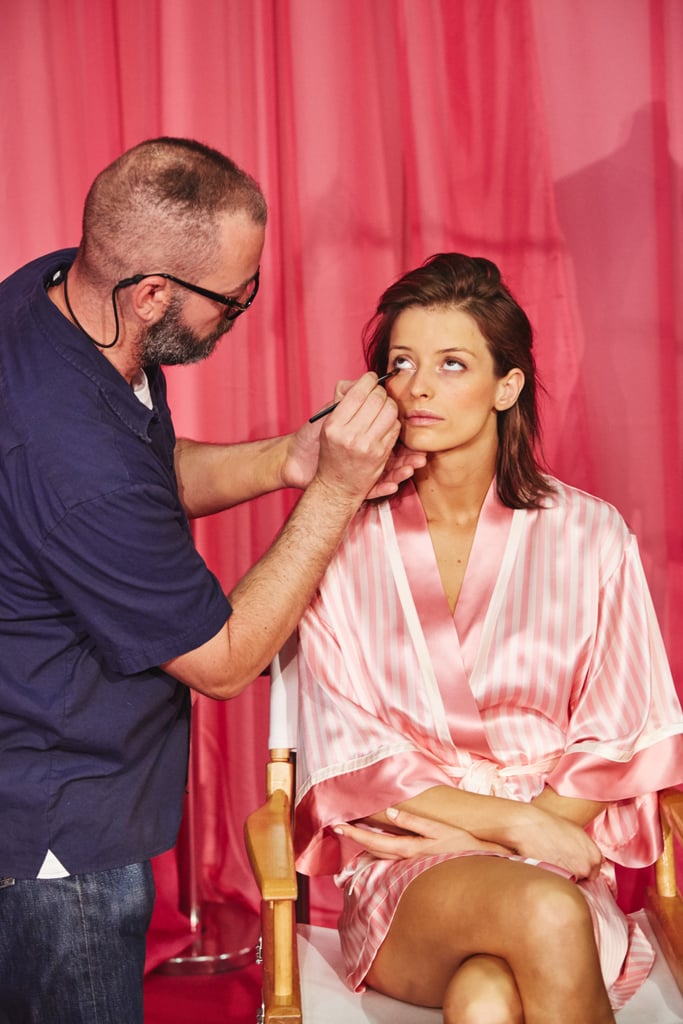 Here is another eyeliner shot.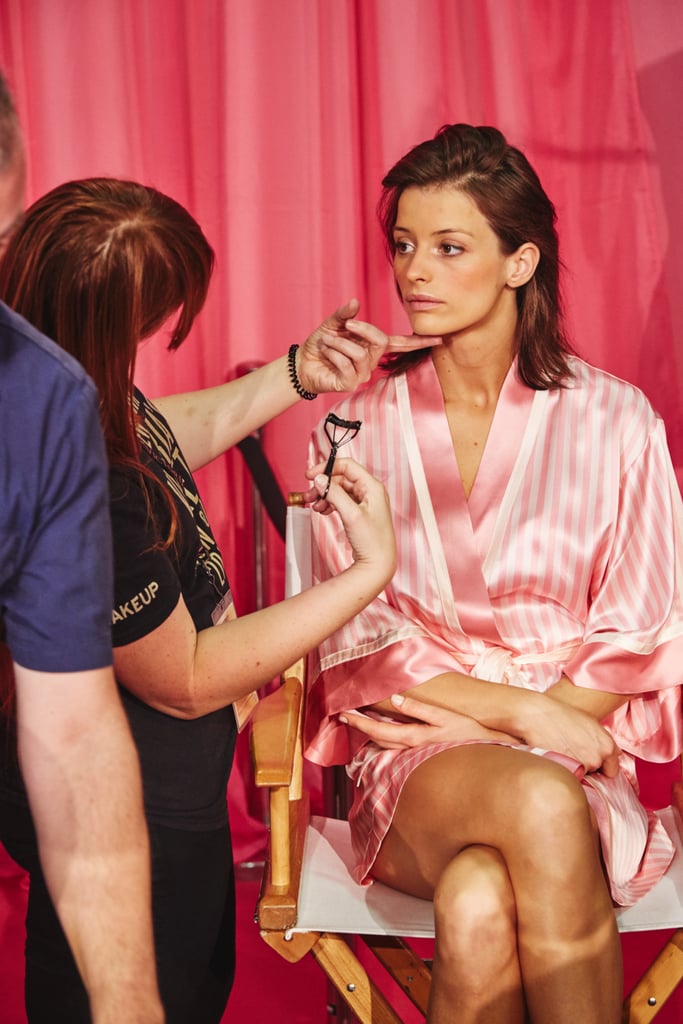 Eyelash curlers are essential for flirty lashes.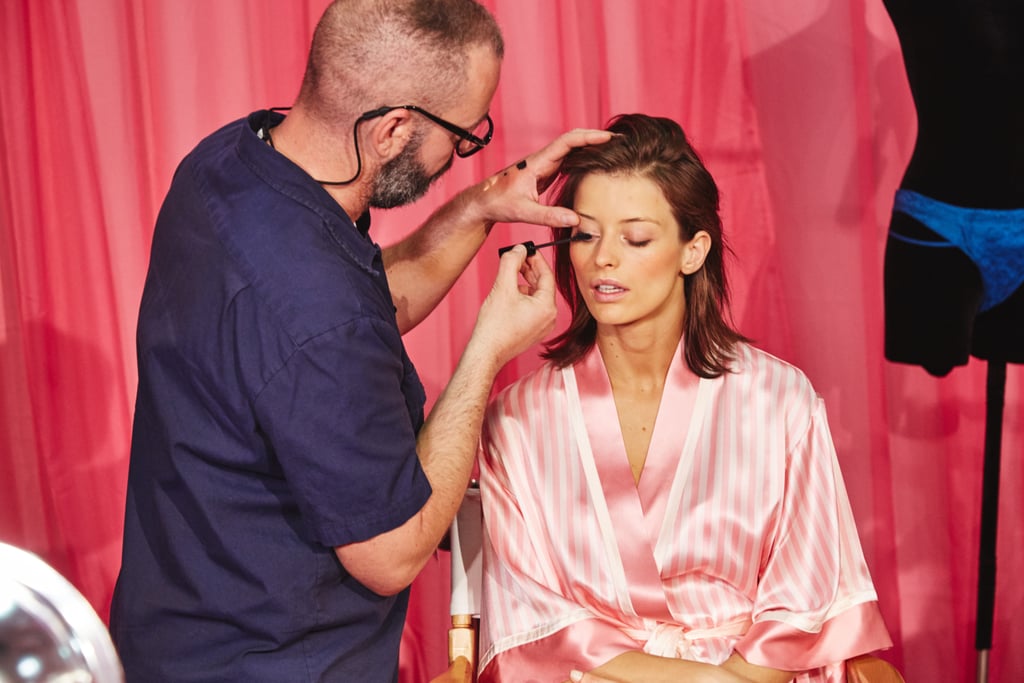 He smudged in black mascara on the top and bottom lashes.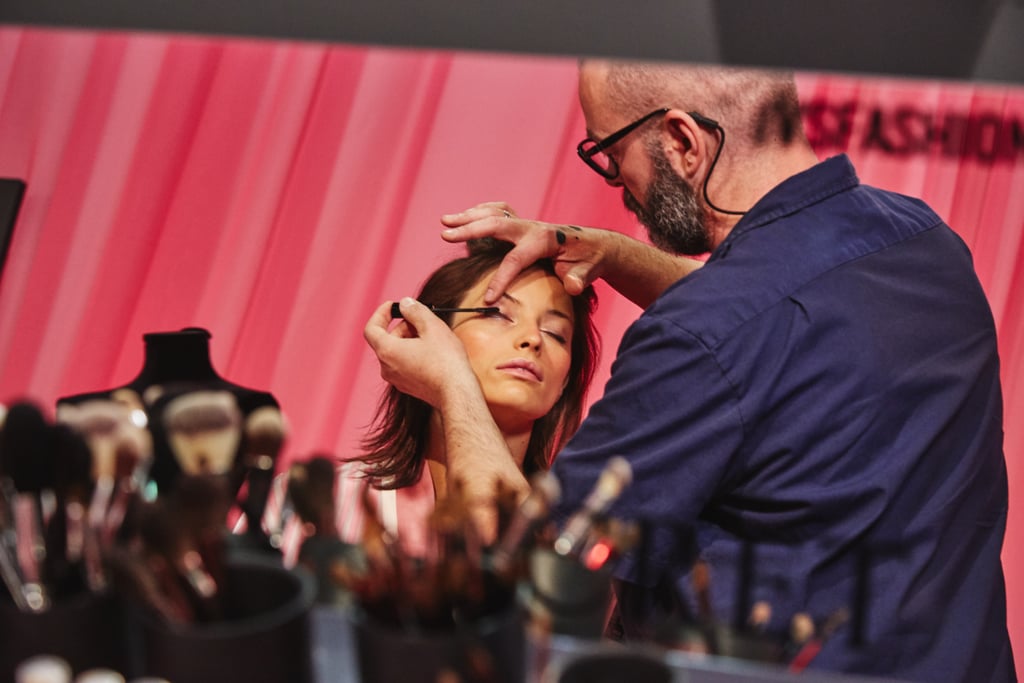 More mascara!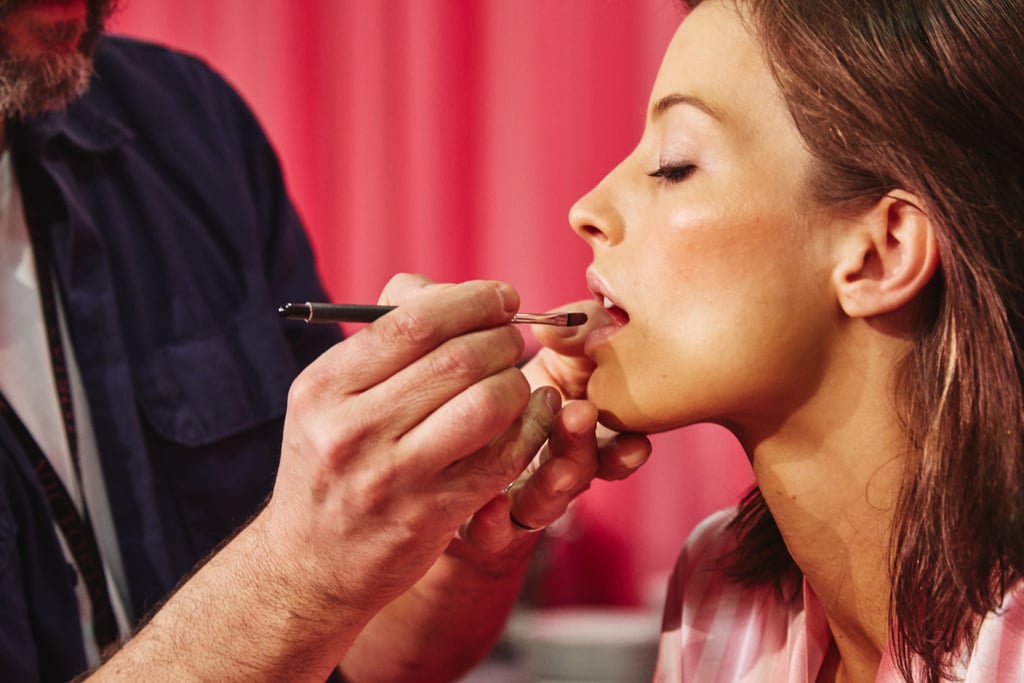 "There's a mauve-y rose color on the lip, that has a little bit of gloss," Dick said. "It also works with that highlight that's on the bow of the lip."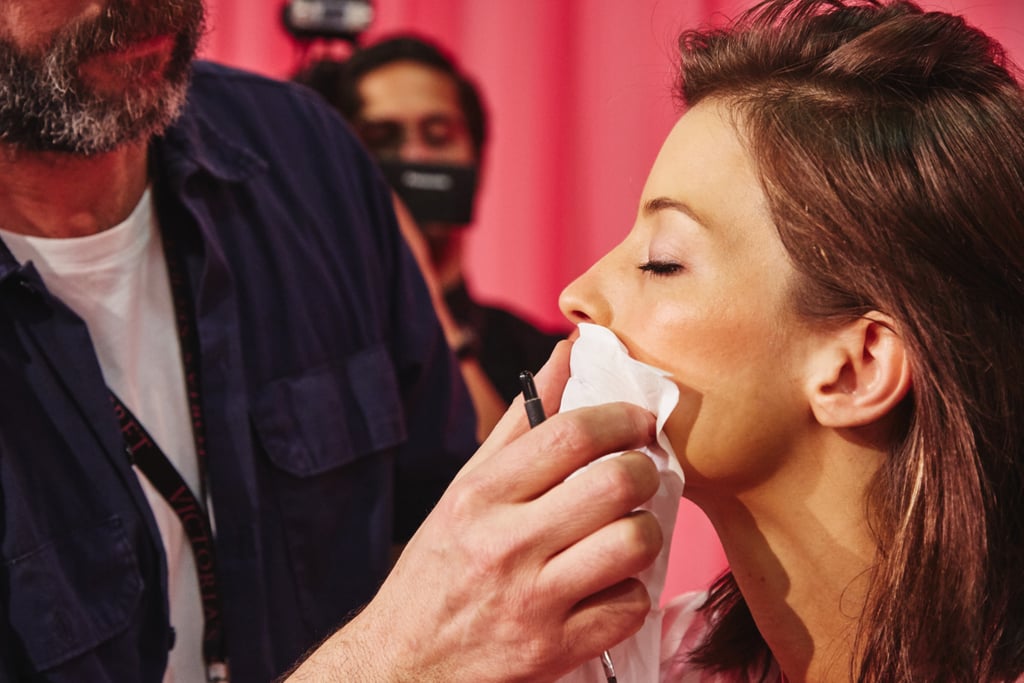 The lip color was blotted off.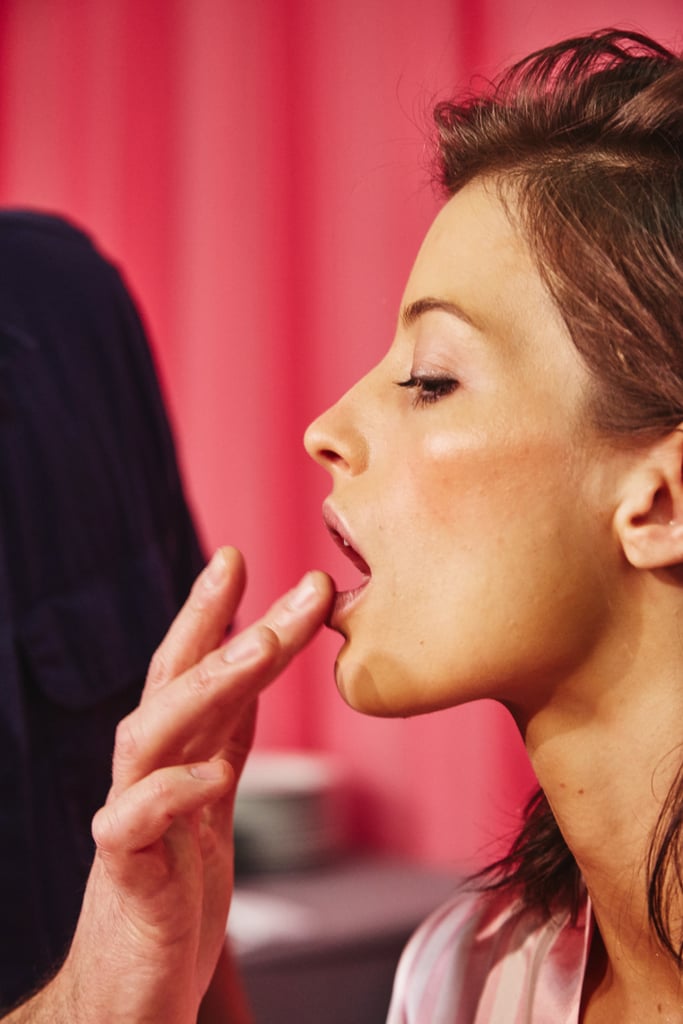 And then it was reapplied to set. Touching it up with a finger creates a more natural look.
"I'm trying to avoid powdering," he explained. "Skin looks fresher and healthier when there's a little bit of shine to it. I might powder a little bit on the hot spots when the girls go out there. Sometimes the camera flare can be a bit much. The forehead glares a little much, so we'll take that shine off."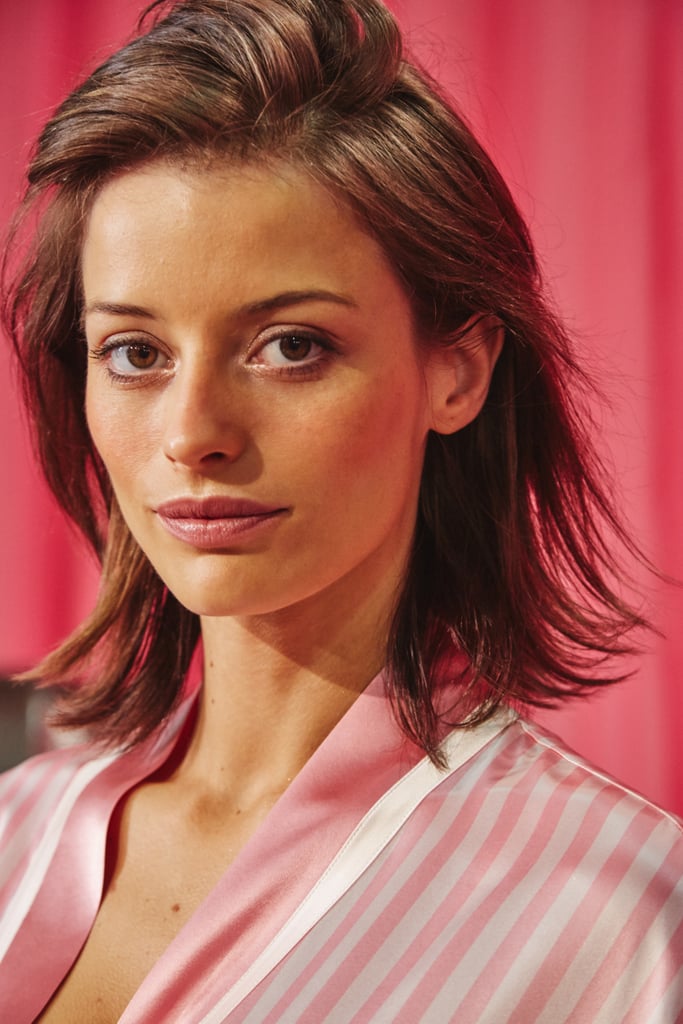 See the flawless finished look! Dreamy . . .