We Try Three New Paraben-Free Lip Products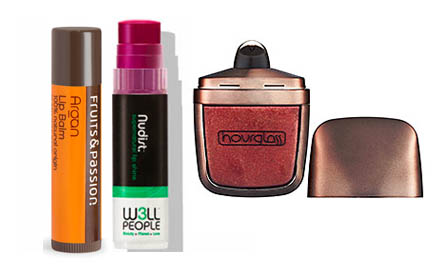 While Fab and I were in New York earlier this month, the cold weather did a number on my California-spoiled lips. The word sandpaper came to mind. So for the past week, I've been on a quest to be kinder to my kisser. To do so, I tried three new lip products with different prices — all of them free of parabens. See how they fared by reading more.
I've been carrying around W3LL People's Nudist lip shine for a few weeks, and you can smell the green tea in it. That alone makes me reach for it again and again. The entire W3LL people line is carbon-neutral, all-natural, and toxin-free, which satisfies my inner hippie. If you like a bit of tint with soft shine, Nudist does the trick. It isn't a balm, though, so don't expect it to solve your chapped-lips woes. I like Nudist but wish it were more affordable; at $23, it's a splurge. Then again, it doubles as cheek color and can be used on eyelids, too, so it's like three products in one.
Hourglass isn't a green-focused beauty brand, but its Prodigy lip gloss ($26) hits a lot of right eco-friendly notes by being free of parabens, sulfates, and phthalates. The big attraction, of course, is the cute packaging; its slim shape slips into pockets without creating bulges. I liked the smooth texture of the gloss, and the color range is quite flattering. At $26, though, it's a special-occasion buy for my budget.
Finally, we come to the relatively simple Fruits & Passion argan lip balm ($5). It's made with plant-based ingredients such as argan oil and shea butter — no beeswax or petroleum products here. It's a simple untinted lip balm, but it's very moisturizing. It has a mild fruit scent that I like enough, but if you seek a fragrance-free balm, this isn't your jam.