We Wear Green Eye Shadow on Our Hair
We Try to Make Green Hair Work Off the Runway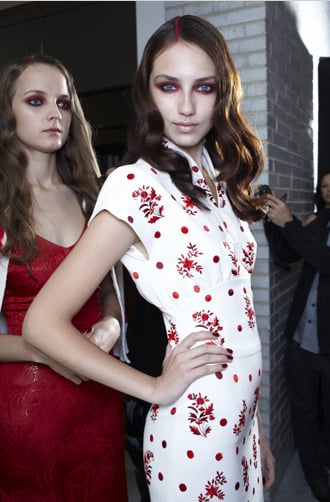 For designer L'Wren Scott's spring 2011 show, the ever-creative hairstylist Odile Gilbert came up with "hairliner" — basically, applying the models' eye shadow to the parts in their hair, too. This unusual look popped into my mind when I was trying to decide what to do with a bright lime green eye shadow. It's not my color, but maybe on my hair it would work. Or so I imagined. Five minutes later, I had Single White Femaled the runway look. To see how it turned out, keep reading.
very serious model face
Not bad, actually. The green caught the eye of a few people on the street, but it was much more subtle than, say, allover bright color. I didn't apply green eye shadow on my eyelids to match, which might have been a little much. But as a temporary way to bring color to your hair, it was fun.