Week One of a Detox Cleanse
The Detox Diaries: Hungry Hungry Headaches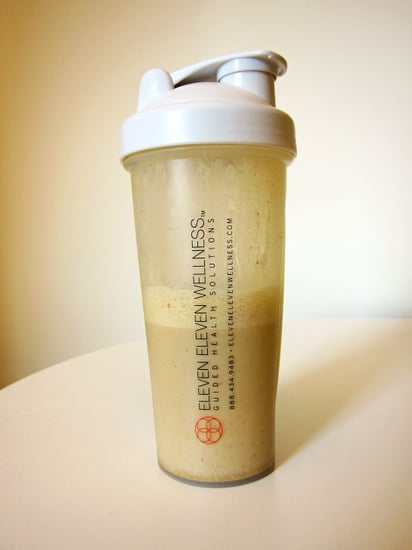 Senior Editor Annie is embarking on Dr. Frank Lipman's two-week Cleanse to detox her system. No caffeine, sugar, bread, or booze allowed. Here's how it's going.


Day one of the cleanse started out beautifully. I was motivated! I was taking control of my health! I was . . . hungry. Normally, I eat fruit and a hard-boiled egg before going to the office. On the detox, however, I was allowed only two shakes before lunch. When noon rolled around, I bolted to the local salad place and looked forward to ordering a healthy salad. Unfortunately, that proved harder to do than I'd imagined. Here's why.
Dr. Lipman's detox allows for light meals that can include certain fishes and organic chicken as protein sources. But I've been a vegetarian for 16 years; eggs and soy foods like tofu are verboten on the plan. At the salad bar, all I could eat for protein was black beans. Still, after a morning without solid food, I ate the hell out of that salad. Later in the afternoon, I guzzled a shake (almond milk proved a tastier mixer than water). That night: black beans, brown rice, and avocado.
The next day, after the farting subsided, I developed a crippling headache. I'd heard about caffeine-related withdrawal, but never would I have imagined my three-lattes-a-week habit could cause such pain. Or maybe it was the sugar cravings that threw me into a tailspin. Either way, I could have clawed someone's eyes out for one measly sip of a mocha. Instead, I munched raw cashews and hoped Dr. Lipman's cleanse would ultimately be worth enduring the jackhammer that seemed to be pounding in my brain. I daydreamed of beignets as my stomach growled, and that night, I nearly cried of joy when my boyfriend cooked a Cleanse-approved meal of lentils, brown rice, and cauliflower. I say I nearly cried, but if we're going to be honest, I really just farted a lot afterward.
I was breaking new ground in what I ate. I was also breaking a lot of wind, thanks to a new diet that revolved around beans, rice, and fresh vegetables. Ironically, cutting the cheese out of my diet was turning me into Gasmaster Flash. Rendered powerless against the evil flatulence that lurked within, I spent more than a few moments irrationally hoping that nobody would pull my finger. It would have been dangerous for them. Once, I farted with such seismic intensity that I woke myself up at 3 a.m. It was all very embarrassing, especially because I'd never passed gas before all of this.
On the brighter side, the headaches disappeared after day two. Overall, I was struck by how much of my day was usually driven by cravings. Usually, if I wanted chocolate, I'd eat it. While doing this detox, I couldn't. Instead, I needed to plan my meals and be more conscious about what I ate. And the truth is, I just thought I was a healthy eater because I don't eat things like high fructose corn syrup or hydrogenated fats. In reality, along with a considerable amount of vegetables, I had been devouring too much cheese, bread, and chocolate — basically, feeding my body lots of fat and sugar. Not good.
Energy-wise, the first three days were tough. I felt weak, probably due to the crazed-maniac cravings for sugar. By the end of the week, though, I felt more energetic and perky than usual. I began waking up at 6 a.m., which allowed me to go photograph a sunrise and get other things done before going to work. That was one of the best surprises: having lots of energy and absolutely no desire (much less need) for coffee.
As for my skin, I'd started the detox in an attempt to combat the nodular acne that seemed to be linked to dairy consumption. When I began, more than a dozen stubborn cysts dotted my jawline. By the end of the first week, only two remained. Coincidence? I had one more week of detox to figure that out. In the meantime, though, there was more farting to do. And I was just the woman to do it.
Will our detoxing editor stay the course? Will her complexion get the talked-about detox glow? And will the farting ever end? Check back soon for the scoop on week two.