Wen Review of Hair Cleansing Conditioner
Let's Take a Look at That Infomercial Haircare Line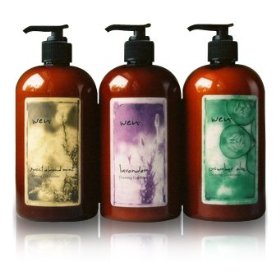 If you've ever battled insomnia, you've probably seen late-night infomercials for stylist Chaz Dean's Wen haircare line. The idea is to ditch shampoo altogether and wash with a conditioner ($29.95/set). Because it's free of harsh detergents like sodium lauryl sulfate, the conditioner promises to cleanse without stripping hair of its natural oils. It doesn't lather, but does it clean? To find out what I thought, keep reading.
To give you some background, I have a head full of fine brown hair, and I usually wash my hair every other day or so. After using Wen for a month, here's the scoop.
If you're a two-minute shower-taker, you'll need to slow down with Wen. There's no rushing through this cleansing process. After wetting hair thoroughly, you're supposed to pump out the conditioner — a lot of the conditioner. For short hair, 16 to 24 pumps are recommended. Long hair requires 32 to 40 pumps. I don't mind using that much product in one go, but I realized that the bottle might not last as long as I'd like.
From there, you apply the conditioner, working it into the hair and combing it through with a wide-toothed comb. Then, it needs to set for three to five minutes. (If you put it on first thing in the shower, this time zips by.) From there, you rinse. And rinse. And then maybe rinse some more. Using the product in this way is key. I found that if I didn't follow the steps exactly, there'd be trouble in River City. When I didn't rinse like crazy, I'd enjoy weighted-down hair and a greasy scalp all day long.
The good news is that when used correctly, Wen does give me soft, shiny, smooth, tangle-free hair. It also makes a fantastic shaving cream. The main downside is that I have to wash my hair a little more frequently than I did before. Wen works nicely, but you have to go in with reasonable expectations and a willingness to follow the cleansing process exactly. Is Wen the miraculous product that infomercials promise? No, but then again, infomercials wouldn't be infomercials if they didn't oversell the sizzle a little bit.