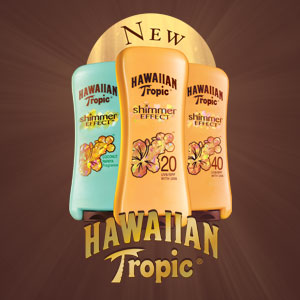 Who doesn't love being in the sun? Sure, we have to protect ourselves from harmful rays, but the warming sensation and unmistakable glow you get after sunbathing just can't be beat!
Now, thanks to Hawaiian Tropic®, smelly, thick and oily sunscreen is finally a thing of the past. Its new Shimmer Effect SPF 20 and SPF 40 lotions will not only protect your skin with powerful SunSure® UVA and UVB protection, but it'll leave you looking luminous with the power of mica minerals.
To keep your skin feeling great even after the sun goes down, try the new Hawaiian Tropic® Shimmer Effect Coconut Papaya After-Sun Lotion, which will replenish your skin with nourishing ingredients like aloe vera, cocoa, and shea and mango butters. These moisturizers are great for everyday use and will enhance your skin tone while creating a soft, sexy sheen.
If these products don't have you longing for a little time in the sun, I don't know what will! So, tell us, what's your favorite part of a beach vacation? Is it the sun, sand, or simply the escape? We can't wait to find out.