What Different Luminizers Do
How to Pick the Right Luminizer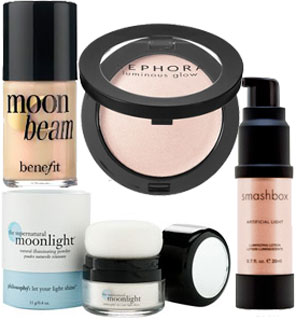 Using luminizer can take you from looking halfway hungover to fab in just a couple minutes if you know how to use it. But even if you're armed with mad luminizing skills, getting the right texture and formula for your particular illuminating needs can be tricky. To take the guesswork out of finding the product that's right for you, just keep reading.
Different textures are better for different issues, so before you pick up a product, see whether it's a liquid, cream, pencil, or powder.
Liquids are best for highlighting ares like the tops of your cheekbones and for creating overall facial luminosity under makeup. Liquids are generally the most concentrated formulas, so a little goes an extremely long way.
For the under-eye area, a cream luminizer is best. They're thicker than other formulas, which is great for dark circles. They're more moisturizing, too, so you won't end up with dried-out concealer and a pasty look.
If you just want light overall luminizing, or want oil control to mattify, a powder luminizer is your best bet.
Luminizing pencils are really only for lining the rims and lids of your eyes, but it's good to have one. Using them makes you look more alert and refracts redness without looking harsh or made up the way traditional white eyeliners can.
Check out the widget below for examples of different luminizer types.