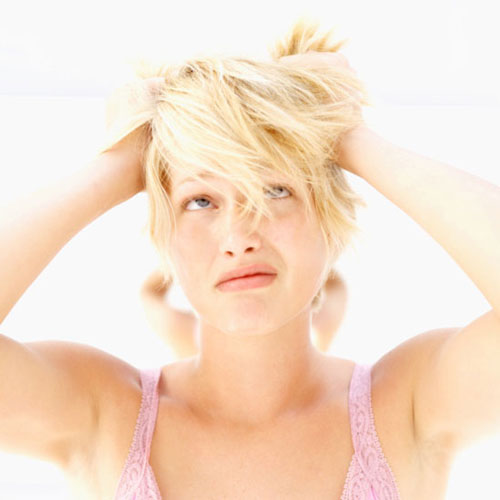 Few things can deflate your confidence as quickly as a haircut you hate, and it's natural to be upset. Once you've had a good cry, though, you're going to need some solutions and some help. So to find out what you can do to get back to looking good fast, just keep reading.
Go back to the salon: Calmly (but firmly) explain why you don't like the cut, and ask the stylist to fix it. A good salon will want you to be happy with your hair, and if you come in within a few days of a cut, your stylist should be glad to do it for free. One caveat: if someone really butchered your hair, you may want to ask the salon owner to have another stylist fix it.
Fake it: If you can't go back to the salon, or the problem is that it's too short already, there are plenty of ways to fake a different haircut. We've got a whole slideshow of cute looks you can wear until your hair grows out a bit. And if it's really, really short, try Carey Mulligan's brilliant fake-out bouffant.
Try clip-in extensions: They're less expensive than a fancy haircut, and they're easy to customize to whatever's going on in your life.
Learn some fancy braids: Plaits are pretty on everyone, and with a little practice you'll be able to do them in a flash. If you hate your bangs or front layers, use this lovely lace braid tutorial to fix it, and if you have issues with the sides or back, try these pretty boho double braids.
Speed things up: There are actually ways to make your hair grow (a little) faster, including eating spicier food. Here are five ways to do it and why they work.