What the FDA's New Sunscreen Rules Mean For You
The FDA's New Sunscreen Rules: What They Mean For You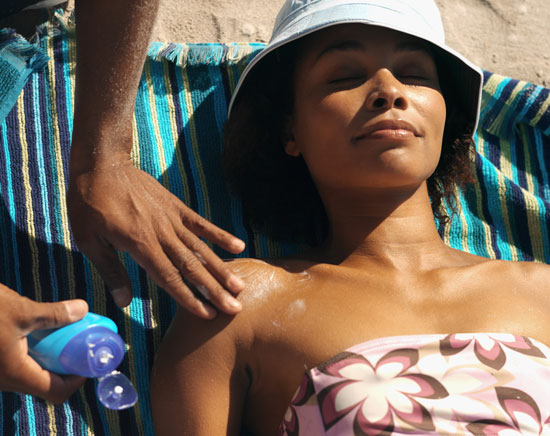 It's been a long time coming, and after 33 years with no major updates on sunscreen labeling, the Food and Drug Administration (FDA) is cracking down. Starting next year, manufacturers will be required to eliminate SPF confusion by making it clearer as to what level and type of protection sunscreens provide. "These changes will help people make better-informed decisions about how to use sunscreens and allow them to more effectively protect themselves and their families," the FDA's Janet Woodcock said. To see the main highlights of the FDA's modernized rules, just keep reading.
The broad spectrum label: Only sunscreens that pass a test proving they shield from both UVA and UVB rays can be called broad spectrum.
The magic number: Only those sunscreens with a SPF rating of at least 15 can claim protection against wrinkles, skin cancer, and sunburn. Note: while sunscreens with SPFs of two to 15 can be labeled broad spectrum (as long as they pass a test), they must include the following warning: "Skin Cancer/Skin Aging Alert: Spending time in the sun increases your risk of skin cancer and early skin aging. This product has been shown only to help prevent sunburn, not skin cancer or early skin aging."
Terms you won't be seeing: Manufacturers can no longer use the terms sunblock, waterproof, or sweatproof. Instead, water-resistant will be allowed, as long as the label clarifies whether they work for 40 or 80 minutes.
Time claims: Sunscreens cannot make the claim that they provide immediate protection or provide protection for more than two hours without reapplication, unless approved by the FDA.
Over 50: Due to lack of evidence that SPFs over 50 provide extra protection, the FDA also plans on banning sunscreens with an over-50 SPF label.
Type of sunscreen: Products such as SPF wipes, body washes towelettes, powders, and shampoo can't be marketed without special approval. As for spray SPFs, the FDA will require manufacturers to submit data on their effectiveness and whether or not they pose safety concerns due to inhalation.