What Foods to Eat For Good Skin
6 Foods That Ruin Skin (and 4 That Can Save It)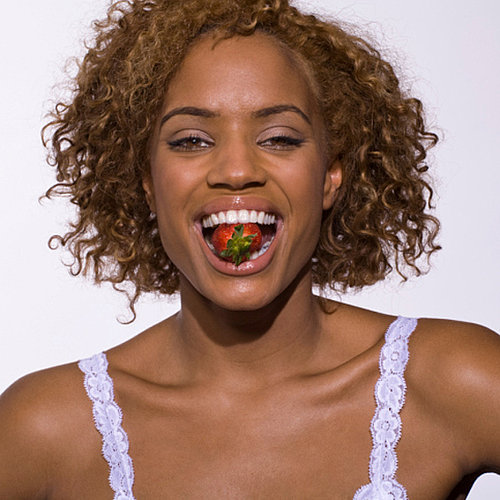 Celebrity nutritionist Kimberly Snyder, who works with Drew Barrymore and Olivia Wilde, among others, just wrote a book called The Beauty Detox Solution. In it, she advocates a holistic approach to beauty that focuses on diet and wellness rather than simply skin care. So if you're curious about what foods Snyder says can wreck your skin, and which ones can help it, just keep reading.
Foods that can hurt:
Dairy: "Dairy is so difficult to digest," Snyder explains, "and it creates a lot of toxicity in our bodies ... if you really love cheese, goat's milk cheese actually digests better in your body than cow's milk cheese."
Cooked Oils: "A lot of cooked fat can be very difficult for the liver to metabolize," says Snyder. "Because the liver is also a fat-burning organ, that shows up in your skin."
Gluten and soy: "If we're eating foods that we have sensitivities to, such as gluten or soy, that can also trigger a toxic reaction and contribute to acne," Snyder avers.
Sugar and caffeine: "If someone has dark undereye circles, it has to do with adrenal exhaustion," Snyder contends. "They're having too much sugar, too much caffeine, too much food that's stressing their adrenal system; it's just causing stagnation and you'll see it start to deposit right in the thin skin underneath the eyes."
Foods that can help:
Wild greens: Why? "Because greens have chlorophyll and they bring more oxygen into your body," says Snyder. "All the vitamins and minerals you need are in a balanced state so your digestive tract can easily absorb them."
Fiber: "It's always going to take out the toxins," Snyder asserts.
Ripe fruit: "Think of ripe fruit as the cleansers that kick out toxicity in your system," advises Snyder.
Avocados: "The best way to get healthy fats is avocado, which is a very potent beauty fat," Snyder says. "Raw nuts and avocadoes are really the best things to keep your skin hydrated."