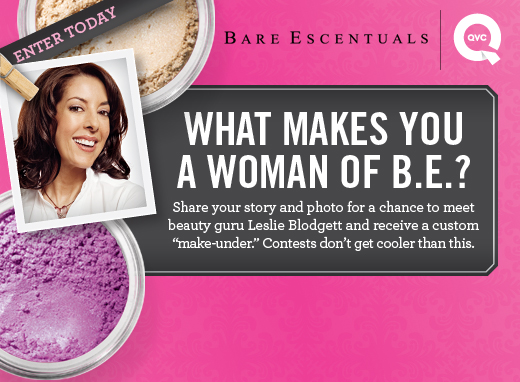 There's a story behind every gal's beauty, and Bare Escentuals wants to hear yours! Whether it's your piercing blue eyes, your flirty lips, or your sweet disposition (anything can make you a natural B.E. beauty), Bare Escentuals wants to hear your story!
To enter the QVC Women of B.E. Contest, simply show and tell what makes you a fan of the brand, and why you are a woman of B.E. (be sure to upload photos of you being B.E.autiful).
Just visit the Facebook contest here, and enter to win! The first place winner will get an all-expense paid trip to The City of Brotherly Love for you and your BFF to meet Leslie Blodgett in person. You'll tour the QVC studio for a behind-the-scenes glimpse of a live show of Leslie doing what she does best. Then you'll meet Leslie's right-hand lady, Jessica Foust, who will act as your guide to getting gorgeous by treating you to a custom "make-under."
And don't worry, if you don't nab first place, the top four selected entries will each receive a Women of B.E. Collection (a beautiful bevy of eye colors that includes 20 exquisite shades, with each one named after a different special customer). Enter here to participate!