What Men Really Think About Self-Tanner
Self-Tanner For Men Is Here, but Will Guys Buy It?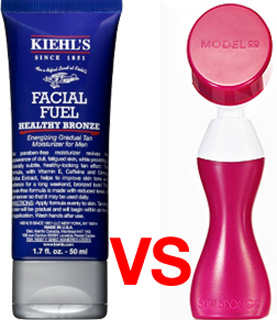 Long the province of Mr. Universe contestants, manly self-tanner is apparently trying to make the jump to mainstream males. The accompanying marketing could be a case study on how products are pitched to the sexes.
Guy-targeted items like Kiehl's Facial Fuel Healthy Bronze ($22), Shiseido Men Moisturizing Self Tanner ($27), and Lancome Men Energizer Self Tanner ($41) now offer guys formulations in angular, streamlined blue or black bottles. In contrast, "female" self-tanners often come in rounded gold or pink bottles and have names like Bronze Goddess, Natural Glow, and Mocha Madness.
Even though the marketing is different, the product is the same. We wondered if a dude who'd never used self-tanner would be swayed by masculine branding. So we asked an actual guy. He made some good points, so to see what he had to say, just keep reading.
On men's gradual self-tanners:
"The selling point seems to be that they give you less for your money; it's like pitching watered-down bleach to people by claiming that it won't lighten their whites too, too much."
On actually using facial self-tanner:
"I'm terrified of any product that I am encouraged to apply to my face . . . and then immediately remove from my hands."
On why calling something "Facial Fuel" is a good idea:
"I think men will buy anything with 'fuel' in the name (see: soda, metal albums, dude-themed TV networks), just as women seem to be suckers for the term 'revitalize.' It makes about as much sense to 'fuel' your face as it does to 'revitalize' your bed with new throw pillows."