What to Pack For Holiday Travel
Here's What to Pack For All Your Holiday Travels
If you're one of the lucky ones escaping for the holidays or just heading back home, we've got your packing list all planned out. These cold-weather beauty essentials will have you prepared for a retreat at a ski resort or a long weekend home with the family.
Skin
Winter is not your skin's friend. Whether you're hitting the slopes with whipping winds or escaping the chill at the beach, here are the basics you need. Wipes will remove any makeup and cleanse in a pinch. Then, keep a highly hydrating moisturizer with sunscreen included on hand. You'll want an eye cream to recover from late nights partying, and don't forget a restorative night cream. Finally, finish it off with an acne spot treatment, because blemishes are never welcome wherever you travel.
Keep packing with our makeup and hair essentials after the jump.
Makeup
Wherever you're headed this holiday season, there is sure to be a party (and pictures)! So, you can't skimp in the makeup department. You'll need liquid eyeliner and dark shadows for a sexy smoky eye, and red lipstick will always make you look festive. Bring along a travel-size kit of brushes and a sparkling nail polish for manicure touchups. Finally, go above and beyond with a sultry sandalwood scent and false lashes for extra drama.
Hair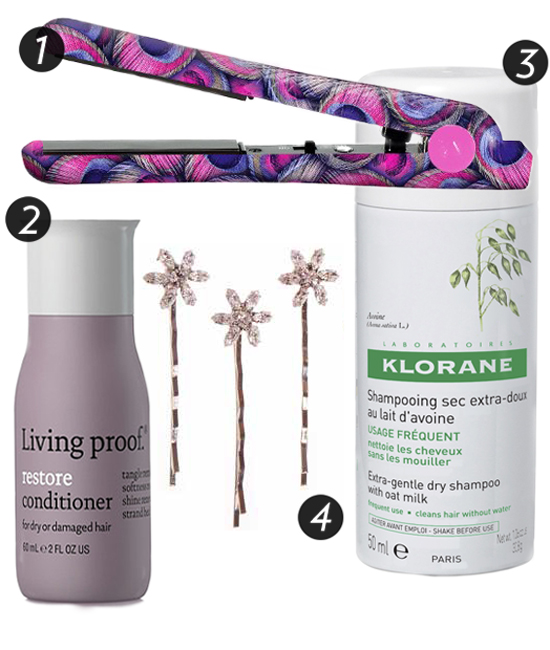 Usually when you're on vacation, you can skip the fanfare when it comes to your hair. But if you're planning to party with the best of them, then a mini flat iron is a must. You can use it to straighten hair or create curls. You'll also want to pack sparkling hair accessories for the after-5 events. Factor in a dry shampoo for volume and maybe skipping a wash, and stow a deep conditioner if your hair will need some recovery from all the heat styling.