What Smoking Does to Teeth
Here's What Smoking Does to Your Teeth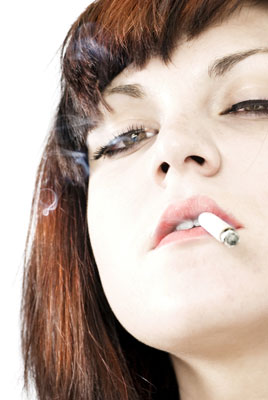 At one time, sleek cigarette advertisements touted the fact that more doctors preferred their brand over other smokes. Athletes, singers, and even babies appeared in tobacco endorsements. While studies released in the 1950s proved that smoking was bad for health, it wasn't until 1964 that the Surgeon General reported that cigarettes were truly hazardous. That led to mandatory warning labels starting in 1965. Still, there are some who take their chances. Find out more about the risks of smoking, particularly on your oral health, when you keep reading.


The facts: According to the American Cancer Society, smokers are six times more likely to develop oral cancer than nonsmokers. Besides causing bad breath and staining teeth yellow, cigarette smoking can also lead to a whole slew of dental problems.
Poor healing: Since smoking interferes with the normal functioning of gum tissue, this can leave smokers more susceptible to infections like periodontal disease and mouth sores. Similarly, smokers experience longer healing time after surgery or illnesses.
More on gum disease: Countless studies prove the link between smoking and gum disease. Smoking brings about plaque buildup, which leads to gum disease, and advanced gum disease can lead to bone and teeth loss. The last time I checked, the toothless look wasn't so hot.
And on a cosmetic note: Puffing away leaves tar deposits on the teeth, which cause yellowing and brown stains.