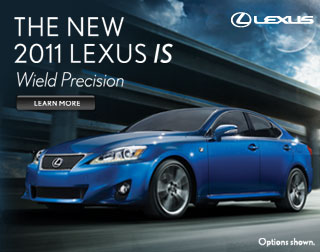 Beautiful lines, charismatic colors, shiny accessories, and sophisticated style . . . sounds like the latest runway show, but in fact, it's the new Lexus IS. The Lexus IS with new F-Sport package offers drivers sharper looks with the most desirable sports styling features, including exclusive 18-inch wheels, fabulously fashionable sports seats, and race- and runway-inspired paddle shifters, and the F-sport tuned suspension makes for incredible handling (for performance that lives up to its looks . . . sigh).
With Fashion Week Sept. 9-16, the new Lexus IS Ultrasonic Blue Mica just may be your perfect accessory. Lexus has again managed to marry the things that go straight to your heart: Fashion Week and fast cars (if only the rest of the would adopt the same principles).
Click here to peruse the new 2011 Lexus IS with F-Sport package.