Where to Apply Perfume Correctly
Are You Practicing Good Fragrance Behavior?
As POPSUGAR editors, we independently select and write about stuff we love and think you'll like too. If you buy a product we have recommended, we may receive affiliate commission, which in turn supports our work.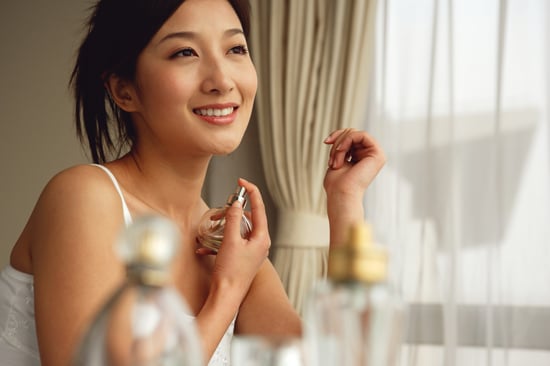 Choosing and applying a fragrance is kind of like walking a tightrope: it takes perfect balance. Spray too little and your scent is completely missed. Spray too much and you'll give everyone within 10 feet of you a migraine. What complicates things more is how important scents are in our everyday life. "Fragrance can be extremely powerful," says Nicky Kinnaird, the founder of Space NK. "It can instantly evoke memories and is representative of who you are." And the last thing you want to represent is a girl who can't hold her perfume. So how do you keep your fragrance behavior in check? We sniff out the answers when you keep reading.
How do I pick a scent that's good for me? Just because a fragrance smells wonderful on a friend doesn't mean it will work for you. "Perfumes 'dry down' differently on everyone's skin," Kinnaird says. She suggests doing your research: "Familiarize yourself with the notes in a scent you like and look for them in other perfumes." A trip to a perfume counter will help you define and narrow down specific notes.
Where should you spritz yourself? Pulse points — think your wrists, inside your elbows, the nape of your neck, even in the crease behind your knees — are the places you should be concentrating your fragrance. "The natural fluctuations in your body temperature warm and diffuse your perfume without it being overwhelming," says Kinnaird. Which means your coworker at the desk next to you will be able to detect your perfume, but it won't be the only scent filling her nose.
Where shouldn't you spray?
"Avoid applying your perfume over SPF," says Kinnaird. "It makes it less effective." She also warns against spraying perfume in your hair. While it's a good way to help your locks pick up your signature scent, many perfumes' ingredients can dry out and damage your hair. Instead, pick up a perfume that is specifically designed for your hair. Kinnaird suggests Serge Normant's Avaha Eau de Parfum ($60). It's formulated to work as a body and hair fragrance.
If you can help it, then keep from spraying fragrances directly onto any fabric, not just delicate ones. Since there are so many different formulas, you never know what will leave a watermark. Kinnaird actually suggests spritzing yourself before you get dressed. "Applying your perfume before getting dressed makes it easier to access your pulse points," she says.
How often should I reapply? While you may be tempted to douse yourself in a scent you love, remember to not get spritzer-happy. "The key to fragrance is subtlety," Kinnaird says. "Depending on the strength and depth of your fragrance, a few spritzes at your pulse points in the morning should be enough." If you're running straight from work to happy hour or just want to freshen up before a night out, then one quick mist on the nape of your neck will suffice.