Where Do You Get Ready in the Morning? 2010-01-29 06:00:11
Where Do You Get Ready?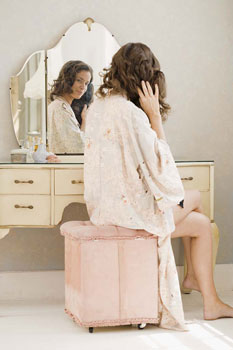 When I was young, I always admired my grandmother's vanity, perfectly stocked with beautiful perfume bottles, powdery makeup, and what seemed like an endless supply of costume jewelry. While I might not have room for my own vanity set, each morning, I designate two spots where I get ready for the day, and one of them is my makeshift "vanity" I made in my closet. The other is the bathroom, where I blow-dry my locks. What about you? Where does your getting-ready routine take place?