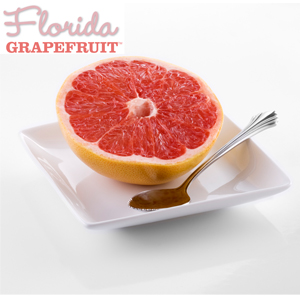 If you're looking for a natural and nutritious way to sweeten up your life, Florida grapefruit has you covered! Not only is the fruit and its juice fat free, it also has quite a few hidden talents that might surprise you. Check out the perks of this tart and wholesome fruit below.
Supports great skin: Your skin can benefit from the foods you eat. The vitamin C found in Florida grapefruit and 100-percent grapefruit juice may help support collagen production to help keep skin looking youthful and radiant.
Beautify your smile. Healthy gums and a stunning smile can go hand in hand. Florida grapefruit's vitamin C can support the production of collagen in your gums, providing a healthy foundation for that beautiful smile we all desire — so drink up!
Pampers feet and hands: Trade your expensive, store-bought scrub for a great-smelling, homemade version. Combine one-half cup kosher salt, 1 tablespoon grated fresh ginger, 1 tablespoon yellow or pink grapefruit zest and 1 cup almond or sesame oil in a bowl. Scrub away (with the exception of your face and freshly shaved legs), and store covered in your fridge for up to three weeks!
Relaxes the day away: Regardless of our hectic schedules, we all need a little down time. Try grapefruit-infused essential oils to create a relaxed, spa-like environment at home.
Sounds like a dream to me! For more information on Florida grapefruit, check out www.facebook.com/juicyscoop.