Why Does Perfume Smell Differently on Different People?
Why a Hangover Can Change the Way Your Perfume Smells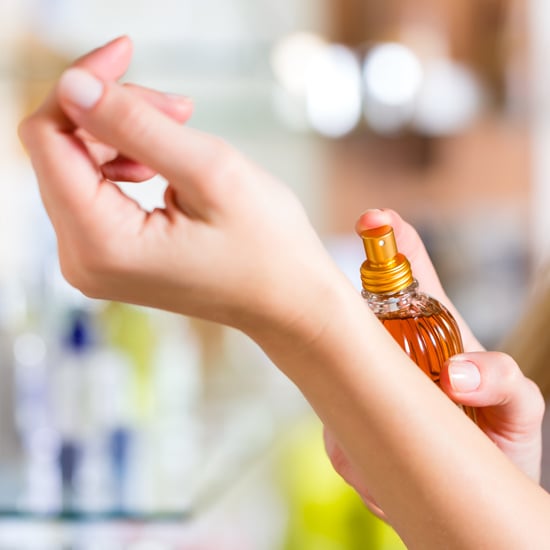 You've been there: your best friend wears a certain perfume that smells amazing on her, but the second it hits your skin your stomach churns. What's the deal? "Body chemistry has everything to do with how fragrances smell," Anne Nelson Sanford, cocreator of Lurk fragrances, says. "It depends on the pH of your skin." And since you and your friend aren't the same person, perfumes are going to smell differently on you two. But it's not just body chemistry that affects the way perfume smells. Find out what else changes the way your perfume smells when you keep reading.
Everything, including your diet, your body temperature, and what body lotion you're using, affect the way your fragrance is going to sit on your skin. Even something seemingly unrelated — like that hangover you've been nursing — can completely alter how good your perfume smells on you. "Think about it," says Sanford. "Your body is diffusing the byproduct of the alcohol, which is a very sugary substance, and it's pushing out through your pores. So it's going to change the way your perfume smells because the scents are interacting with one another."
When it comes to choosing a fragrance, swing by a fragrance counter to test, but make sure you're not wearing any body oil or heavily fragranced lotion before you go. Also, avoid the tester strips at the perfume counter; you'll want to spray the scent directly onto your skin.
Sanford suggests using your forearm to test instead of the inside. "We carry a lot of personal fragrance on the inside of our forearm which is why our fragrances usually go there," Sanford says. "But to really get the gist of what something smells like, try dotting it on the outside of the arm. The skin is thicker there, so your personal fragrance won't come through as much." And if you were at the bar last night, you might want to skip the perfume counter today. Your nose will thank you.