Why It's OK to Be Lazy With Your Teeth (Just This Once)
Why It's OK to Be Lazy With Your Teeth (Just This Once)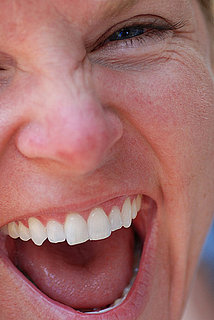 Sometimes in beauty, you've gotta break the rules. For instance, there's no reason not to use a shimmery eye shadow as a cheek highlighter if you want. And when it comes to whitening teeth, it pays to be a loner, Dottie. A rebel.
See, you're supposed to wear whitening strips every day for at least two weeks. In theory, this is a great idea. In practice, I can be lazy and forgetful. Things start off well, then my teeth get whiter, and after a few days, I forget to keep strippin'. Eventually, red wine brings back a few stains. But the good thing is, it takes only three or four days of strip-wearing for them to bounce back to a bright, natural hue. I fear using all of the strips in one fell swoop might make my chompers look too Optic White and fake, so this is a good plan if you want a more natural-looking gleam.
I use Crest 3D White Professional Effects strips for a few days each month, then use the mouthwash and toothpaste in between for maintenance. It's easy and gets rid of the corn-teeth look quite well, promise.
Source: Flickr user Let Ideas Compete