Why You Need Makeup Remover
Skin Care 101: Makeup Remover
As POPSUGAR editors, we independently select and write about stuff we love and think you'll like too. If you buy a product we have recommended, we may receive affiliate commission, which in turn supports our work.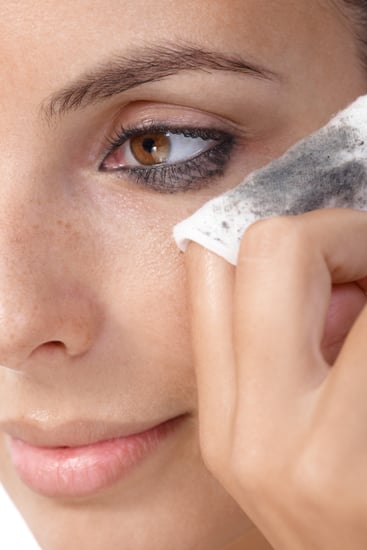 If you thought a face cleanser was exactly the same thing as makeup remover, then think again. Makeup remover is designed to specifically remove your color cosmetics, including stubborn waterproof formulas and eye makeup. This step should be done before you actually cleanse your skin at night. To learn more about the importance of this essential step, just keep reading.
Why You Need It: When you're cleansing your skin, do you want to be rubbing your dirty, oxidized makeup all over your face in the process? In order to care for a healthy complexion, it's vital to remove pore-clogging and eye-irritating makeup before you even cleanse your skin. Making sure every trace of makeup is gone means clearer skin without breakouts, and your eyes will be less puffy and discolored.
For Oily Skin: While oils are an excellent ingredient for removing makeup, those with oil-prone skin can try a cleansing water, or micellar water, to remove standard makeup without added greasiness.
For Combination Skin: Oil-based makeup removers or cleansing oil would be a great option for combination skin types. Plus, the oils in cleansing oil could actually help balance your T-zone.
For Dry Skin: Your best bet is a cleansing oil or even balm, which will remove makeup and cleanse the skin without stripping your complexion of its necessary oils. Plus, these products are such great cleansers, they're a makeup remover and cleanser in one.
Tips and Tricks:
Micellar waters are ideal for sensitive skin types.
Oil-based makeup removers also include water-based ingredients, so they separate. Be sure to shake before use.
Specific eye-makeup removers are especially designed for use around the sensitive eye area. They can remove waterproof mascara without any irritation.
Makeup-removing wipes are great for travel, in your gym bag, or a night out.
Use a cotton pad to swipe away makeup, but with balms and cleansing oils, your hands are your best bet.