Why You'll Love This Bubblegum Bobby Pin
5 Reasons You Need This Bubblegum Bobby Pin (Teeth Marks and All)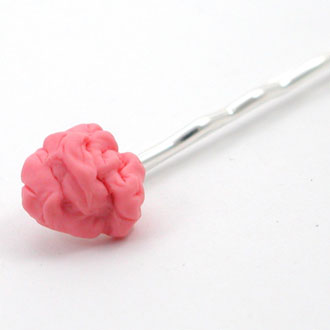 Who doesn't love a kitschy hair accessory every now and then? With this homemade bubblegum hair pin ($12), you definitely don't have to be a stick (heh) in the mud.
Are you digging this sweet treat as much as I am? Then, check out a few reasons why I think this hair accessory makes it into the must-have category. Not feeling it so much? Well, chew on what I have to say about it when you read more.


Why you need this bubblegum bobby pin:
You won't need peanut butter to get it out: Don't be petrified; this wad of gum is already petrified itself — except by time and air.
Pink is such a seasonally-appropriate hue: Besides, it's so girly.
Just think of all the dates you'll get when you wear this baby: You'll undoubtedly attract the attention of handsome suitors everywhere, looking to save you from having to lop off a few inches of what they think is stuck-together hair.
It will bring whole new meaning to the word "tacky": Sometimes cheesy is just plain fun, no? You can even go around telling people this gum doubles as a great flyaway-taming product.
Uh, check the date: It's April Fools' Day! Even the Etsy seller who makes these quirky pins admits they're a perfect April Fools' joke. Note: She doesn't actually make them from the real deal, because otherwise, the ew factor would be off the charts. Rest assured that they're crafted from polymer clay — not to mention by a gal with a cheeky sense of humor.