Wigs For Babies Exist, but For Girls Only
Make Your Baby Look Like Mae West With Baby Bangs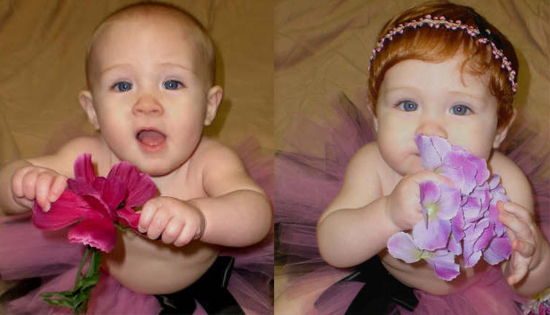 If you've been lamenting that your newborn daughter doesn't look enough like a sassy older lady fond of heavy drinking and wigs, you can stop crying now, because Baby Bangs have arrived to age your infant instantaneously. Baby Bangs are more accurately baby wigs; they're pieces of fake hair attached to a tiny headband that you shove on your unwitting baby's head for snazzy photo shoots or just general entertainment.
I can definitely see myself getting a little stir crazy, cracking open a bottle of chardonnay, and having a grand old time at my future offspring's expense. "What's that you say, tiny fruit of my loins? You wish your bottle was full of Bailey's Irish Cream? Oh, your just-born bon mots kill me! What say we have another glass and get rid of that hat of Daddy's we hate so much?"
On the other hand, I believe babies are supposed to be relatively hairless; it's one of the things that makes them so cute. And it also kind of bothers me that there are no Baby Bangs for male infants. How is it fair that there's no Justin Bieber wig for your bald, drooling baby boy?