Winter Redness Relief and Blush Tips
Get a Pretty Winter Flush Without Looking Red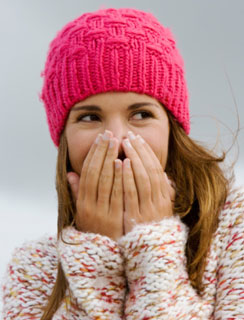 Winter presents a big challenge when it comes to blushing: the great outdoors can turn you bright red or make pale skin pallid. Since you can't predict what will happen, applying cheek color can be more frustrating than usual. To help you glow without worry, I've put together some tips for keeping your skin pretty and your blush flattering. So just keep reading.
If your cheeks get dry or chapped in cold weather, Chad Hayduk, co-founder of Three Custom Color Specialists, says you should avoid powder. Instead, try a stain that conditions; he likes Poppy ($22.50), a warm coral, or the raspberry tinge of Ski Bunny ($22.50).
If you get ruddy from the cold, use a redness relief gel cream or gel, like Clinique Redness Solutions Urgent Relief Cream ($30), before you head out the door. It'll keep your skin soothed and protected, and make the transition from outdoors to indoors easier.
"Oil-free" may be a big selling point for makeup, but when it comes to blush, a little oil is a good thing. It will help keep your color in place and moisturize, which helps prevent irritation and redness. Try a gel, mousse, or stick blush with a lot of natural oils in it, like Revolution Organics Glow Beauty Balm ($34).
Use a physical sunscreen like zinc oxide or titanium dioxide. Both protect skin, and it's important to remember that the sun is still strong and snow reflects light. So the redness you're seeing could be a burn, not just the result of cold air and wind.