Wisconsinites Concerned About Knockouts Hair Salon Possibly Opening in Wauwatosa
Will Knockouts Hair Salon Get Knocked Down in Wisconsin?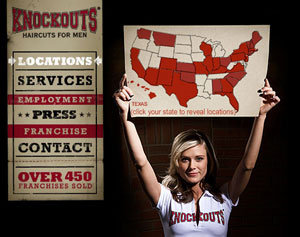 Residents of Wauwatosa, WI, aren't so sure about the idea of a Knockouts Haircuts For Men shop potentially coming to their neighborhood. "People are mistakenly turning this into a Hooter's haircut salon," owner Scott Burns told Fox 6 News in Milwaukee.
Perhaps the community gets that idea due to the fact that the stylists will wear short shorts and tight shirts as part of the uniform. But the fact that five different massages will be offered hasn't gone over all that well, either. Burns assures the public that there's "nothing funny going on."
The franchise is already around in various states and is named Knockouts as a nod to the boxing ring. (What else?) And while it's still in the beginning stages of development, the Wauwatosa Planning Commission is lending its support, so unless something drastic happens, it looks like Knockouts will win this match.