World Oceans Day 2013 | Beauty Products
Marine-Themed (and Charity-Focused) Beauty For World Oceans Day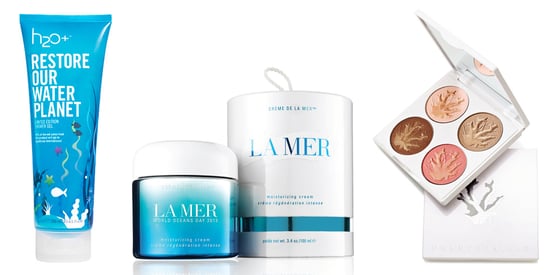 Every year on June 8, beauty brands unite with charitable organizations to celebrate World Oceans Day. The brands below have a special connection with the sea, whether it be through marine ingredients or an oceanic aesthetic. See how you can get involved to protect marine life and restore the Earth's most important natural resource.
H20 Plus has teamed up with Earth Echo International by creating the Restore Our Water Planet Shower Gel ($10). Ten percent of net sales will benefit Earth Echo International, and you'll be thinking of the sea when you lather up with this marine-scented wash.
In the Chantecaille Protect Our Oceans Set ($120), you can get both the Saving the Sharks and Coral Reefs Palettes at a discounted price. The sea-themed products are normally $79 and $83, respectively. Plus, with this special promotion, five percent of all proceeds will go to Bloom Association and Marine Conservation Institute.
Every year La Mer designs a limited-edition label for its coveted cream for World Oceans Day. This year the Crème de la Mer World Oceans Day ($425) has gotten a holographic makeover. The price tag is a little higher, because the jar is a hefty 1.4 ounces larger! No matter how many tubs are sold, La Mer donates to the cause. This year they also collaborated with National Geographic to raise awareness through this short film on marine habitat protection.