World Record For Lipstick Application Won by Rick DiCecca for Estee Lauder
New World Record Champ Applies Hundreds of Lipsticks — in an Hour!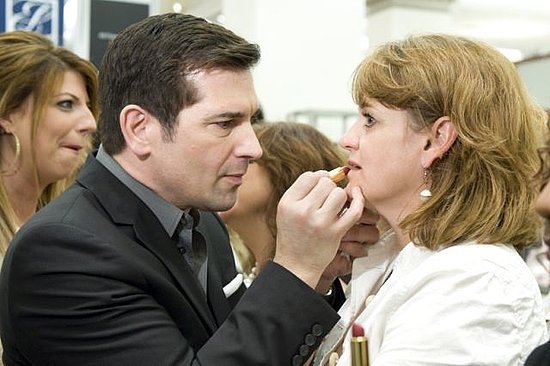 Think you can apply makeup quickly? Not as fast as Rick DiCecca. This past Friday, the Estée Lauder global makeup stylist set a new Guinness World Record for the most lipstick applications in one hour. The previous record of 180 applications had been set earlier this year in Madrid, but DiCecca broke it with a whopping 303 painted puckers. To find out how he did it, keep reading.
Hundreds of women lined up outside the Macy's State Street store in Chicago to be part of world-record history. Lest you think DiCecca could (or would!) haphazardly smear lipstick on the women, making them look like a legion of Jokers, the Guinness rules are strict. The lipstick had to be applied evenly on the lower and upper lips of each model, with no color seeping past the lips. Each model required a different lipstick, so women lined up while holding a lipstick and keeping their lips together. To maximize his time, DiCecca used either a blotting or swiping method, depending on the lip shape.
For his part, DiCecca says he's "ecstatic" at holding the new world record. As for the participants, they got a treat of their own, too. "I wanted the free lipstick," said record-breaking Tonya Moore, pictured here. A win-win situation all around.