YSL Touche Eclat Dupes
See How 3 Similar Concealer Pens Stack Up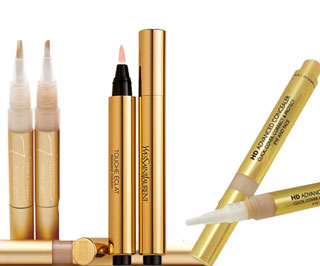 Since Yves Saint Laurent's Touche Eclat premiered years ago, a flurry of similar concealers have entered the market. And while Touche Eclat may be the best known, it now has some stiff competition. So which of the gold concealer pens really gives you the most bang for your buck? Just keep reading to find out.
I've reviewed Touche Eclat ($40) before and really loved it, although for me it's more a highlighter and dark circle cover than a concealer. It's pricey but it has a loyal following, and it really does work to brighten your face. Not everyone can afford Touche Eclat, though, and many also have sensitivities to the ingredients found in normal concealers, which is where our other two products come into play.
In the drugstore category, there's Milani HD Advance Concealer ($7), which is a good deal however you spin it. Right off the brush, it goes on very smoothly and melts into skin nicely. The shades are well formulated, so they work on a variety of skin tones, which is a big point for me. The Milani wears more like a concealer than a highlighter, and although it does brighten, that's definitely not its main objective. It works nicely under eyes, and doesn't dry out the thin skin or slide around.
Although it's good, it's not perfect: by the end of the day, it had darkened and caked a little, so that when I looked at myself closely in the mirror I could see the brush swirls. It didn't create creases under my eyes, but it did wear away there by 4 p.m. Overall, it definitely stands up as a concealer, and if you don't mind touching up at lunch, you'll have great results. But it's not a highlighter, and I wouldn't try to use it as such.
For people sensitive to oil, talc, dyes, synthetic preservatives, parabens, or fragrances, there's Jane Iredale Active Light Under-Eye Concealer ($23.50). It's definitely a brightener, not a concealer, so wearing it layered over a concealer is best. The formula is moisturizing and doesn't settle in creases much. I love the texture, and actually wish it was a little more like a concealer so I could wear it alone. If you've got concealer under it, this product stays on nicely, although if you want it to stick around all day you have to seal it with powder.