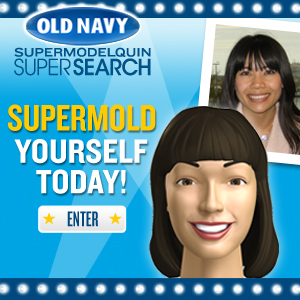 Anyone can become a Modelquin, but only one winner will become Super, get molded into a real SuperModelquin, and take home a super $100,000! All you have to do is enter one of the online challenges found at OldNavy.com/Super and put your plastic spokesmannequin skills to the test!
The first challenge has finished, but two more are on their way. Next up, "Modelquin Makeover." Visit OldNavy.com/Super to build your plastic match using the SuperMolder technology, and submit it to let the voters do the rating. If you don't think the SuperMolder caught your most flattering attributes, you'll have one last chance by entering the "Lights, Camera, Plastic" challenge.
Build your own Old Navy commercial and deliver the hilarious punch line to prove that you have what it takes to be plastic.
Will you turn in your stand, or will you be the last mannequin standing?