Zeno Age Rewind Review
Zeno's New Line Rewind System Smooths, Tones Tired-Looking Skin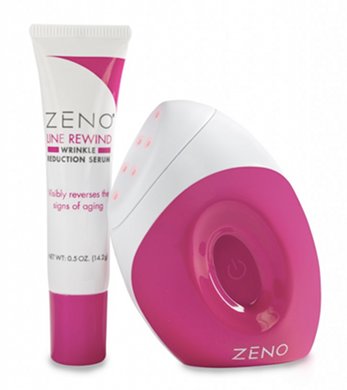 You might know Zeno as the brand with various acne-reducing gadgets in its arsenal, and now it's branched out to the antiaging category, with the recent release of the Line Rewind Wrinkle Reduction Kit ($40).
The two-piece set includes a Wrinkle Reduction Serum formulated with ingredients like antioxidant-rich Resveratrol, hyaluronic acid to help plump the skin, and a peptide complex to rejuvenate. Also included is an asymmetrically shaped hand-held device that uses red light therapy to assist in eliminating fine lines and improve the skin's tone. One thing that makes it a bit different from similar gadgets, however, is that it vibrates and heats to provide a soothing experience, all while increasing the effectiveness of the serum. To see what I thought of the Line Rewind, just keep reading.
To use, apply a thin layer of the serum all over the face, turn the Zeno on, rub it across the skin targeting problem areas (for me, around the eyes and neck), and then allow it to automatically shut off after five minutes. Right off, I liked that the serum is nongreasy (and nonstinky), and the red light device's warming and vibrating properties give a relaxing, calming sensation. It's perfect for right before bedtime, and perfect if you tend to get sinus headaches.
One thing I found to be strange was that the device is a little difficult to turn off (it took a while to discover the power button had to be tapped twice to get it to stop). If you're the kind of person who prefers to charge things in a socket, you might not like that it's battery-operated. Overall, however, I was impressed with the device, its ease of use, the reasonable price, and the way it immediately plumped and made the skin more luminous. The serum is available in refills ($20 each), although I'm sure a similar product would work just as well. Will it eliminate every single line completely (especially the deep ones)? No, but for an easy, calming way to get a little lift in an instant, Line Rewind is pretty fine.