Zooey Deschanel Hair and Makeup Tips
Zooey Deschanel on Her Signature Bangs, Her Ultimate Haircut, and DIY Makeup
As POPSUGAR editors, we independently select and write about stuff we love and think you'll like too. POPSUGAR has affiliate and advertising partnerships so we get revenue from sharing this content and from your purchase.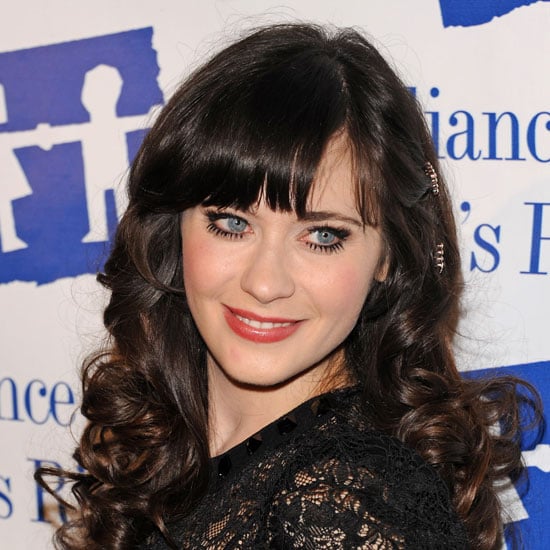 Zooey Deschanel, known for her enviably cute strands and love of all things vintage, has just been named Pantene's new celebrity spokeswoman. And starting this August, she'll be representing the brand's rereleased Beautiful Lengths collection. The Beautiful Lengths program encourages women to donate their hair to create wigs for patients undergoing chemotherapy, while the products focus on growing lengthy, healthy hair (perfect for donation). In addition, the beauty brand plans to donate $1 million to the cause this year.
"I was really excited to learn about this program because when women lose their hair a lot of times they lose confidence," Zooey explains. "You can also encourage people to try a new fun short style. If I could cut my hair today I totally would. I love a Louise Brooks bob!" While Zooey won't be reaching for the shears anytime soon, she did offer some beauty advice she's garnered from doing her own styling and makeup on the road with her band, She & Him. To get all her DIY tips and top product picks, read more.
Roller up: Just like her personality, her hairstyling method has a vintage flair. "I prefer a roller set: a combination of Velcro rollers on the top and maybe a hot roller on the bottom," she says. And when it comes to amping it up, Zooey believes there is no such thing as too much teasing. "You have to work with your head shape. You need to create volume in certain places so your head looks symmetrical," she adds. "So if you tease your hair at the crown, spray it a little bit, and put rollers in; it can really change the shape of your face and flatter you."
Bang, bang: "Your hair is part of your identity, and I've always felt like a brunette with bangs. I've grown them [bangs] out before, but I feel more comfortable with them," she reveals. "I sweep them sometimes for a little change of pace. They have their own personality!"
Just Zooey: When it comes to makeup, Zooey keeps a simple daily regimen that includes Laura Mercier tinted moisturizer ($42) and Rimmel London Day 2 Night mascara ($8). She also likes to add highlighter to the center and outer corners of the eyes. "That is a trick that really opens everything up," she says. "I don't want to walk around and look like I'm made up all the time." But when it is time to turn on her rock star persona on stage, Zooey pumps up her palette with black liquid eyeliner and an ultrabright lip look.
Keep it fresh, keep it fun: As part of her job, she is always becoming a new character, but that's why Zooey loves to experiment. "I'm always looking for a way to be creative. Fashion, hair, makeup, and nails — all these things are ways you can express yourself."