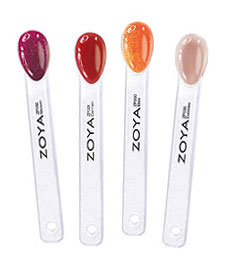 If you're trying to choose one nail polish over another, or the thought of buying a polish without trying it first makes you distressed, look no further than Zoya's new Color Spoons. (Available today on Zoya.com.)
The spoons are made up of a clear plastic handle, with the actual shade painted on the nail-shaped tip at the end. Just hold the spoon up to your nail to see how it will look on you. While I'm not totally in love with the idea of having these little plastic pieces all over the place, they are essentially free.
Here's how it works: you're charged $.50 per spoon with complimentary shipping. Then, you'll receive a promo code for a credit equal to the amount you spent on said spoons. You can then use that discount toward your next Zoya purchase. What do you think of the idea?