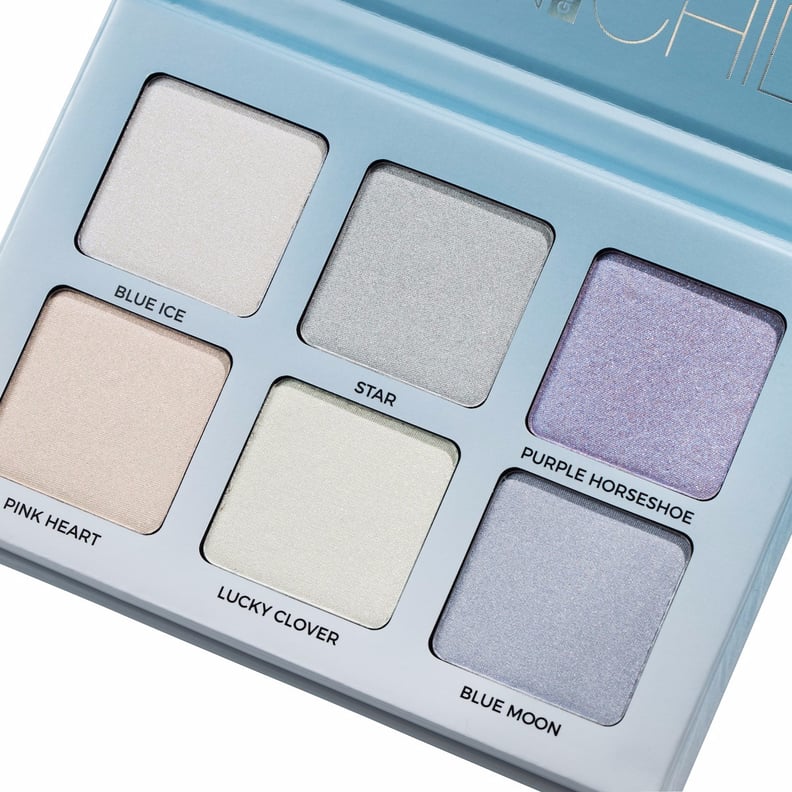 This is an exciting week for highlighter fans! Anastasia Beverly Hills released not one, but two innovative new illuminator kits. The first, which POPSUGAR exclusively revealed, is called Sweets. It features four candy-colored, shimmery "reflect" shades. These each appear as one hue initially, but when light hits them, they shift to reveal another incandescent tint. (Learn more here!)
The second palette, Moonchild Glow Kit ($40), also boasts reflect formulas, but the six dreamy shades are more unexpected. There's Blue Ice (a diamond white with an icy blue reflect), Star (inspired by a moonstone and has green, platinum, and silver reflects), Purple Horseshoe (sparkly lilac with a blue reflect), Pink Heart (pearly white with a luminous pink reflect), Lucky Clover (a greenish-gold with yellow reflect), and Blue Moon (icy blue with a silver reflect).
Though those color names may call to mind a box of Lucky Charms, CEO Claudia Soare was inspired by a different magical source: The NeverEnding Story. "When I was little in Romania, there wasn't a lot of television and things like that, so I had two films — one of them was '[The] NeverEnding Story.' It was very important to me," she told WWD. You might remember that in the movie, "Moon Child" was another name for the beautiful Childlike Empress, the ruler of Fantasia.
The Moonchild Glow Kit imagery is just as breathtaking as the palette's shades: Soare decided to spotlight men. "There's this misconception that every male that wears makeup is a drag queen and I think that's wrong," Soare said. "Everything about this new product and this campaign represents the acceptance of yourself as being different, the acceptance of your creative self [and] creative freedom, which is a big thing for me."
We have no doubt that using the pastel highlighter hues of Moonchild will inspire you to break creative boundaries and even feel more confident. After all, it's hard not to feel like a badass when you look like a unicorn.