We had to wait approximately 6,499 days after "Sex and the City" ended to see our favorite characters return to our screens. But that's now behind us thanks to HBO Max's knockout series (understatement of the year) "And Just Like That", which first hit the streaming service on Dec. 9, 2021. In the revival show, familiar faces Carrie Bradshaw (Sarah Jessica Parker), Charlotte York Goldenblatt (Kristin Davis), and Miranda Hobbes (Cynthia Nixon) pick up right where they left off, with the added bonus of new characters like Lisa Todd Wexley (Nicole Ari Parker), Seema Patel (Sarita Choudhury), Dr. Nya Wallace (Karen Pittman), and Che Diaz (Sara Ramirez), to name a few.
Now, with two full seasons done and a third currently releasing new episodes weekly, we get to see Carrie, Charlotte, and Miranda navigate life in New York City (because where else would they be?). It's just like when they were in their 30s, except, of course, life looks a little different — as does the show itself. Not only have two decades passed in the timeline of the series, causing each character's signature look to evolve, but with the new additional cast members, the show overall displays a more accurate representation of NYC and the different people who call it home.
"AJLT" covers everything from Miranda's gray hair to that scene where Carrie considers a facelift, and so much more. Ahead, Sherri Berman Laurence, one of the show's makeup department heads, spilled a few fun details about the show.
Carrie's Look Changed, Yet Stayed the Same
When you think about Carrie Bradshaw, a woman with long blond curls, minimal makeup dressed, and no nail polish in a chic outfit probably comes to mind. And for the most part, that's the same look you can expect to see on "And Just Like That." "Carrie is still very fashion-forward and super cool and [with] the beautiful hair," Laurence tells POPSUGAR.
Parker, along with Nixon and Davis, had her own hair and makeup team who created her looks for the series, but Laurence said the former's longtime makeup artist, Elaine Offers Woulard, wanted her look to be "very fresh-faced, and to make it look very easy and not overdone."
Miranda Is Embracing Her New Look
Celebrity makeup artist Kerrie Plant-Price worked her magic on the star. "She's grown a little bit with her look," Laurence says. "She's embracing a new sense of herself, and she's paying attention to her makeup, and things like that."
Instead of Miranda's classic red hair that we're used to seeing on the original show, you'll see her with lighter gray hair now. "She's embracing her age — they all are, actually."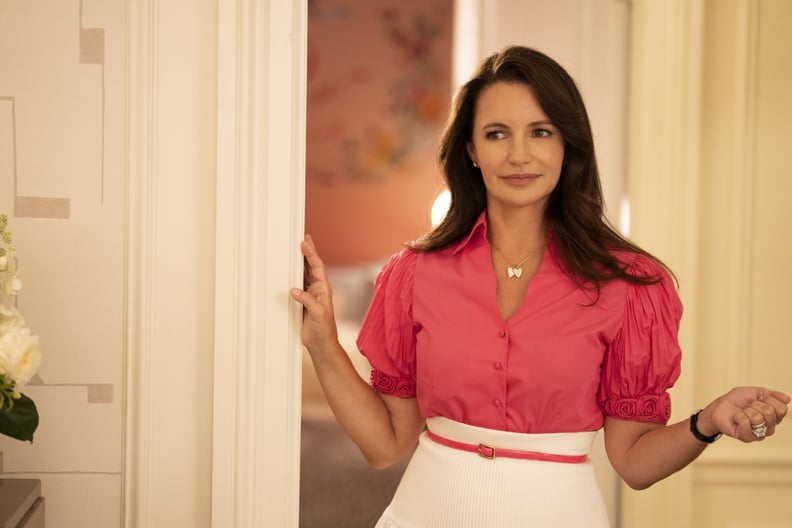 Charlotte Remains Polished
Davis used her own personal makeup artist, Matin Maulawizada, for the series as well, and her beauty vibe remained "very polished and simple," as Laurence describes. We'd expect nothing less of the queen of Park Avenue.
The Inspiration For Seema Patel
The beauty looks don't stop there. In fact, that's only the beginning. With four new main characters joining the group, there's a lot more where that came from. Seema, who's a single Manhattan real estate broker, becomes close friends with Carrie over the course of the show.
"She's a boss lady; she's very strong and successful and just very put together," Laurence says. Unlike the other stars who are a bit more pared down, the inspiration for her look came from Old Hollywood glamour — specifically Bianca Jagger. "[A] matte lip and heavy eyeliner and lashes" was the go-to makeup look for her.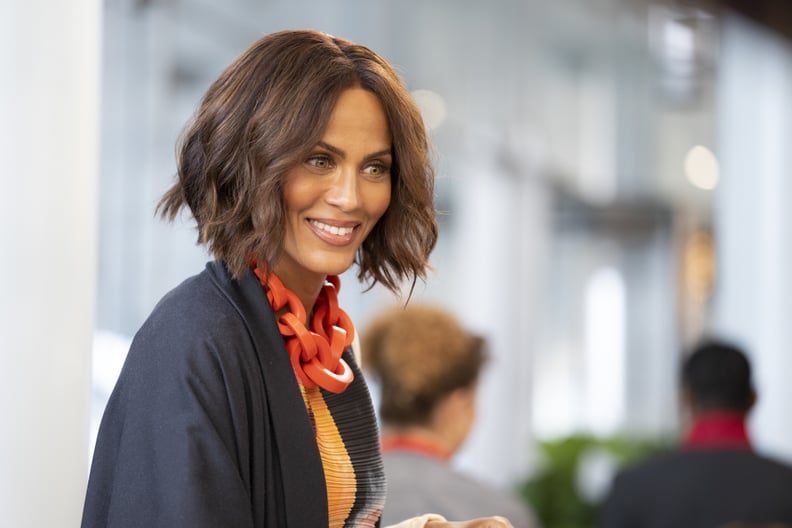 The Inspiration For Lisa Todd Wexley
Then you have Lisa, a mom of three and documentarian. "She is a very wealthy Upper East Side woman and has a lot of scenes with [Charlotte]," Laurence says, though Lisa is meant to be a bit more "fashion-forward" and trendy. "As the season went on with her, we evolved [her look] during different events on the show," she says.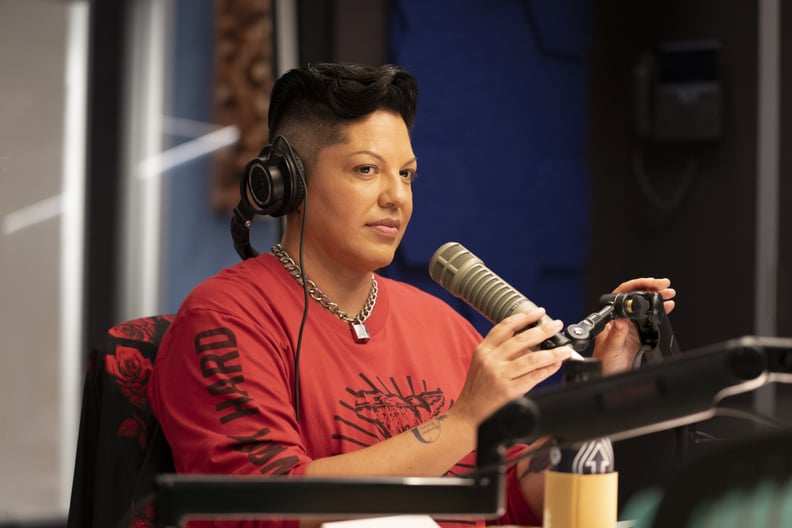 Tattoos Hold a Hidden Meaning For New Character Che Diaz
Che is a standup comedian who frequently hosts Carrie on their podcast. According to Laurence, an instrumental part of Che's look are their tattoos, which actor Ramirez was heavily involved in selecting.
"It was actually their idea to have the tattoos from the beginning," she says. "All of the tattoos are very specific to them." Laurence and Ramirez went back and forth discussing exactly what Che's tattoos would be and landed on a collection of meaningful designs, including one that is a "picture of them younger and older."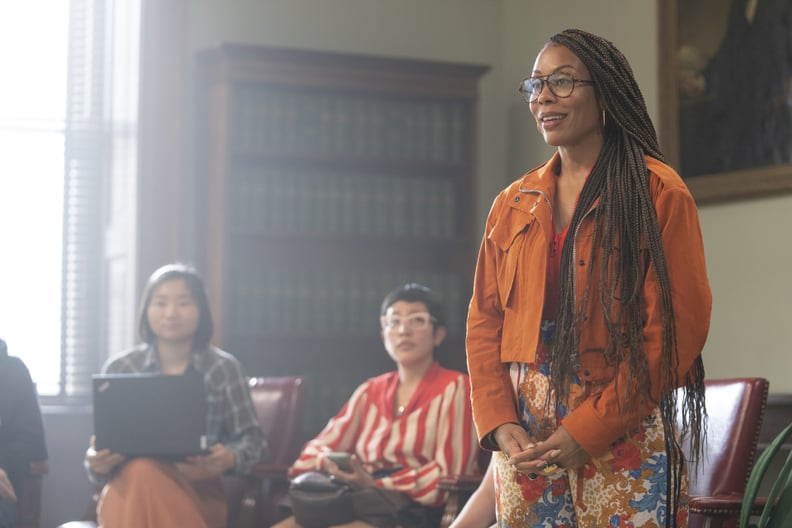 The Inspiration For Dr. Nya Wallace
Nya, aka Dr. Wallace, a Columbia law professor, has a more minimal beauty vibe. "She has a no-makeup makeup look," Laurence says. Her signature is her long braids and a subtle lip stain.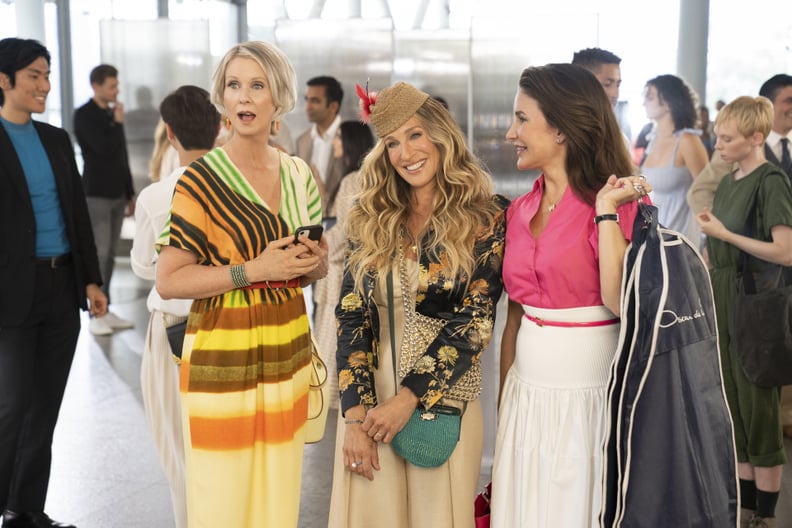 How And Just Like That... Is Leaning Into Age
With all of the show's characters "embracing their age" in "And Just Like That...," the hair and makeup teams on set wanted to accentuate each person's natural beauty but never "hide" anything.
"What we did not do on this show was do anything, like, try to pull things tight and fudge the lines," Laurence says. "The route I chose [was] just to make everyone very glowy and dewy and creamy."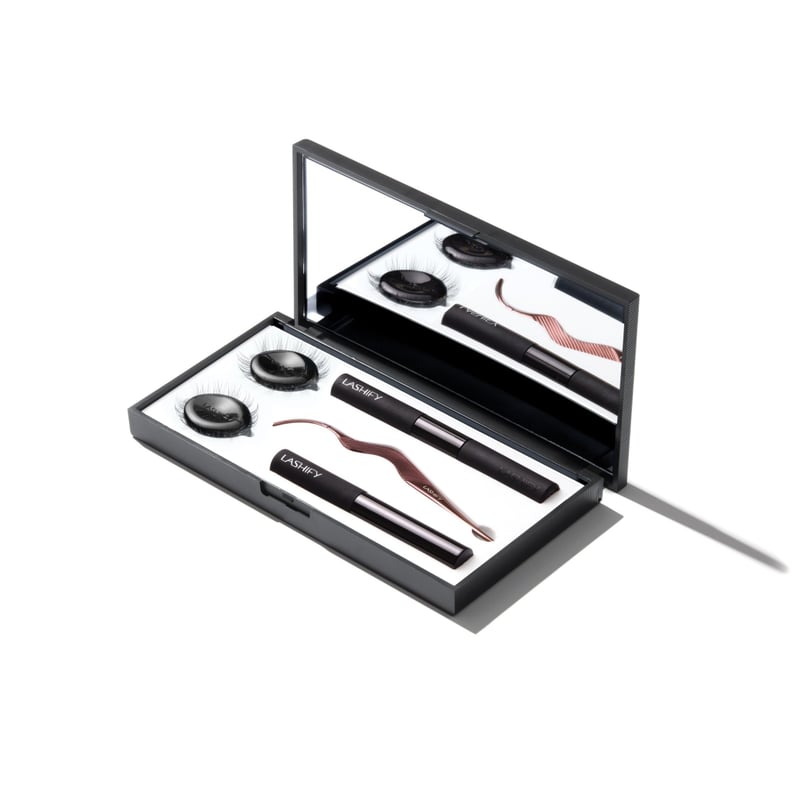 The Secret Makeup Product Used to Make Everyone Camera-Ready
To achieve that glowy look, a handful of products were kept on set, but she's labeled one as her absolute must have: the Lashify Lash System ($145). "There are so many different levels of lashes you can do, and it goes underneath your lashes so it just looks very natural," Laurence says. The only person who didn't wear them on screen was Seema, who had a thick strip of lashes on instead to stay true to that Old Hollywood look.