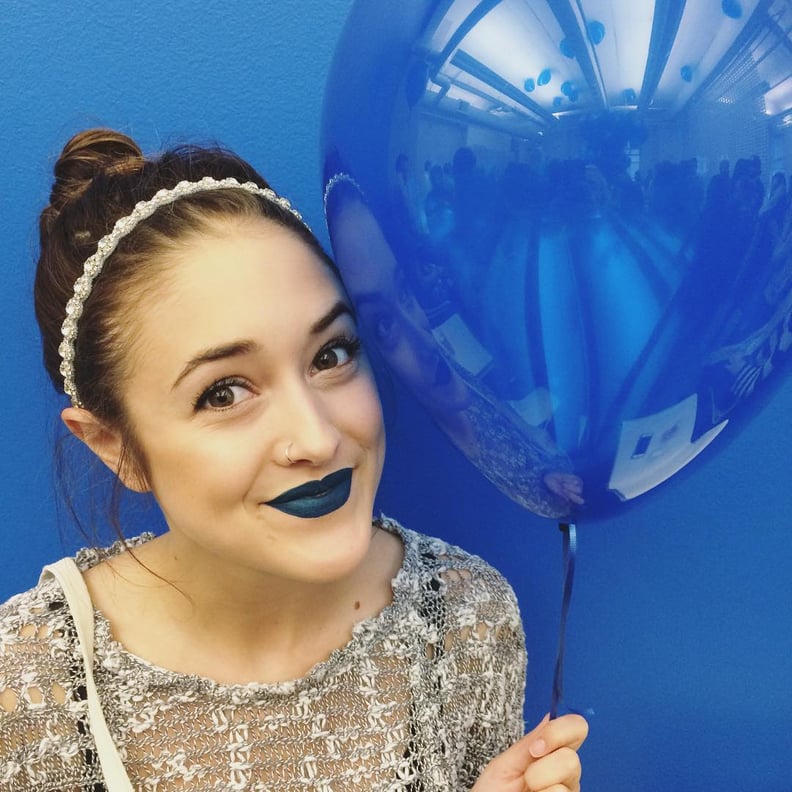 POPSUGAR Photography | Brinton Parker
POPSUGAR Photography | Brinton Parker
As POPSUGAR editors, we independently select and write about stuff we love and think you'll like too. If you buy a product we have recommended, we may receive affiliate commission, which in turn supports our work.
When I read the POPSUGAR headline We're Calling It: Blue Lipsticks Are Going to Be the Hottest Color Trend of 2016, I clutched my chest in what was likely a comically accurate imitation of a Southern grandmother. "This is my time to shine," I thought, remembering the vanity in my apartment filled with "impractical" shades of lipstick that always earn comments from people I pass on the street. When the opportunity arose for me to put these blue hues on display, I happily grabbed my favorite exfoliating sugar scrub and lip primer and settled down for a good old-fashioned test.
Over the course of testing my lip color collection, I learned that not all blue lipsticks are created equal. The shades are extremely different, and the formula plays a huge role in how vibrant the color appears. For this test, I tried four different shades of blue and wrote reviews of each to give you an idea about the range of hues on the market!
Press play on your Eiffel 95 "I'm Blue" playlist (you totally have one, right?) and get your credit card ready because you'll definitely want to add one of these to your collection.
01
Intense Navy
Product: NYX Soft Matte Lip Cream in Moscow ($6)
Notes: I really adore the hue of this navy lip color, but the coverage was lacking. Even with a careful hand and freshly primed lips, the application of this liquid product was relatively streaky and blotchy. I haven't had the same issue with my many other NYX Soft Matte Lip shades (they're some of my favorite affordable beauty products!), so I'm chalking it up to the intense blue color. The lipstick turned out OK after I'd worked with it a while, but I prefer a lower-maintenance lip look.
My overall rating: ★★☆☆☆
02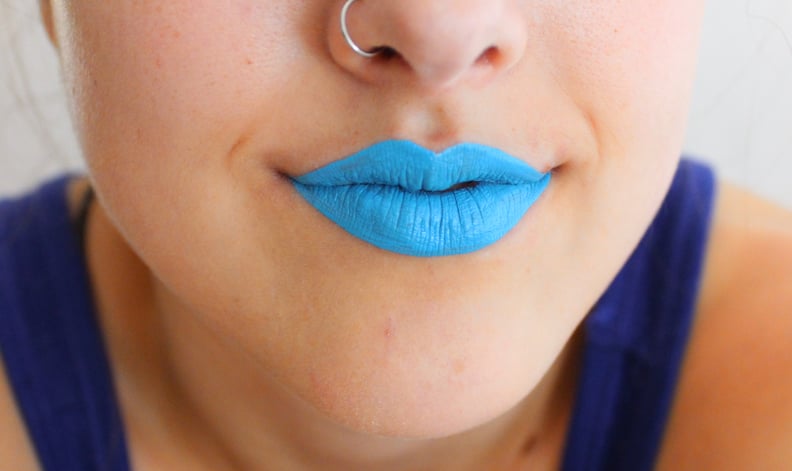 Vivid Cyan
Product: NYX Liquid Suede in Little Denim Dress ($7)
Notes: This bright blue shade instantly caught my eye in the store and has remained one of my favorite "going out" lippies since! The application is awesome and the lip color wears beautifully — you only need one swipe to achieve the bright cyan shade of Kylie Jenner's much pricier blue lip kit. My only complaint is that the Liquid Suede formula is meant to "set into a striking matte finish," and mine never does. My lips stay sticky, like I'm wearing a lip gloss, but with a vibrant color and incredible price, I certainly don't mind!
My overall rating: ★★★☆
03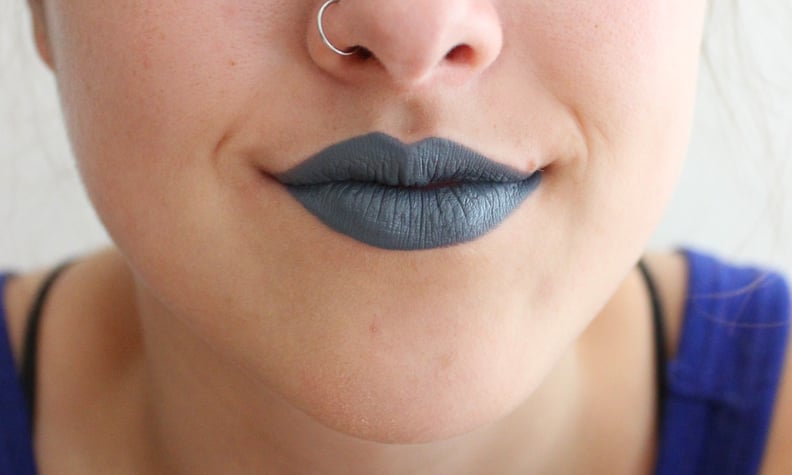 Muted Cadet Blue
Product: Melt Cosmetics Lipstick in Space Cake ($19)
Notes: Space Cake was my very first foray into the world of wild lipsticks, and I love it. Its gray-blue hue always prompts people to ask, "What color is that?" Plus, Melt's lipstick formula is obviously tried-and-true; I only need a single swipe to achieve complete coverage! While this lipstick probably won't last all day without needing reapplication, it's definitely worth adding to your beauty arsenal.
My overall rating: ★★★★
04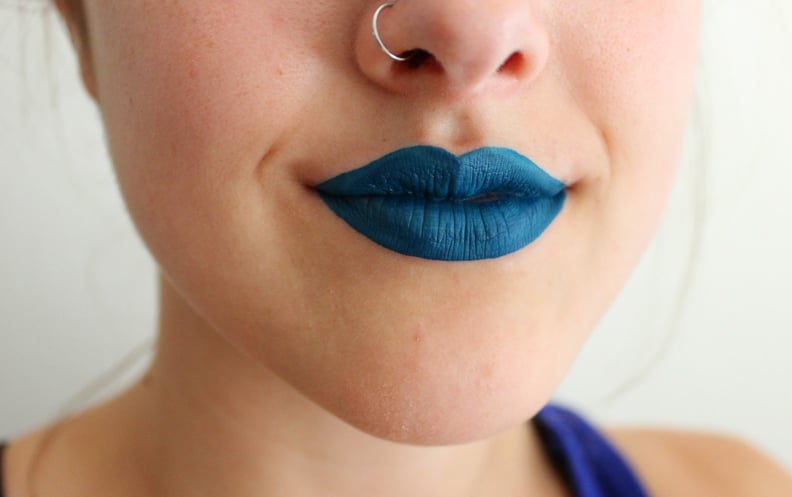 Deep Teal
Product: Ciaté London Liquid Velvet in Envy ($19)
Notes: This dark shade is a unique peacock-teal that would flatter any skin tone and makes your teeth look vividly white. The matte finish and all-day wear makes it a Summer must-have!
My overall rating: ★★★★★