Celebrity manicures in 2022 have shifted from over the top and dramatic to minimal and more understated [1].
Manicures like classic french tips [2], milk bath colors, and warm pastels have now taken center stage.
We rounded up the best celebrity manicures of 2022 so far.
We may only be two months into the new year, but celebrity manicures [3] are coming in hot — and just as pro nail artists predicted [4], elevated, minimal, and chic nail colors seem to be the theme for 2022. While some of last year's celebrity nail looks could be described as delightfully over the top [5], particularly given the fact that pandemic restrictions were just easing up and people were able to make up for lost time at the nail salon, the designs we've been seeing of late feature much more neutral polish colors and trends that can easily go from hanging out at home to dinner with friends.
This, experts say, will continue to be the trend throughout the year: "We can anticipate shades that are a bit more casual and wearable," Rita Remark [6], Essie global lead educator, previously told POPSUGAR.
So, while last year our favorite celebrities like Saweetie [7], Megan Thee Stallion [8], and Rowan Blanchard, were rocking extendo nails, colorful geometric designs, and multicolored french tips [9], in 2022 you can expect to see softer, more wearable shades with much more subtle nail art [10] (with many celebrities reserving those dramatic nail designs for special occasions like Valentines Day or the Super Bowl).
If you're looking for inspiration ahead of your next manicure, we've rounded up the best celebrity nails of 2022 so far, ahead.
Simone Biles's Milk Bath Nails
One of the biggest manicure trends of the year so far? Milk bath nails [11], which are "acrylic nails [12] where colorful dried flowers are embedded into a milky color acrylic," manicurist Elle Gerstein [13], previously told POPSUGAR. Many people have also opted to lean in to the "milky" color and skip the floral element, like in the case of Simone Biles.
The recently engaged star is the latest celebrity to wear the milk bath nail trend after announcing her engagement to boyfriend Jonathan Owens on Instagram.
Blake Lively's Reverse French Manicure
Blake Lively returned to Instagram wearing a nail art trend [14] that ruled 2021 — only this one came with a twist. The actor attended the Michael Kors New York Fashion Week show and donned a warm pink nail that featured a reverse french manicure that Gerstein dubbed "polar moon" nails.
Hailey Seinfeld's Heart Nail Art
Hailey Seinfeld debuted her minimal Valentine's Day nails [15] on Instagram, and we've been swooning ever since. Not only do they feature a trendy negative space take on the manicure, but the small white hearts on her otherwise matte neutral nails were the perfect understated but still eye catching touch.
Rihanna's Sheer Baby Pink Nails
After Rihanna [16] broke the internet with her pregnancy announcement, we noticed her sheer, baby pink nails [17] were perfectly on trend for 2022, to no one's surprise. While she hasn't yet revealed the gender, we couldn't help but wonder if the all-pink look was a hint at the baby's gender.
Jennifer Lopez's Milk Bath Nails
Jennifer Lopez has also donned the milk bath nail trend [18] in 2022, except she opted for a less opaque version than Biles's and added a fine layer of glitter for a subtle sparkle.
Lana Condor's Engagement French Manicure
Lana Condor's engagement announcement [19] was accompanied by a tried and true nail look: a french manicure with a soft pink base — a style that is as classic and timeless as her gorgeous engagement ring.
Margot Robbie's '90s Supermodel Manicure
Celebrity nail artist Tom Bachik [20] posted a throwback photo of Margo Robbie's nail look for the 93rd Annual Academy Awards, and the manicure [21], which features a very sheer overlay of milky pink polish and was dubbed the "'90s supermodel nail." Numerous celebrities like Camilla Cabello and Dove Cameron have put their own twist on the '90s supermodel nail since.
Lily Collins' Brown French Manicure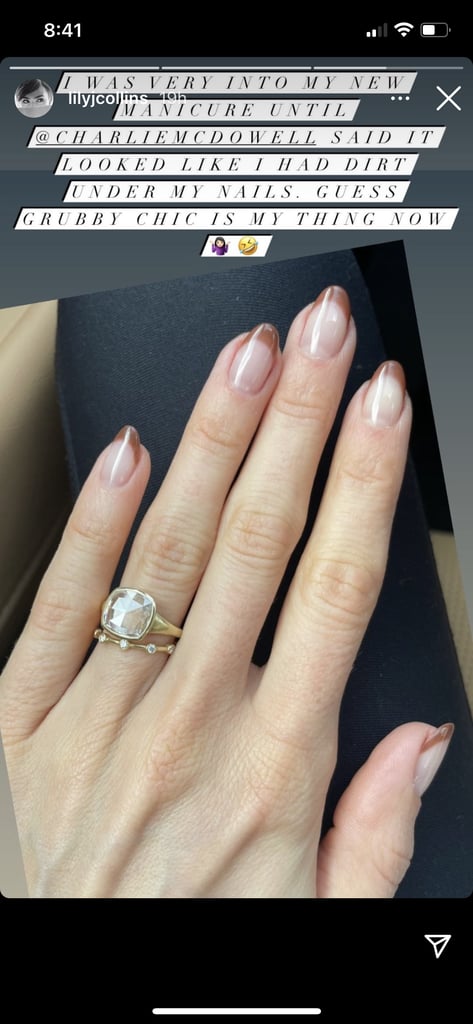 Lily Collins posted a warm brown french manicure [22] to Instagram, recalling the reason why she referred to them as "grubby chic." While we think her nails look anything but grubby, they definitely are on trend for 2022.
Selena Gomez's Perfect Nude Manicure
Bachik also posted a photo of Selena Gomez [23]'s most recent manicure: a sheer, cool toned tan that was a spot on match for Gomez's skin color. Bachik even captioned the photo "Perfect Nude 💅🏻🤍."