The 2021 Met Gala Nail Art Did Not Disappoint — Zoom In to See Some of the Best Looks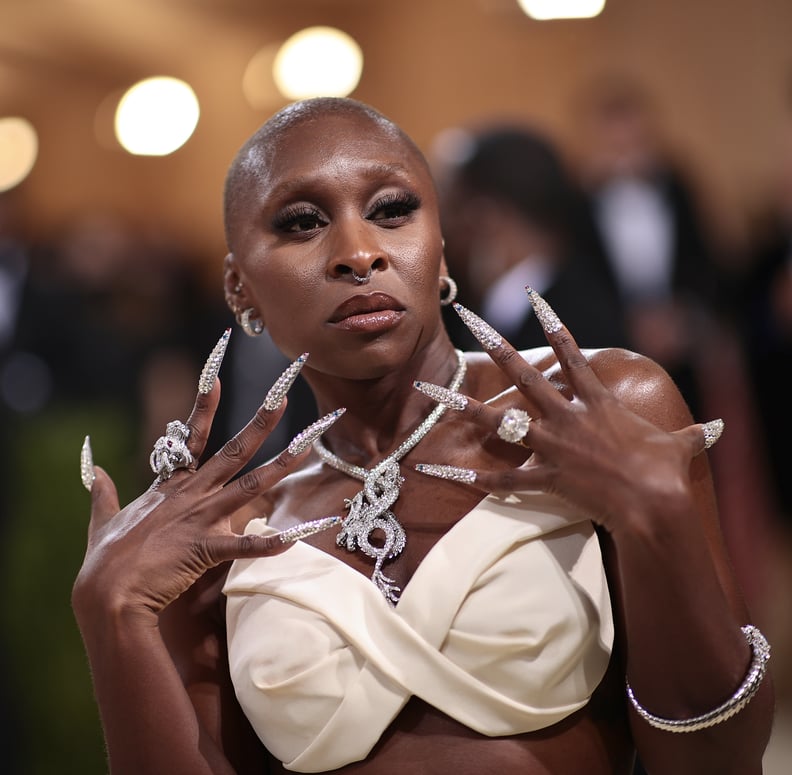 Courtesy of KISS
Courtesy of KISS
There were plenty of standout nail art moments at the 2021 Met Gala.
Crystals were a consistent theme with the celebrity manicures.
Cynthia Erivo, Gemma Chan, and more had our favorite Met Gala nail looks.
When it comes to the Met Gala, a celebrity's manicure certainly isn't the first thing we spot — there is the show-stopping fashion, of course, and the hair and makeup looks — but by no means are the nails are an afterthought. In fact, it's the painstakingly intricate finishing touch to any look. What's more, the 2021 Met Gala theme of "In America: A Lexicon of Fashion" served up some of the best nail art looks on the red carpet this year.
Highlights include Cynthia Erivo leaning into the drama with her jewel-encrusted nails that featured a teeny-tiny American detail, and Gemma Chan's "black dagger crystal" nails, which not only fit her ensemble perfectly but also serve as manicure inspiration that we're going to try out ourselves for a special occasion. And Ben Platt impressed us with his overall beauty look on the carpet this year: wearing crystal studs on his lash line and a super on-trend squiggle manicure to match his all-denim outfit. (Can you tell there's a glitter theme going on?)
Zoom into some of the best manicures of the 2021 Met Gala ahead.
Gemma Chan's Black Dagger Crystal Nails
Gemma Chan often likes to dabble in nail art on the red carpet, and the 2021 Met Gala was no different. For the occasion, she chose to wear this crystal-embellished design, which wasn't just beautiful but was full of meaning. The idea behind the look was: "Black dagger crystals to resemble Anna May Wongs pointy nails + peridot green crystal reverse French to match her skirt," said manicurist Betina Goldstein.
Amanda Gorman's Silver Chrome Manicure
Manicurist Yoko Sakakura kept things simple but beautiful for Amanda Gorman's manicure. The pair opted for a silver chrome color with blue undertone using all Essie products to match her incredible gown, hair, and makeup. Swipe to see an up-close shot of Gorman's nails.
Gabrielle Union's Swirl Nails
Gabrielle Union's swirly black and white nail art matched the contour and pattern of her gown perfectly, but it wasn't a design that came quickly. "I definitely took inspiration from Gabrielle's dress when deciding on what I wanted her nails to look like for the MET Gala. After months of sketching different ideas on paper, off paper, on my iPad and in my phone, I truly gave it a rest a week before the MET," said manicurist Thuy Nguyen. "I like to give myself time to let my ideas marinade and really sink in to inspire me to create a look that I would be completely obsessed with." We're pretty obsessed with it, too. Nguyen used CND Shellac in shades Negligee, Lady Lily, Black Pool, and Silver Chrome.
Lil Nas X's Gold Versace Nails
Lil Nas X always brings us an epic manicure moment, and the Met Gala was no different. To match his three outfits, nail artist Sojin Oh created this all-gold chrome "Versace" manicure.
Hailee Steinfeld's Stiletto Nails
Hailee Steinfeld's nails were simple in design but impressive in length. Manicurist Tom Bachik created this sheer peachy pink in a fierce stiletto shape.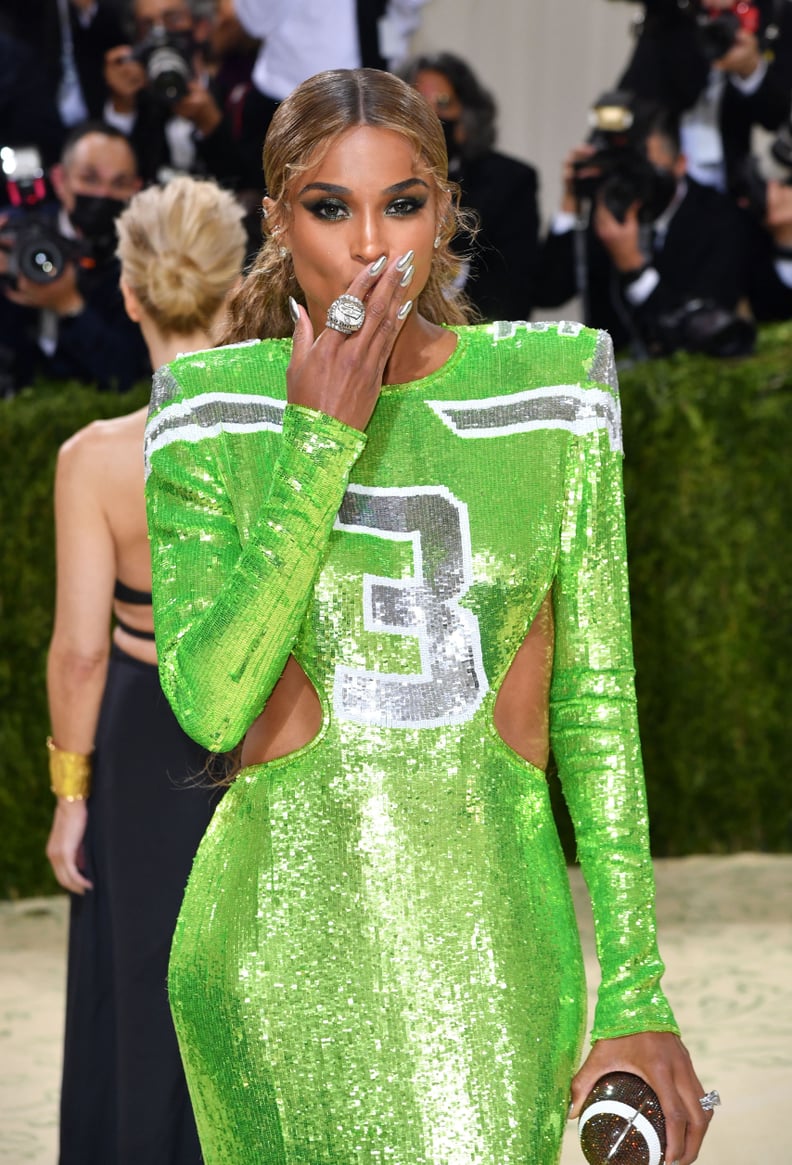 Ciara's Silver Chrome Manicure
Ciara and nail artist Eri Ishizu chose to match her nails to her dress with a full silver chrome manicure using CND shellac in Silver Chrome.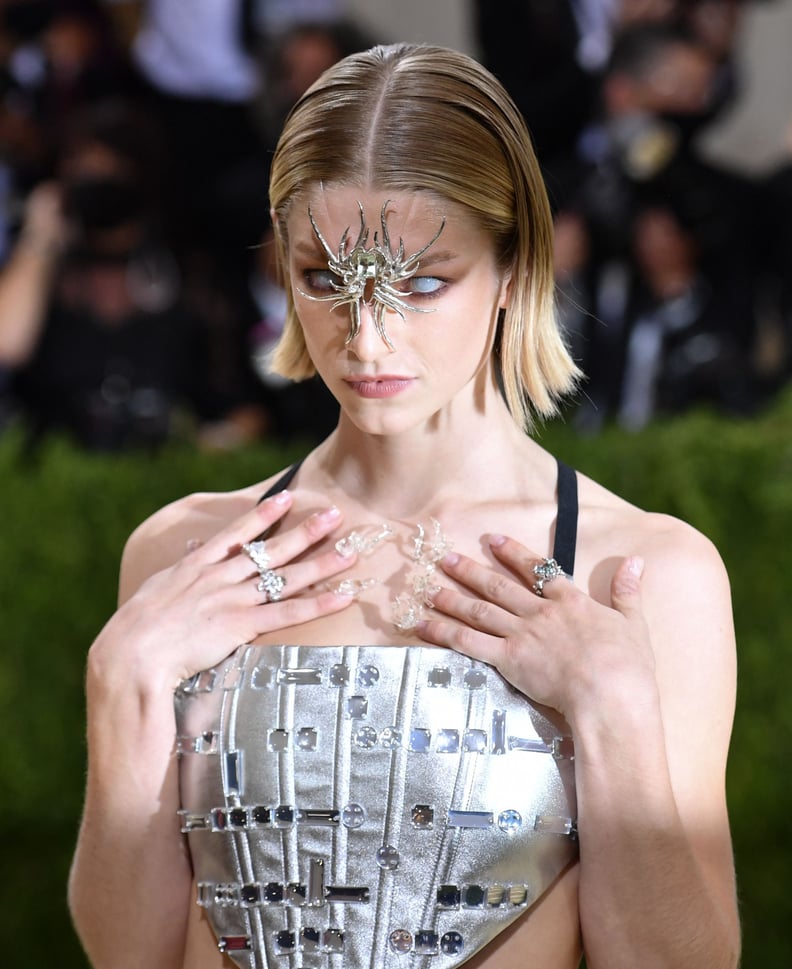 Hunter Schafer's 3D Futuristic Manicure
Hunter Schafer truly didn't disappoint on the red carpet with her beauty look, and her nails were a huge part of that. Sojin Oh was also the brains behind these breathtaking nails, which were created using custom glass Bio Seaweed Gel clear building gel. Impressive doesn't even begin to cover it.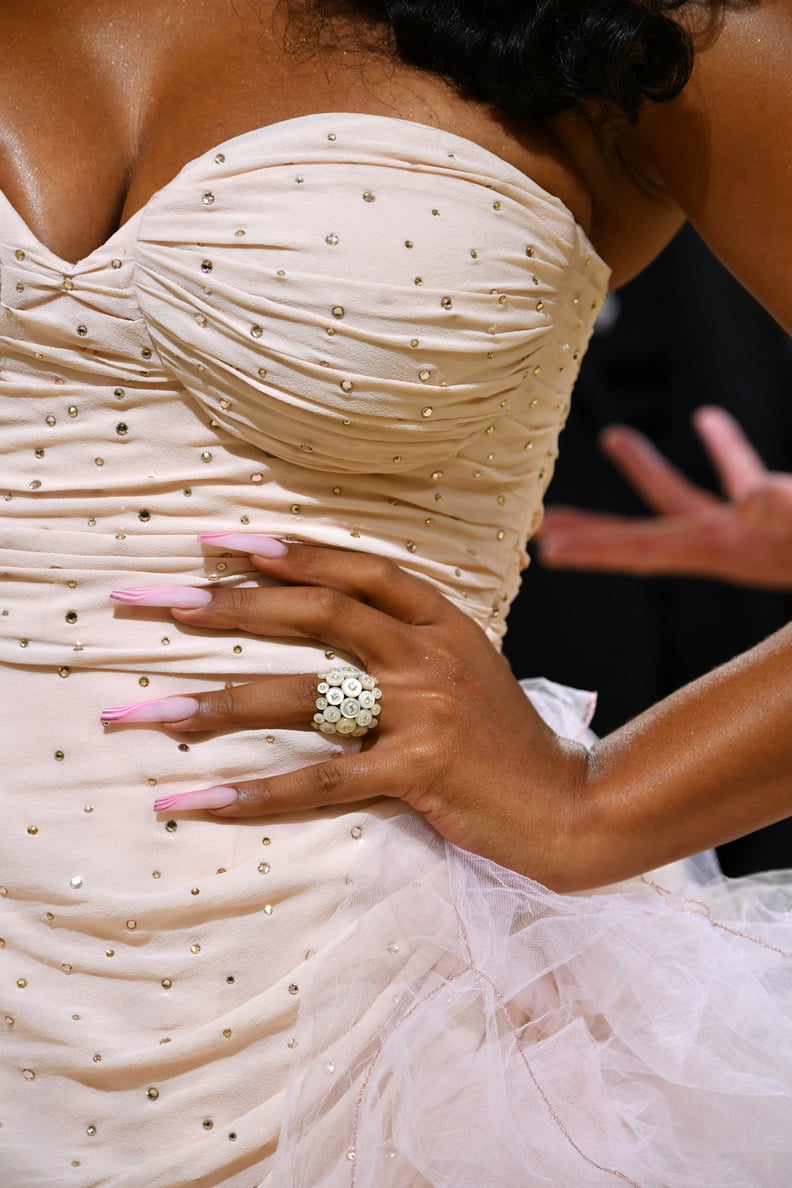 Megan Thee Stallion's Pink Optical Illusion Manicure
Manicurist Coca Michelle created these epic pink optical illusion nails for Megan Thee Stallion, and honestly, we've never saved a nail look quicker to use as future inspiration.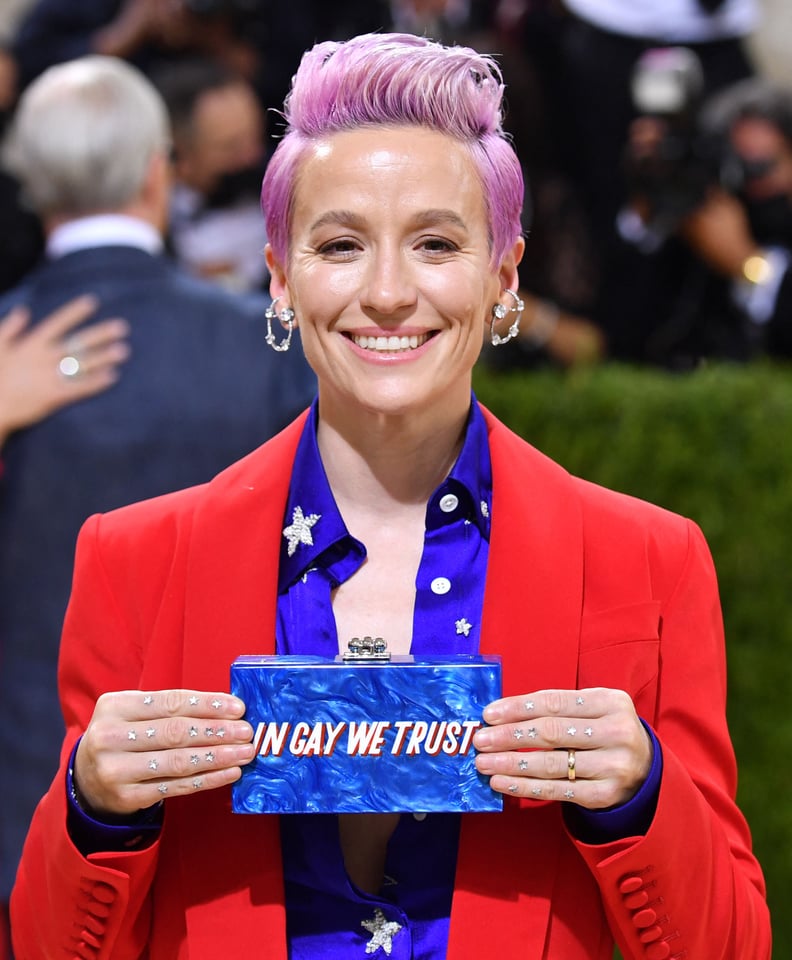 Megan Rapinoe's Jewel-Embellished Fingers
Technically, Megan Rapinoe's star-studded look is finger art rather than nail art, but nevertheless, it's amazing. Let this be a lesson to all of us to never let the art stop at the fingernails.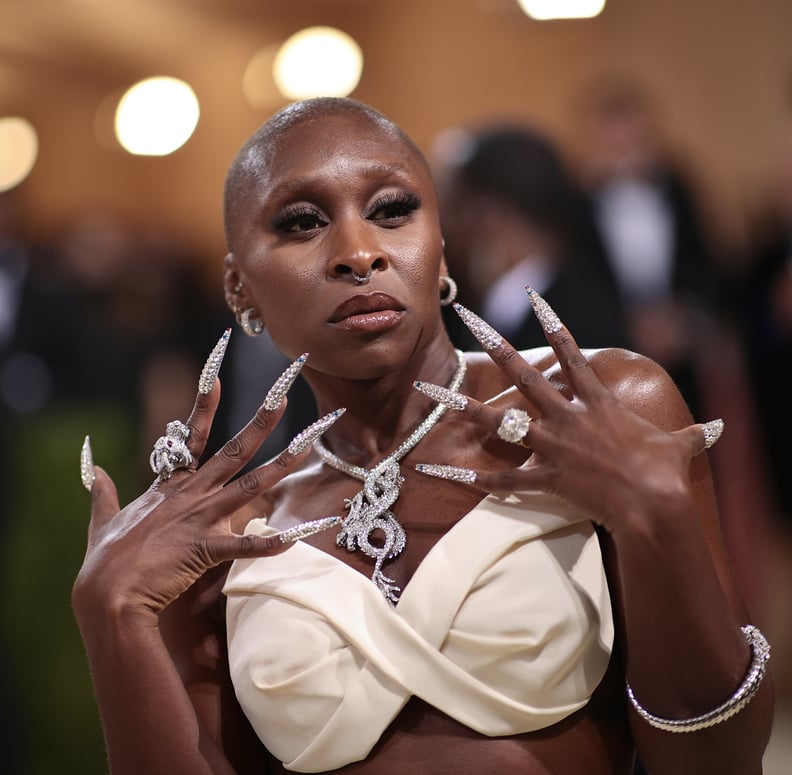 Cynthia Erivo's Crystal-Embellished Nails
Cynthia Erivo's Met Gala nails were truly epic. Each nail was encrusted with individual jewels, and if you look really closely, you'll see red and blue crystals added to the stiletto tips, making sure Erivo really nailed this year's theme.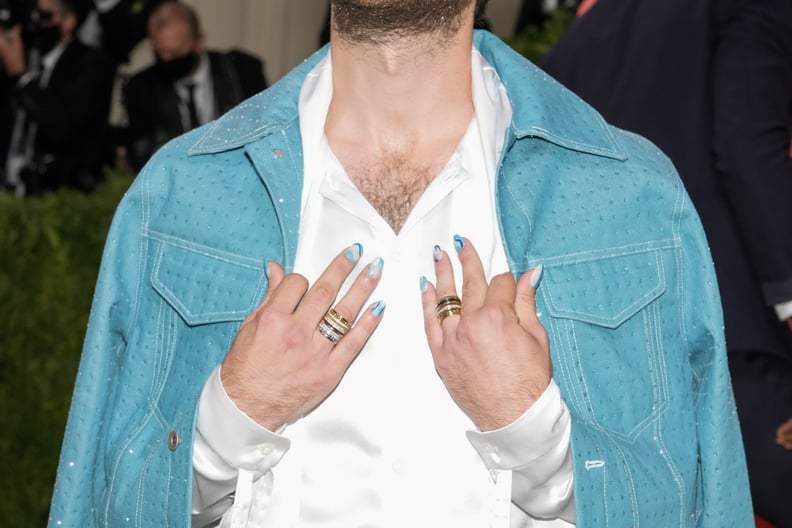 Ben Platt's Blue Swirl Manicure
Ben Platt really served us a wonderful beauty look at this year's Met Gala. First with his jewel-embellished eye makeup and next with his blue-toned swirl manicure courtesy of Michina Koide — both of which matched his all-denim ensemble perfectly.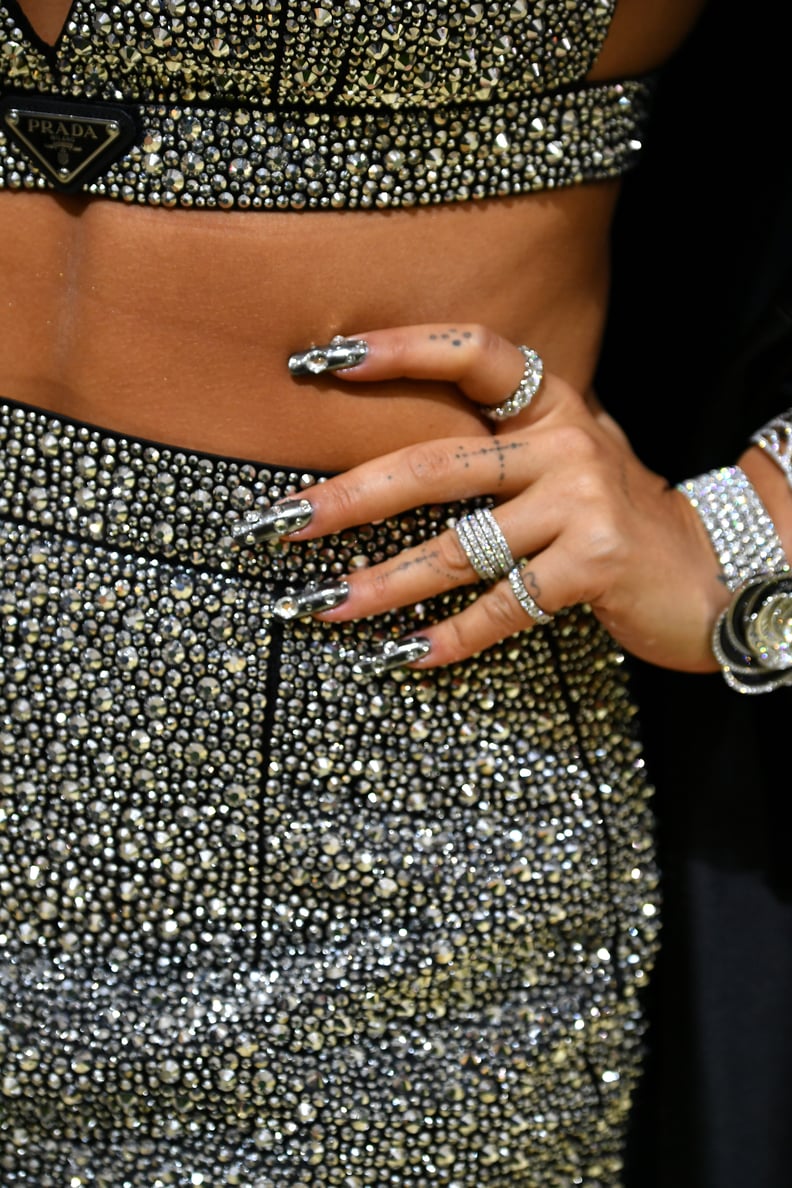 Rita Ora's 3D Jewelled Nails
With Rita Ora's nails, at first, we weren't sure where her Prada skirt stopped and the nails started, because they're practically camouflage. Manicurist Naomi Yasuda created a this 3D jewel-encrusted manicure as an extension of her incredible look.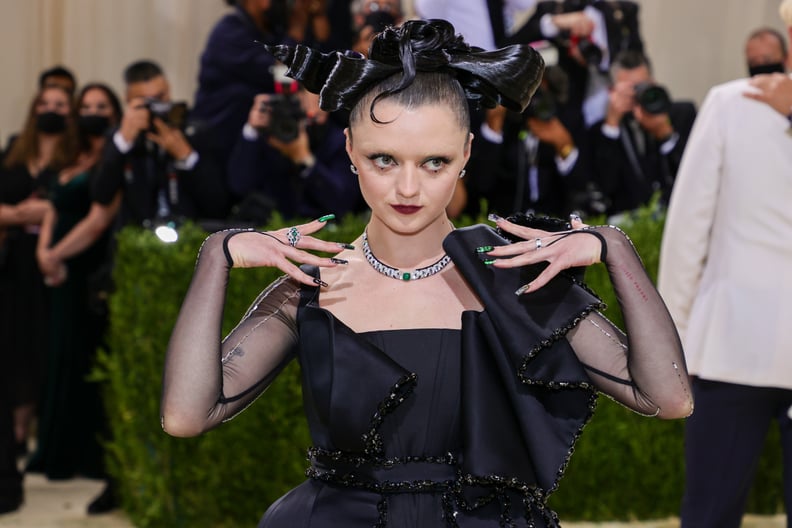 Maisie Williams's Gothic Green Manicure
There is a lot going on with Maisie Williams's manicure, which is just how we like our nails. Cute and chaotic, amirite? This set contains a different design on each nail with shades of black, green, and purple (and of course some rhinestones) and matches the theme of her outfit (which was inspired by the Matrix) perfectly.