This was a year of many things in beauty: insane highlighters, bizarre makeup trends, and more. But above all the glam (and not so glam) moments of the year, one thing is for sure: 2017's cup was overflowing with #blackgirlmagic. This year, women of color said "f*ck your beauty standards" and truly embraced their gorgeous natural hair, and we were 100 percent here for it (pun intended). We've seen celebrities like Kerry Washington and Taraji P. Henson make bold statements about their God-given kinks, but the movement spanned way beyond red carpet stars. This year, we've seen natural hair flourish through the local online community and on some of the world's biggest stages (hello, Miss Universe).
Ahead, we've rounded up some of our favorite times natural hair and #blackgirlmagic shook sh*t up in the beauty world. Prepare for your heart to feel so full and cheers to 2018 (and beyond) being full of more beautiful, natural hair.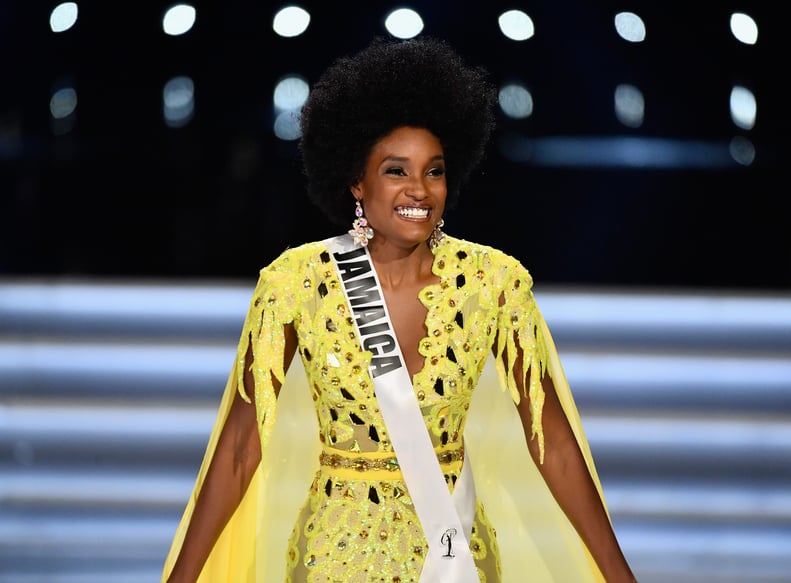 Miss Jamaica Davina Bennett Wears Afro at Miss Universe 2017
In a sea of white, blond, straight-haired Miss Universe contestants, second runner-up Davina Bennett came to shake things up in the most empowering way possible. The Miss Jamaica contestant graced the prestigious stage proudly rocking her gorgeous Afro like a crown — a sight you don't usually see on these types of stages. Davina wearing her natural hair on the Miss Universe stage wasn't only a huge moment for diversity, but it was also proof that Afros are f*cking beautiful. Twitter echoed these sentiments and sang Davina's praises for representing black women at the pageant.
Duckie Thot Covers Paper Magazine in Natural Hair
Australian model Duckie Thot, aka "Black Barbie," according to social media, is typically seen rocking lengthy ebony locks. But on the cover of Paper magazine's 2017 Beautiful People issue, Duckie sported her natural hair. Though different from her usual look, Duckie was incredibly gorgeous and confident, proving that she can still slay a high-fashion photo shoot in her natural state. This isn't her first time speaking out about her journey to loving her natural hair, though. In a 2016 Instagram post, Duckie shared that she's been bullied for her hair in the past. We love that despite her previous experiences, Duckie will proudly wear her natural hair, however and whenever she chooses.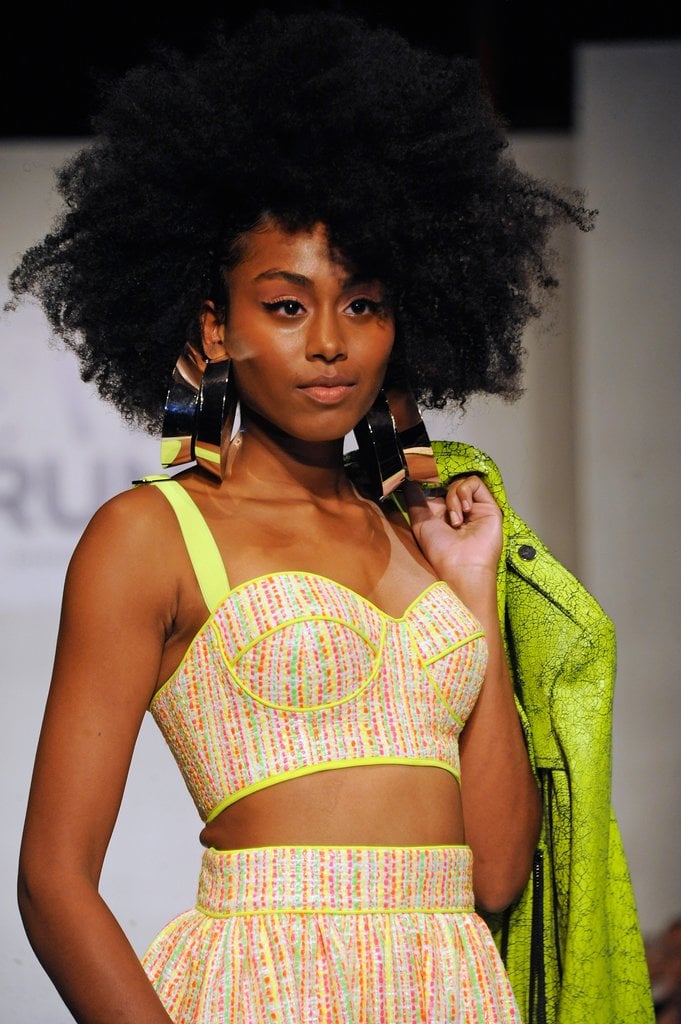 Texture on the Runway's NYFW Runway Show
Though we love Fashion Week for all its avant-garde garments, the historical lack of diversity on the runways is disappointing. However, Michelle Bryer, founder of NaturallyCurly.com, created Texture on the Runway to be the place to spotlight diversity and natural hair on the runway vs. just sprinkling it in here and there. In the 2017 NYFW presentation, curls, Afros, dreadlocks, and braids of all shapes and sizes graced the runway, making natural hair the mane attraction of the presentation.
Artist Laetitia KY Turns Her Natural Hair Into Sculptures
We often say natural hair is magical, but Laetitia KY has proven that it is actual art. Instead of sculpting marble or clay, she uses her 4C hair to create jaw-dropping pieces. "About a year ago I saw an album on Instagram presenting African women's hairstyles in diverse tribes from years ago — the hairstyles those women were sporting are impressive and represented an art form in themselves," she told Metro. Laetitia has been able to manipulate her mane into carvings of hand gestures, bunny ears, and even an outline of Africa.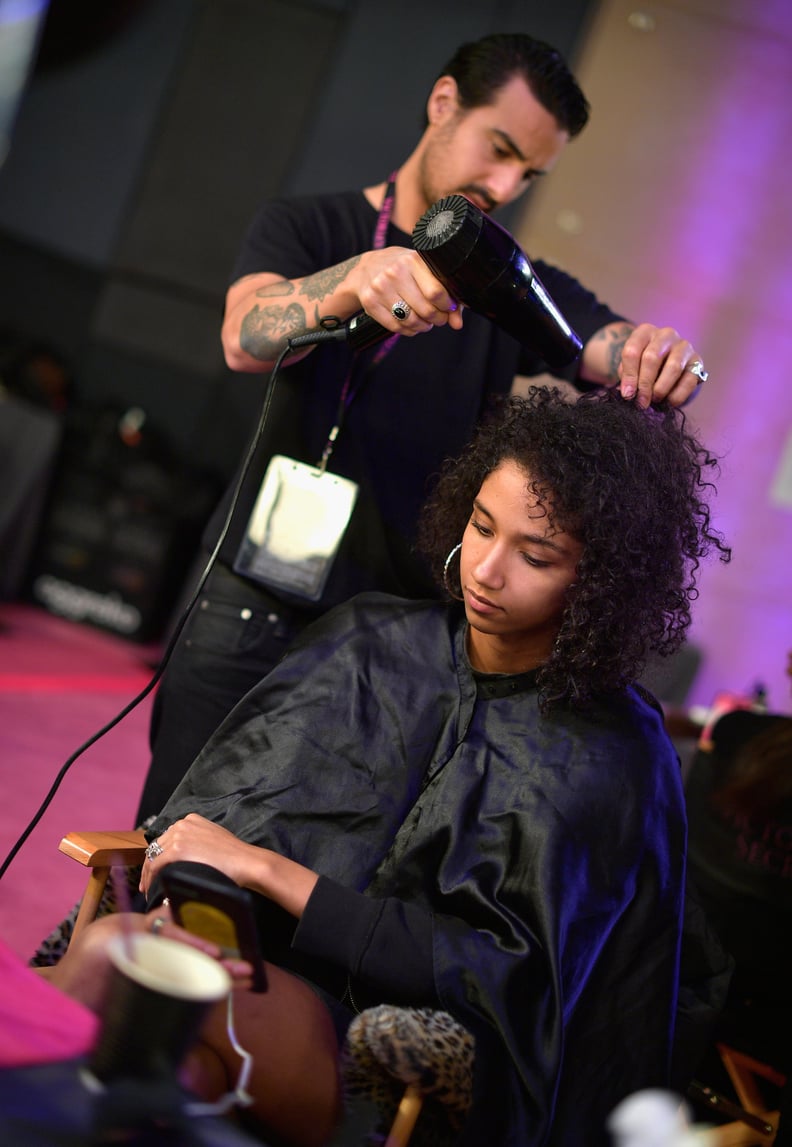 Natural Hair at the Victoria's Secret Fashion Show
Two years ago, Maria Borges made history for being the first model to wear natural hair on the Victoria's Secret Fashion Show stage. This year, she returned with her Afro in tow, but she walked alongside the company of other women who also flaunted natural hair on the runway.
This year's show was the most diverse by a long shot. Almost half of the 55 models who walked the runway were women of color. Lead hairstylist Anthony Nadar wanted to make the Angels with natural hair feel empowered, too. So instead of straightening their curls, he simply enhanced the models' natural texture. "If girls have got great curly hair, we're not blowing them out," he said. "We are just enhancing what they've already got and making it a better version."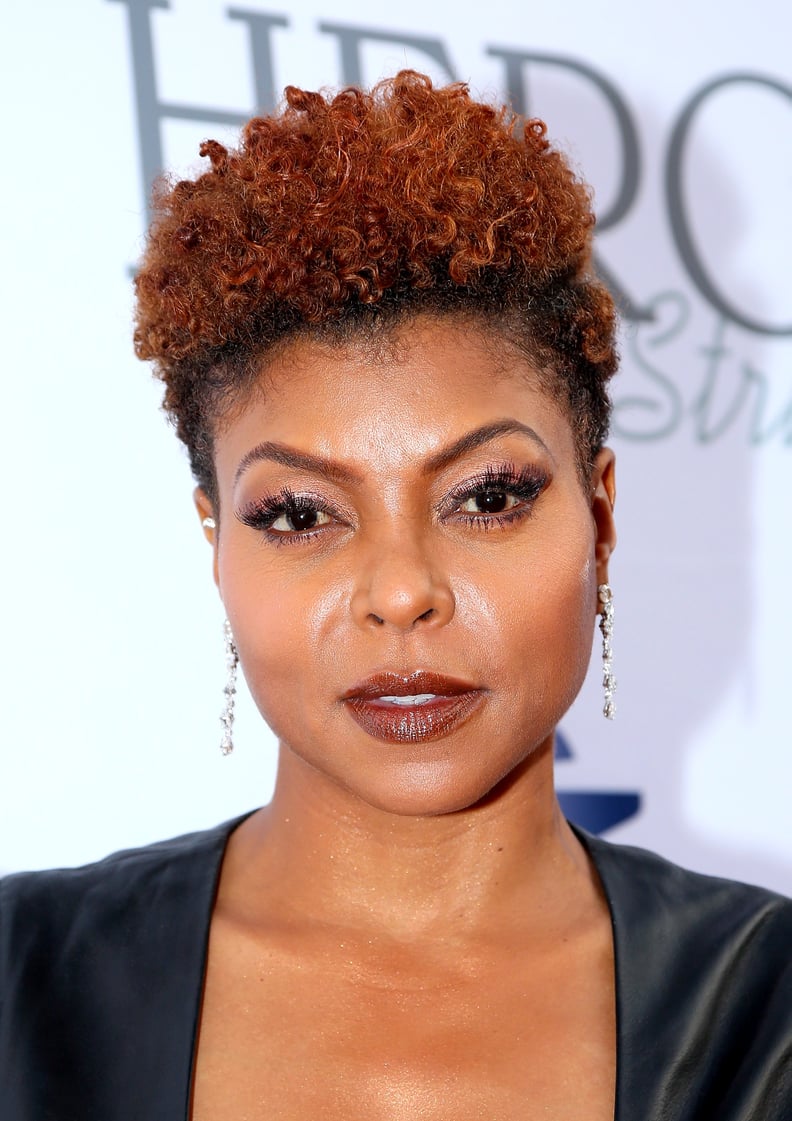 Taraji P. Henson Goes For the Big Chop
Taraji P. Henson took the plunge and chopped her hair in June. Women transitioning from damaged hair to a revived texture know that the process can be frustrating at times, but Taraji is embracing it. She revealed to Extra that straightening her hair is a thing of the past. "I'm not straightening my hair again," she declared. We can't wait to see Taraji's natural-hair journey progress in 2018.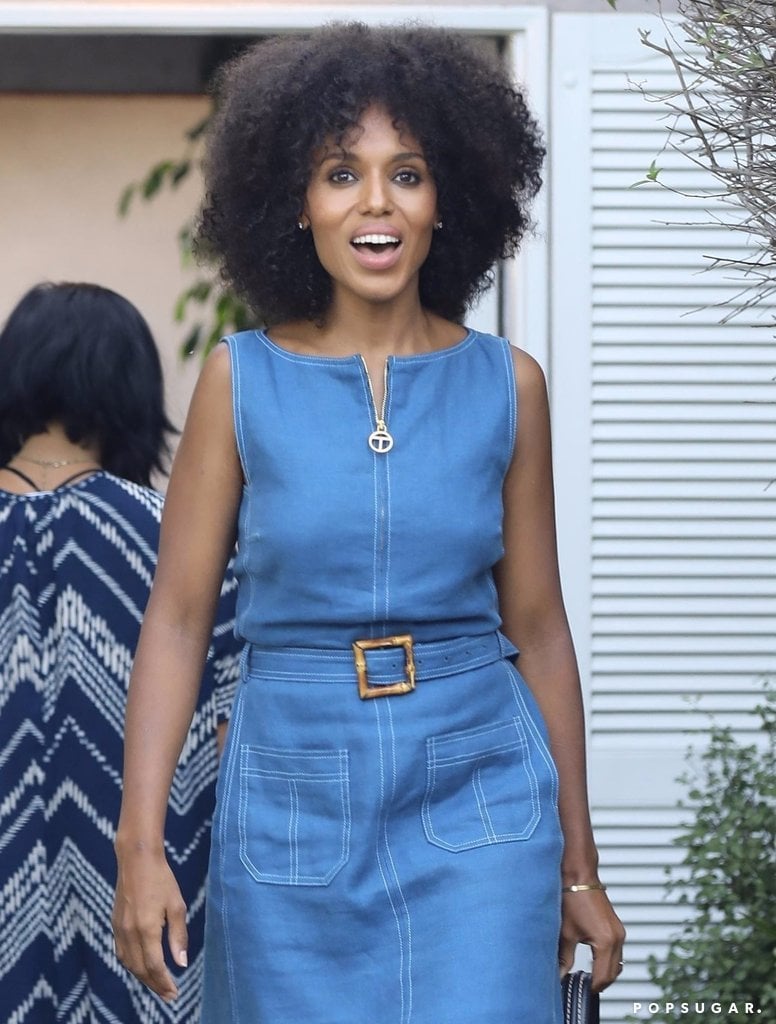 Kerry Washington Covers Allure's November Issue Wearing Cornrows
Kerry Washington is no stranger to putting her natural hair on display. So it's no surprise that in the November issue of Allure, the actress sported decorated chunky cornrows and looked damn gorgeous doing it.
In a recent interview with Today, Kerry shared that wearing her hair in its natural form is a simple act of self-love. "I love myself no matter what way I choose to wear my hair that day. I love my hair," she said. "Women are so lucky who have textured hair. You can wear it straight or curly," she added. Amen, sista.
The #BlackHairChallenge
Celebrities weren't the only ones flaunting and encouraging women to rock their natural hair. Earlier this year, the hashtag #BlackHairChallenge went viral, prompting people of color to share photos of themselves sporting different hairstyles to showcase the versatility of black hair. Beautiful men and women flooded Twitter with images of braids, buns, Afros, and curls galore.
Ivy Park's Velvet Backless Cap
Sometimes curly girls just want to throw their hair into a puff and put on a baseball cap. Unfortunately, that isn't always super easy because the back of normal caps are too small for thick curls to pull through. Leave it to Queen Bey to come to the rescue. Earlier this year, Beyoncé's athleisure line, Ivy Park, changed the game by releasing a backless baseball cap. The innovation was a lifesaver for women with thick heads of hair because it made it possible to comfortably put their hair in a bun while still wearing a cap.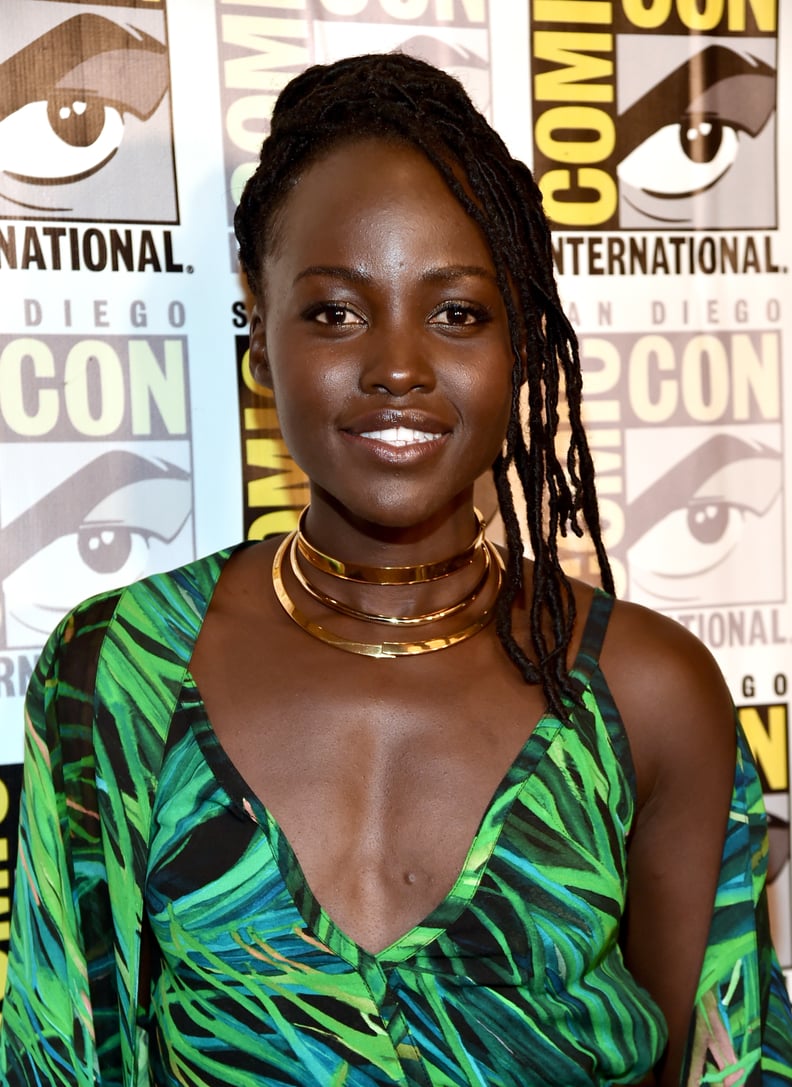 Lupita Nyong'o Addresses Being Photoshopped in Grazia UK Magazine
Lupita Nyong'o is constantly experimenting with her natural kinks on and off the red carpet. But when she saw her natural hair photoshopped on the November cover of Grazia, she released a powerful statement. "I embrace my natural heritage and despite having grown up thinking light skin and straight, silky hair were the standards of beauty, I now know that my dark skin and kinky, coily hair are beautiful too," she wrote on Instagram.
Lupita continued to explain that society still has work to do when it comes to crushing traditional beauty standards: "there is still a very long way to go to combat the unconscious prejudice against black women's complexion, hair style and texture," she said. Lupita ended her poised clapback with the hashtag #DTMH, a nod to Solange Knowles's black-girl anthem "Don't Touch My Hair."