What It Means to Be BIPOC in the Alternative Beauty Space
For decades, the alternative scene has been an escape from conformity and a safe space for total self-expression — whether you interpret that through music, clothing, or makeup. It's where you can listen to Bauhaus, the Cure, or My Chemical Romance, take makeup inspiration from Siouxsie Sioux or Avril Lavigne, and wear all black to your heart's content without public ridicule. Yet, in spite of projecting a "come one, come all" attitude that takes in every misfit, the community has a long way to go before becoming truly inclusive — especially of Black and brown people.
Not only is there a lack of representation in the artists chosen for music videos and headlining for tours, but many people of color have also experienced everything from gatekeeping to harassment online for not "fitting" within a singular (read: white) aesthetic.
"Growing up, I realized that the industry doesn't cater to people like me and, looking back, I really didn't think I was that special," says Marley Oblitey, the CEO of makeup brand Glam Goth Beauty. This has led many to take matters into their own hands and create the communities they weren't privy to before. "I was like, 'I know there are Black alternative people out there who want to be in this space, but we don't feel like we have our place.'"
Oblitey grew up in the alternative scene with a particular fascination with its beauty component, and worked in the beauty industry for years before creating her own cosmetics line catering to all skin tones and complexions. Glam Goth Beauty began with a cosmetic glitter inspired by Universal's classic Monster of Frankenstein, and has since expanded into everything from liquid lipsticks and false lashes to eyeshadow palettes. With each product drop, Oblitey ensures that Black and brown people are present and accounted for throughout every step of the process, showcasing makeup from talented artists to her social media pages.
"Being a woman of color, I have to make [the brand] for people of color," Oblitey says. "It's also a soul thing. In my spirit, I want people of color to know that regardless of if you're alternative or not, this is a safe space for you and you're of value."
As a result, a community of BIPOC alternative creators began to form, which today has become somewhat of a centralized hub of unfettered self-expression. "Honestly, I don't think I've ever experienced a real community among other goths of color in an online community other than being featured on Glam Goth Beauty," says Anastasia Du Noir, a D.C.-based trad goth musician and DJ.
While larger representation in the music scene is lacking — and something Morgan Mcvay, also known as Lolita Diamond, a Los Angeles-based makeup artist and founder of Onyx Lashes, says has remained relatively unchanged throughout the decades — "what has changed is that we have different platforms to see other people from around the world," she adds.
Oblitey's Glam Goth Beauty is not only a place to showcase the creative makeup looks of Black and brown alternative creators; it's also provided a platform for recognition for musicians, entrepreneurs, and activists who share an affinity for gothic beauty.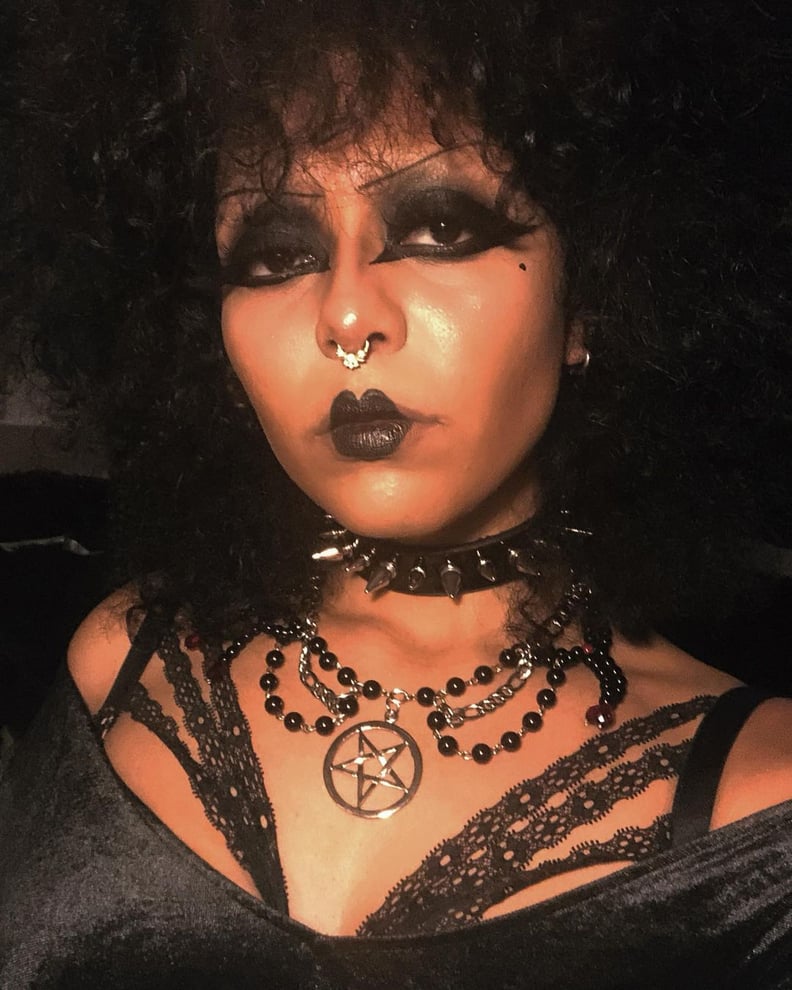 Du Noir, for instance, not only posts bold liner looks but also wants to create a music space in Washington DC for goths of color — a demographic that's largely underserved despite the city having one of the highest concentrations of Black Americans. Mcvay not only runs a thriving lash business, but has also built a name for herself as a freelance makeup artist in one of the most competitive cities in the country. There's also Baby Storme, a Los Angeles-based alternative musician who formed a sisterhood with Oblitery in an unlikely place: in the trenches of Alternative Press's comments section, where she was receiving hate for her first alternative song "Pom Pom" and Oblitery came to her defense.
Although Oblitery has taken Storme and many other Black and brown alt creators under her wing in a way, she wants her brand to be a platform to showcase gothic beauty from unlimited perspectives. For example, while Oblitery pulls inspiration from Old Hollywood macabre icons like Lily Munster or Morticia Addams, there are the creators who use Glam Goth Beauty to take from the limited POC gothic characters they did see on screen.
Why not show you can do gothic makeup on dark and melanated skin?
"I was tired of feeling like I couldn't wear and do certain [styles]," says Marrissa McKissick, also known as Witchy Purple, a content creator and self-proclaimed melanated metalhead. "But then there were movies like 'Queen of the Damned,' which incorporated people of color and made me feel comfortable to be like, 'I know this isn't Hollywood, but I can feel comfortable to dress and do my makeup in this way.' It made me realize that there are a lot of people who don't feel comfortable enough to do it and if I'm able to do it, why not show you can do gothic makeup on dark and melanated skin?"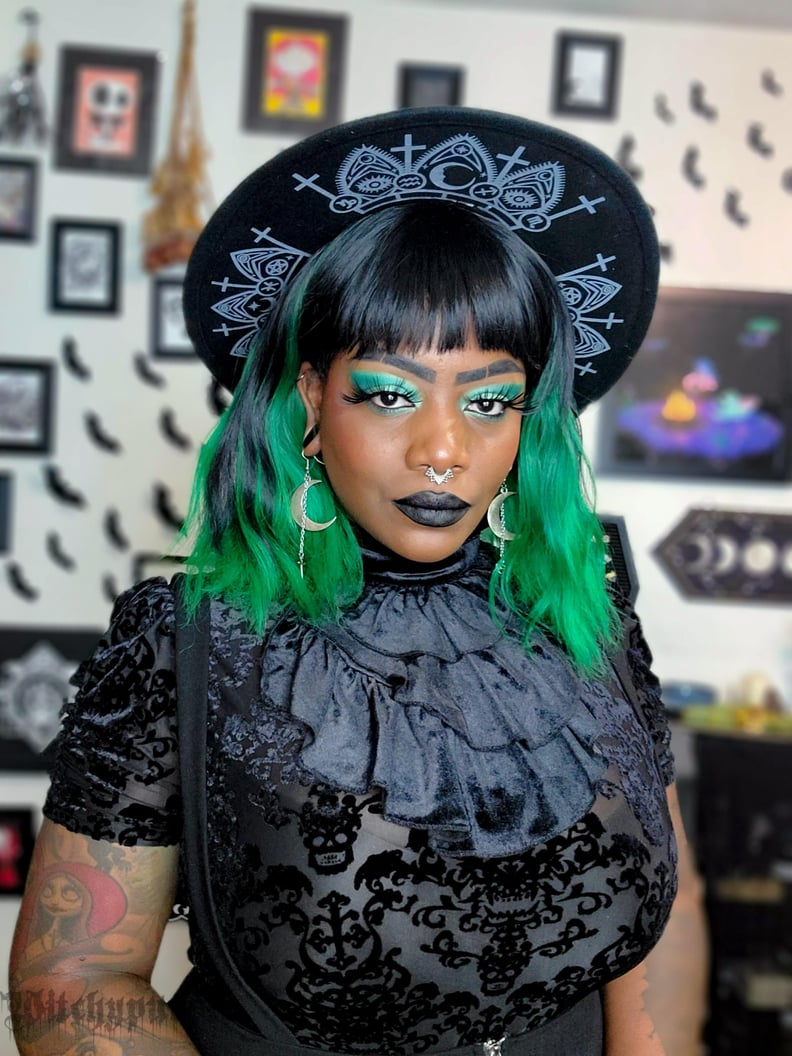 Image Source: Marissa McKissick
McKissick was initially inspired to embrace her dark side after seeing herself in the late Aaliyah's portrayal of Akasha, the powerful, seductive, and all around badass vampire ruler who starred in 2002's "Queen of the Damned." Still, while Akasha was certainly a standout, there have been far and few alt and POC characters — outside of Rochelle of 1996's "The Craft," Calypso of the "Pirates of the Caribbean" franchise, Claudia of AMC's "Interview with the Vampire" TV series, and Bianca Barclay of "Wednesday" — who've been given enough screen time to make a lasting impression on audiences.
There's also Marie Laveau, the Voodoo Queen of New Orleans, who deserves to be in her own category entirely. Not only was Laveau portrayed by Academy Award-nominated actor Angela Bassett in "American Horror Story: Coven," but she was a real Louisiana Creole practitioner of Voodoo who not only established herself as an occultist, herbalist, and hairdresser for wealthy patrons, but made an impact on New Orleans, as well as popular culture, that's lasted nearly two centuries.
"I went to New Orleans in 2019, and many of the statues that you could give offerings to were of Marie Laveau," says Mcvay. "A lot of my makeup inspiration comes from her — whether that be a tight-lined cat eye, a smoky eye, smoky eyeliner, long braids, or a deep vino lip."
While Marie Laveau has been brought to the forefront of popular culture in recent years, this hasn't always been the case. The voodoo that Laveau practiced is an African diasporic religion that was heavily suppressed by the legal system, public opinion, and Christianity. During the Civil Rights Movement, voodoo began making a comeback, and many of its motifs were even showcased in the performances of popular shock rock musician Screamin' Jay Hawkins. Today, voodoo has seen a resurgence and many are able to recognize that many of the gothic motifs found throughout today's music, television, movies, and even beauty can be traced back to Black and brown cultures.
By taking inspiration from figures like Marie Laveau, individuals like Mcvay are able to connect with an aesthetic that acknowledges both their alternative and POC identities. This can be a liberating experience, as many in this situation have been made to feel at odds with themselves — being ostracized from the alternative community for being POC and simultaneously being ostracized from the POC community for adopting an aesthetic that's largely been associated with whiteness.
"Growing up, I always got called names like 'Oreo' and that I wasn't Black enough because of the music and fashion choices that I like," says McKissick. "People from both sides always thought that I was trying to act white, which was not the case. I'm just trying to be the person that I am."
It should go without saying that no one race owns an aesthetic, genre of music, and especially not gatekeeping privileges. The alternative community should be for everyone and anyone who wants to participate. And, in spite of the resistance, rejection, and racism, many alt and POC individuals continue to express their art to the world. Only now, they aren't doing it alone.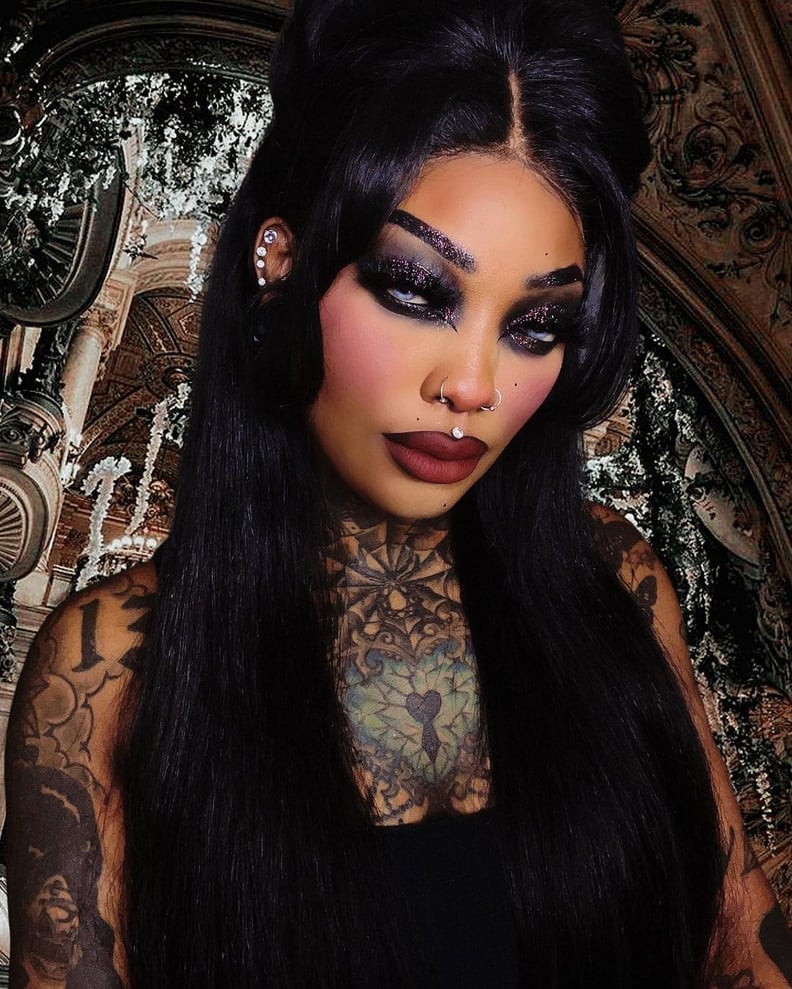 Image Source: Marley Oblitey
"It's just so beautiful to see people step into their own," says Oblitery. "I don't think anything will compare to the feeling of seeing a creator find my brand and then seeing them truly own who they are. The strength and comfort that comes from finding a community — there's nothing that's going to compare to that."