As POPSUGAR editors, we independently select and write about stuff we love and think you'll like too. If you buy a product we have recommended, we may receive affiliate commission, which in turn supports our work.
Chapstick's S'mores Collection ($5) satisfies the nostalgia that I have for some of my most cherished Summer memories — sitting in front of a bonfire with my friends and family and making s'mores.
The set includes a lip balm for each ingredient of the delicious, stacked dessert: Graham Cracker, Marshmallow, and Milk Chocolate. They smell exactly like each component of a s'more and are tinted to have a color similar to them too.
Upon opening, I reached for the Milk Chocolate tube first, because, of course — it's both my favorite and arguably the best part of the treat. I swept it across my lips and noticed that it deposited no color. It softened my lips the same way Chapsticks products always do. The difference is that I couldn't stop licking my lips and passing it along to my friends to swatch and sniff. Gliding on the Marshmallow and Graham Cracker yielded the same results (but Graham Cracker smelled extra sweet compared to the other two tubes).
As much as I love my lip balms, I have a habit of losing Chapsticks before I get to the end of its tube — I attribute it to its small, travel-friendly size that I always want to bring with me everywhere. With these, I'll be more careful. After all, they're basically Summer memories in three adorably packaged tubes.c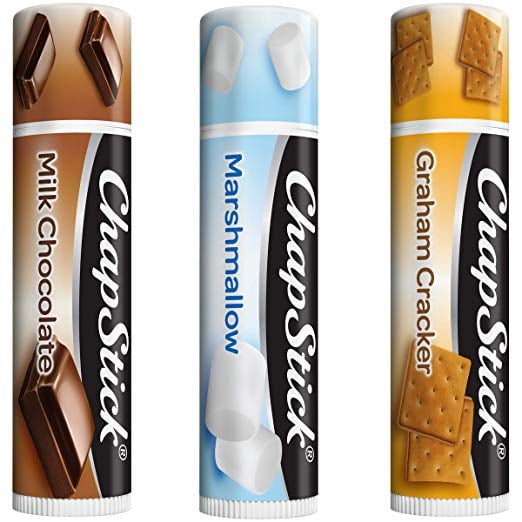 Chapstick S'mores Collection
Chapstick S'mores Collection
Chapstick S'mores Collection