Every editorial product is independently selected by our editors. If you buy something through our links, we may earn commission.
If there is one spot on the face that gives everything away, it's under the eyes. Stayed up late binge-watching Netflix? Dark circles. Had a few extra cocktails at happy hour? Puffiness. Got allergies that make you sneeze through the night? Red-rimmed eyes. You can hardly catch a break. But luckily, you can easily make all of yesterday's drama disappear with the right makeup products — specifically a good undereye concealer.
From tips like why you should apply your foundation before concealer to the life-changing triangle trick, we're sharing all of our secrets with you. For dark circles, eye bags, and everything in between, we're rounding up the best undereye concealer hacks for you to try, ahead.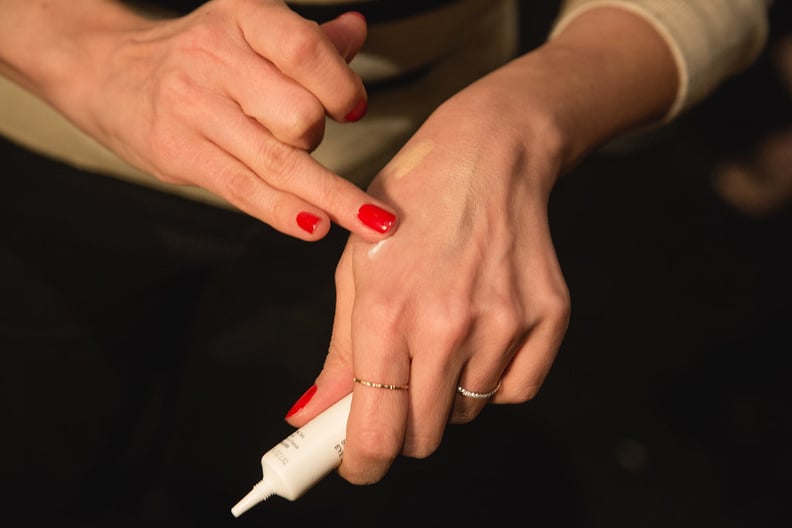 Tip #1: It all starts with skincare (we know, you've heard this before). To minimize bags under your eyes, use two tea bags steeped in cool water. The caffeine helps constrict the blood vessels underneath the eye to reduce swelling.
Tip #2: Most makeup artists recommend that you apply eye cream before putting on concealer. Makeup artist Gina Brooke recommends mixing serum directly with your concealer for a creamy consistency that won't settle into fine lines and crow's-feet.
Tip #3: Your concealer should be the last step when it comes to eye makeup. First, put on your full face of foundation, then move to your eye makeup, before finishing off your face with concealer. This order ensures that you cover up any powder that might have fallen from your shadow application.
Tip #4: Don't forget to neutralize the darkness on your eyelids as well. Apply the same concealer you used under your eyes on top of your lids as a eye shadow primer.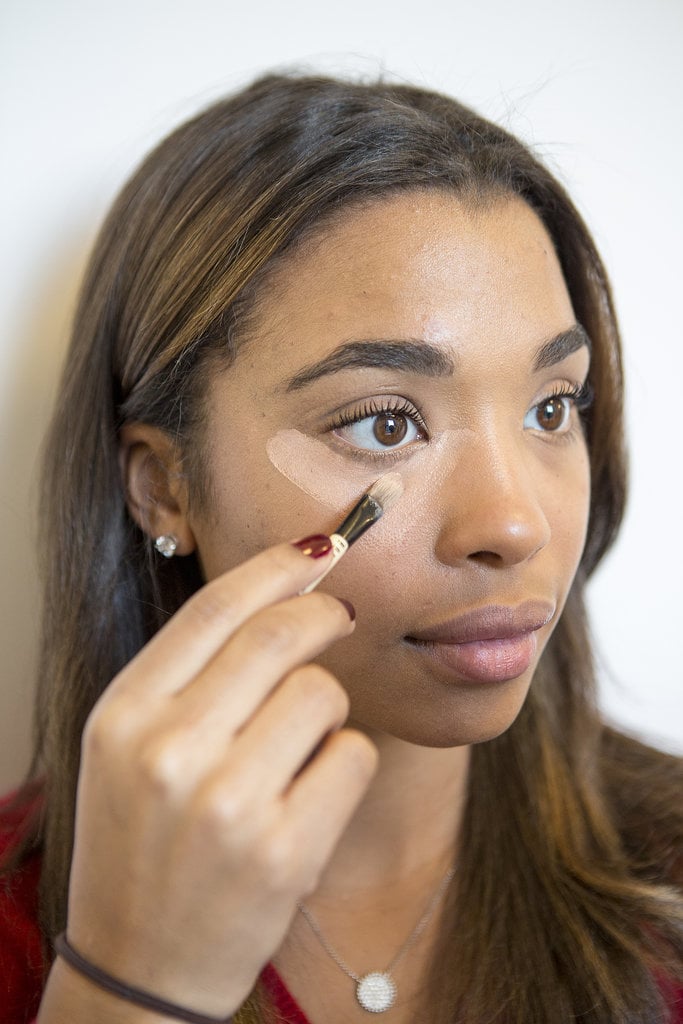 Tip #5: While we like to blend concealer using our fingers, the best makeup brush to buy is flat with densely packed bristles. A dome-shaped tool like the Sigma Beauty F65 Large Concealer Brush ($21) will help you get into the smallest crevices.
Tip #6: If you want to erase tired, sagging eyes, there's an important product you have to apply even before concealer — corrector. While your concealer product will even out your dark circles to match your skin tone, a color corrector brightens the entire area by neutralizing the blue or green undertones. "Correctors come in peach or bisque tones," said Bobbi Brown makeup artist Kim Soane. "The peach color eliminates gray and green, and bisque (or pink) takes away a gray/blue/purple undereye."
Tip #7: You've probably been dotting concealer on in a half-moon shape for years, but an inverted triangle is the better strategy. Not only does it help draw attention upward toward the eye, but it also helps sculpt out the cheekbones. Make sure to extend concealer all the way to the inner corner of the eye.
Tip #8: Once you've blended in your first base of concealer, you might have to go back with more. Makeup artist Kathy Jeung uses this layering technique to draw right over any remaining darkness. This is an especially good tip for blue veins. "If you have blue under your eyes, anything with peach or pink to it neutralizes the blue rather than covering," she said. "Draw right where you see the darkness."
Tip #9: Use a fluffy brush to dust a yellow loose powder under your eyes like Anastasia Beverly Hills Loose Setting Powder ($36). The shade brightens the entire area and sets the cream for a long-lasting finish.
Tip #10: Highlighting your cheekbones also goes a long way to detract from puffy undereye circles. You can use anything from lip gloss to eye shadow to create a hint of shimmer in a C shape from brow to cheekbone.