Snapchat King DJ Khaled Talks Confidence, Fatherhood, and Cocoa Butter
Many would argue that 2016 was a pretty difficult year for a handful of reasons, including the controversial outcome of the presidential election. But if you're DJ Khaled, then your 2016 has been full of wins and plenty of blessings. Hell, if you thought the decorated DJ and producer reached his zenith after hitting staggering Snapchat stardom, his latest endeavors indicate that he is only just getting started.
This year alone, Khaled has used his highly entertaining and motivational Snapchat affirmations (which are referred to as "keys") to expand his hip-hop empire. His recent album Major Key has been nominated for a Grammy, and he wrote his first book aptly titled The Keys. Now, he's expanding his efforts into the beauty world, and this move was as unexpected as it is genius.
Khaled is no stranger to staying on top of his grooming game. Multiple times a week, he is seen snapping from a barber's chair keeping his hairline fresh. Other times, he's giving us peeks into his simple yet oddly captivating beauty routine, which mainly includes scrubbing himself with Dove bar soap, gargling Listerine, and applying insane amounts of cocoa butter. In fact, his love for cocoa butter runs so deep that he's collaborated with Palmer's to put his stamp on its famous formula so that you, too, can live your most beautiful life.
The trio of instant bestsellers consists of three lotions christened by Khaled: They Block, Live Life Smooth, and We The Best Glow ($7 each, available at palmers.com and We The Best Store). Each is outfitted with his autograph and his signature key emoji. Earlier this year, he told The New York Times that he consistently puts cocoa butter everywhere, but more specifically, "all over my face, my iconic belly, and my arms and legs."
"Why live rough when you can live smooth?"
We caught up with Khaled before his New York City "#FanLuv" event, where he shared that though each of his lotions carry a unique message, you're not limited to using just one. In fact, Khaled uses all three lotions daily. "I use They Block all the time because I always have to protect myself from 'they' [the producer's term for haters]." He continued to explain: "We The Best Glow is mandatory, though, for your life, your skin, your beauty, your greatness — it gives you that classic cocoa butter glow." To explain his third formula, Live Life Smooth, Khaled asked us one simple question: "Well . . . why live rough? When you can live smooth?"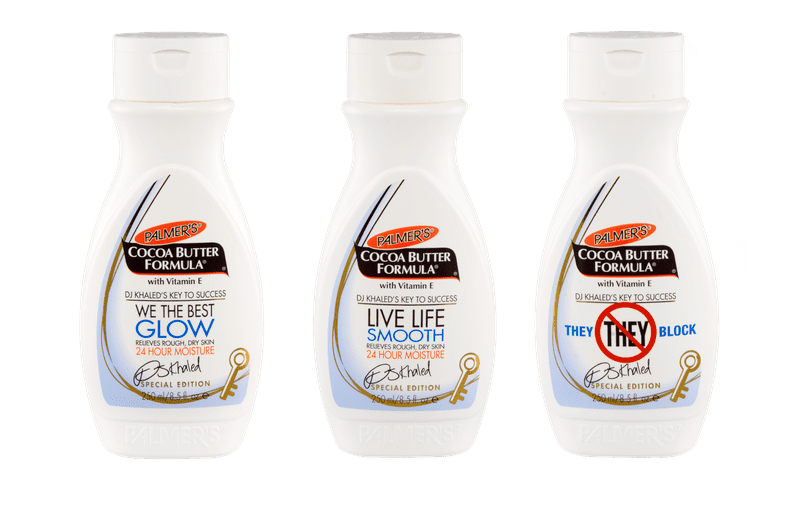 "Sometimes I wake up and things do get to me, but I just look immediately at my son and everything erases. Nothing can affect me."
It was obvious that Khaled was excited about his collaboration with Palmer's, but he was equally thrilled to gush about his newborn son, Asahd. Since becoming a dad, he has given his fans precious looks at intimate moments with his little family. So, naturally, we needed to know if his love for cocoa butter has been genetically passed on to his baby.
"It absolutely is, I got my son cocoa butter already," he shared. "I put them all on him. But right now, he's definitely protected at home all day with mom and dad, so he's mainly using We The Best Glow and Live Life Smooth to give him that glow. But when we hit the streets, that They Block is on."
And though Khaled now has a little one to also protect from "they," he still confided that, despite his conspicuous confidence, keeping negativity out of your life can be challenging. "I get it, it's hard," he said. "We're all human. Sometimes I wake up and things do get to me, but I just look immediately at my son and everything erases. Nothing can affect me."
For his fans struggling to find the same confidence, Khaled urges that "they" cannot be entertained. "You have to let them know that they can't stop greatness. But the moment you let them in to pull you down, that is what they are going to do." But, of course, you can always take extra steps to keeping haters away by applying layer (or two) of They Block. (See the magical powers of They Block in the trailer below.)
So just how does Khaled plan on even more success for 2017? Well, there are multiple keys. One of them is creating healthier lifestyle habits. "I'm about to step up my fitness game," he boasted. "I was really into eating clean and working out but I've been slacking in the last three months." A few months back, he decided to take the 22 Day Nutrition challenge. In addition to eating healthier, he frequented the elliptical where he conducts "elliptical talk" with his fans while getting his cardio in. But though he admits to slacking on his fitness game, he's cognizant of the things he wants to change. "I'm aware of the things I want to tighten up," he said. "I try not to make excuses."
But there is one tiny excuse for breaking his healthy habits that is warmly forgivable. He admitted that he shared pregnancy cravings with his fiancée as they awaited the arrival of their first child. "My lady has been pregnant, so I've been eating a lot of dessert with her. But now all the cookies and ice cream is starting to show," he said as he rubbed his stomach.
"At the end of the day, you have to invite great people to help you do great things. I really believe that."
In our short time with Khaled, it was clear that his family is his soft spot. And to him, family includes the people in his inner circle. When asked about his cook "Chef Dee," who makes frequent appearances on his Snapchat, he gave a "big ups" to all the chefs out there.
He also credited his experience with a personal chef as motivation for reevaluating his wellness goals. "I want to get back to eating five to six meals a day, gluten-free, small portions, no salt, no sugar," he said. "All the right vibes."
Humbly, he echoed that though he is a very confident person, he has good people in his corner to help him reach his goals. "You know, at the end of the day, you have to invite great people to help you do great things," he explained. "I really believe that." In that moment it was apparent that Khaled has a vault's worth of valuable keys to happy living, and his coveted collection of cocoa butter is just one of many.