This Is the 1 Serum That Finally Ended My Battle With Hormonal Acne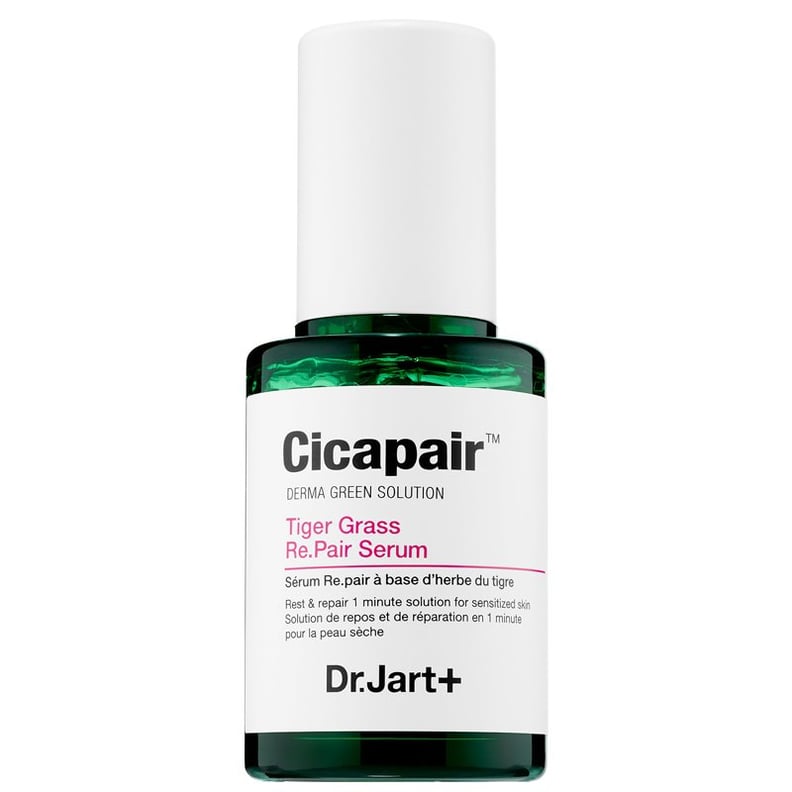 Dr. Jart's new Cicapair Tiger Grass Re.Pair Serum recently landed at Sephora, and I'm freaking the f*ck out. I've searched high and low and tried what feels like a million different "holy grail" products, but Dr. Jart's new Cicapair serum is the real deal. The serum takes its inspiration from Asian tigers that roll in an herb called centella asiatica to help soothe irritated or broken skin to create a zit-zapping product that has pretty much ended my battle with hormonal acne.
First off, the packaging on this product is so next level. Every time I use it, I feel like a mad scientist about to cure the world of pimples. The one-ounce bottle has a dropper top, but unlike your average serum, the button to load up the dropper isn't fully expanded. As you unscrew the top, it raises, allowing you to grab fresh product.
A little bit of this serum goes a long way. One click of the dropper can effectively cover all your problem areas. What I like to do is place the initial drop of product onto the area that looks like it needs it most. Then, as per the directions on the bottle, I gently pat the product into any area of my skin that looks irritated or red.
The Cicapair serum has quickly become a favorite of mine, and I find myself recommending it to anyone who will listen. I usually apply it after I've taken my makeup off and splashed my face with lukewarm water. Then I complete the rest of my skincare routine (moisturizer and a little bit of rose oil) and catch some zzz's. In the morning, even my deepest, reddest, most under-the-skin blemishes have significantly improved and then disappear within about 48 hours.
Now you may be thinking to yourself, "Forty-eight hours?! What kind of sorcery is this???" and I can assure you I had the same thought the first time I tried the Tiger Grass serum. But it's not magic; just a mix of herbs, minerals, and the centella asiatica complex that has been known to have skin-healing properties for hundreds of years.
The best part about this serum is that it's suitable for all skin types and is gentle enough to be used daily. But the longer I've used it, the more it's become a spot treatment rather than a part of my nightly routine. It's that good.