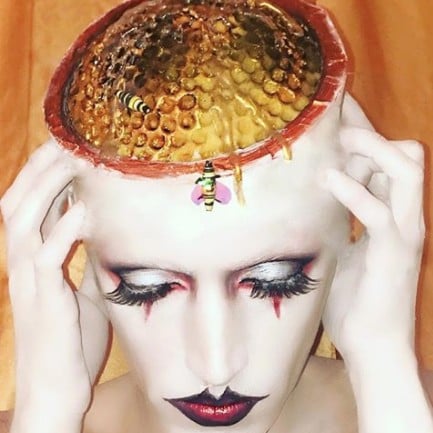 Every damn day, drag queens serve us with undeniably fabulous makeup looks that leave us screaming "YES!" at our Instagram feed. So it makes sense that drag Halloween makeup would truly be a thing of (fierce) beauty.
From American Horror Story to Vincent van Gogh, literally any costume can be tszujed up with a little extra makeup. Even your lazy cat costume can be elevated by some strategically sweeping lipstick.
So if you're in the market to give good face this Halloween, let these 10 extra looks be your inspiration on Oct. 31. And if you don't have a Drag Race-esque glam squad, don't fret. We went ahead and pulled the key product for every costume, so all you have to do is worry about mastering how to vogue on the Halloween party dance floor.
Lady Gaga
Aside from Phi Phi O'Hara's remarkable resemblance to Gaga, her lattice eye look and sweeping brows would certainly do Mother Monster proud. If you need to draw on fake arches for any costume this year, first tame the hair with Elmer's Glue and then mask your brows with a full-coverage concealer like Lancome Teint Idole Ultra Wear Camouflage Concealer ($34).
Ariel
This Halloween, we want to be where the people are — and also wherever The Lucy Furr is celebrating. Her fork accessory is spot-on (bonus points if you comb your hair with it). While we'd expect an overall seafoam green hue to this look, we are especially flipping (our fins) over the pop of purple eyeliner. We love Marc Jacobs Highliner in Grapevine ($25), as it applies precisely and stays put — even after a few spiked ciders.
American Horror Story Honey Hive
American Horror Story fans truly are a cult, so what better way to show your allegiance than on the spookiest night of the year? We are applauding Tori Sass's dedication in crafting her own prosthetics for this look. We also totally want to steal that black lip liner idea, using a hydrating drugstore option like J.Cat Beauty Roll It Up Auto Lipstick ($3).
Pumpkin Spice Everything
Whether you're a PSL addict or just being ironic (this is a safe space, you don't have to pretend!), show off your spicy side while repping Fall's favorite drink on your face. We love how James Majesty completed the costume by applying metallic gold freckles, like the Mr. Kate Beauty Marks temporary tattoos ($14).
White Rabbit
Beauty junkies are always the last to show up to the party (we'd rather be late than not on point!), so embody your belated arrival as the busy bunny from Alice in Wonderland. We love that Bombalicious Eklaver shows that you can work your makeup even when your face is half-covered by a rabbit nose. To re-create her metallic purple lipstick, opt for a gloss like Gerard Cosmetics Metal Matte Liquid Lipstick in Grape Crush ($19).
Cheshire Cat
You are better than last-minute cat ears. If you want to be a feline, go wild with this toothy look also inspired by Alice and Co. We love how Drag Brittany incorporated a cat eye into her homage. A sweeping mascara like Maybelline Volume Express The Rocket ($7) will mimic the effect of falsies.
The Wicked Witch of the West
Channel the OG bad witch from The Wizard of Oz, but take a page out of Trixi Del Mar's beauty book and give her a glam update. Stick on face rhinestones like the Gypsy Shrine Clear Face Gem Piece ($12) to prove that body glitter can last way past festival season.