Ellie Goulding's Secret to Get Glowing Skin Is 100% Free
In a time when extreme makeup is dominating Instagram feeds and YouTube tutorials, Ellie Goulding is reminding us of the basics: peach, pink, and shimmery, shell-colored metallics. For her premiere collaboration with MAC Cosmetics, the pop star has created one of the most wearable offerings we've seen yet (available Dec. 14 online and Dec. 17 in stores). The romantic take on beauty in 2015 feels light and refreshing.
"I wanted the collection to be literally what I wear," she told me at The Edition Hotel Miami Beach before she performed a set during Art Basel to celebrate the line. "Every single day I get asked what makeup I wear and what colors I use, so I wanted it to be a representation of me — what I do during the day and on stage."
According to Ellie, makeup is an integral part of her style, and it often juxtaposes her edgy clothing choices. "I'm a bit of a tomboy, but not with makeup," she revealed. "I'll be wearing ripped jeans, t-shirt, and Doc Martens — which I wear religiously — but I still want my makeup to be perfect." To add to her effortlessly cool vibe, Ellie often wears her midlength blond hair in textured beach waves. She credits Bumble and Bumble volumizing products and Kerastase conditioner for helping her to create the look.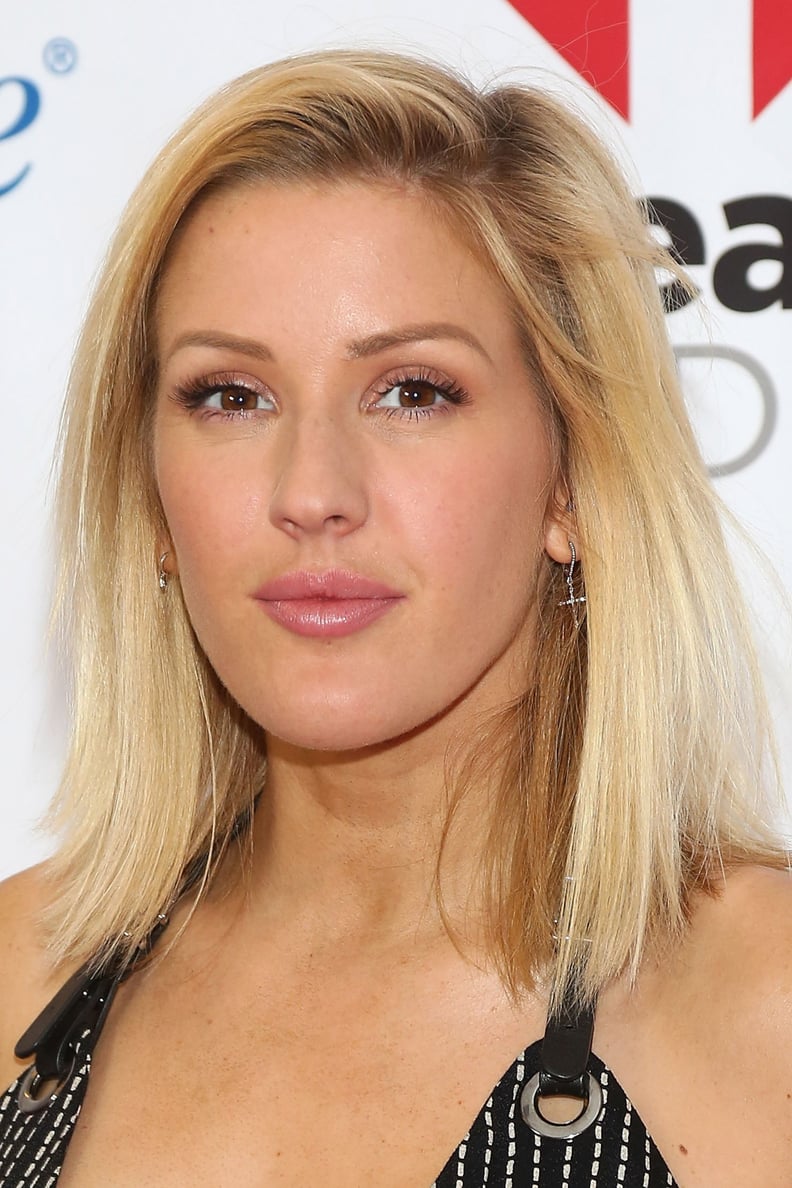 Google photos of Ellie, and you'll discover her face is almost always painted in a medley of ballerina pinks, sheer corals, and dusty browns. The shades in her MAC collection mirror her real-life palette. There's even a strawberry blonde eyebrow pencil, which redheads know is difficult to find. Everything — including the makeup brushes — is accented with chic rose-gold details.
"It's very glowy," Ellie confirmed of her shade picks. "I'm not a red-lip girl. There has been a lot of the red-lip thing, and I wanted to do something that was a bit more natural. But you can also wear it on a night out."
What makes Ellie's offering genius is that it truly does function as dawn-to-dusk makeup. Two compacts named after her album Halcyon come in day and night iterations. The former contains a cream bronze base color plus four powder eye shadows, while the latter allows you to bump up your look with a quad of multiuse creams and a setting powder. When I used it against my St.-Tropez spray tan, the medley of hues made my skin look luminous.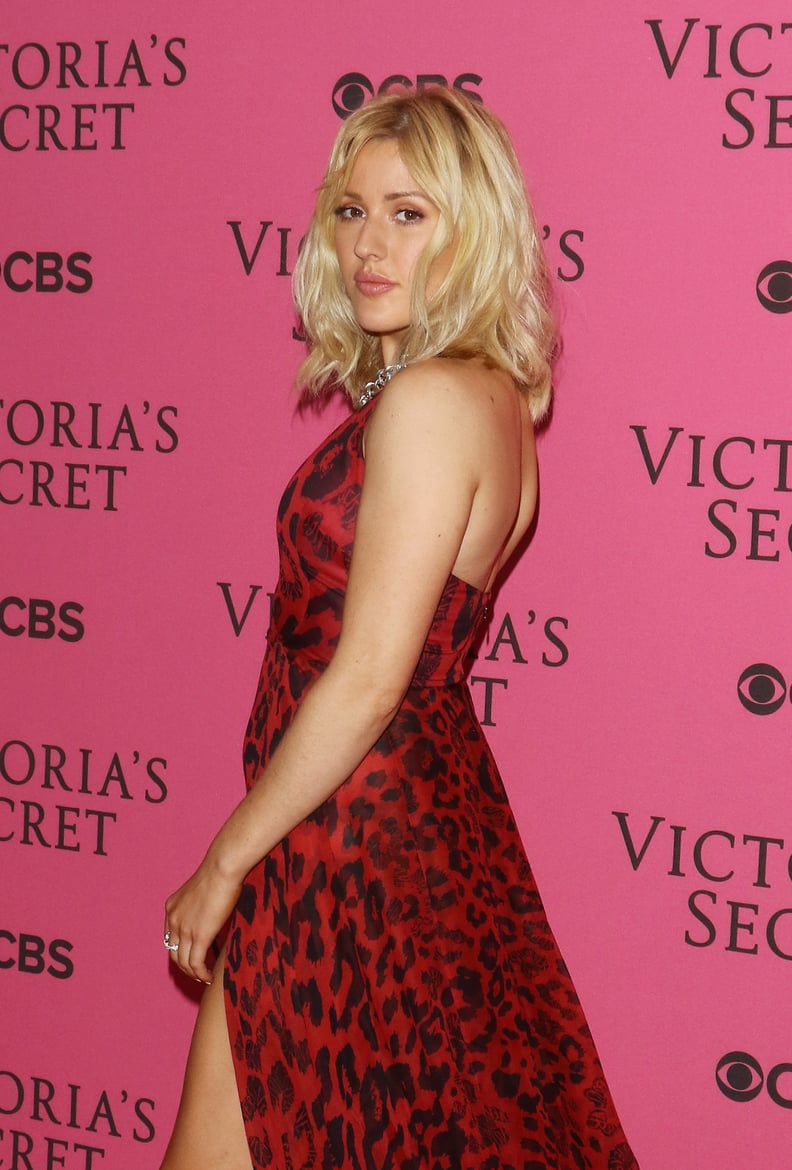 "They're kind of self-explanatory," Ellie said of these standout sets. "I wanted to make it easy and [create] something you could put in your handbag and not have to carry around a bunch of different stuff. It's the first time MAC has done them, so it's pretty exciting." When it comes to making her own look more dramatic for evening, she rocks a darker eye, more eyeliner, and faux eyelashes. And to help you achieve this, the collaboration includes both individual and a set of falsies.
There are also lip glosses, lip crayons, and lipsticks that come in two variations — a lighter version for day and a more saturated version for evening. However, Ellie wants not to overdo it with darker shades. "I used wear very heavy eyeliner that changes your look completely in one go," she said of her biggest beauty regret.
Though the products certainly help achieve a radiant face, Ellie's approach to skin care is about being healthy from the inside, out. "I fly a lot so I have to stay very hydrated and moisturized," she said. "My skin is naturally quite glowy — I'd say oily, but oily is such a weird word. So I actually find myself blotting a lot." (There's a blotting powder in the Halcyon Night compact.)
Her trick to staying healthy on the road is drinking green tea about five times a day. "I don't even know if that's good for you," she admitted. "But I don't drink coffee, so it's a substitute."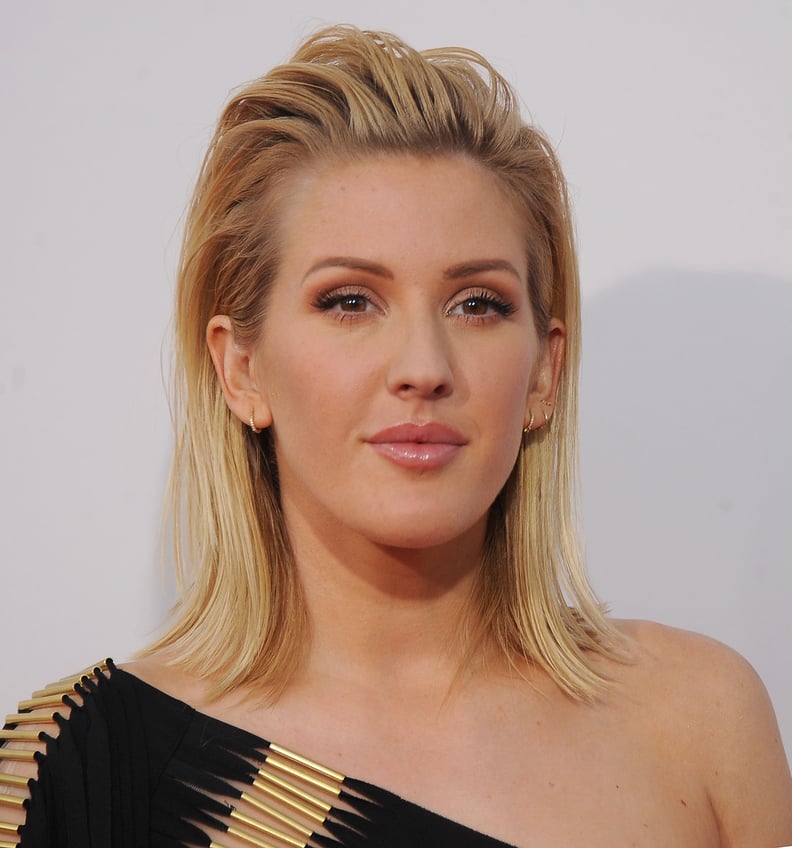 But perhaps her biggest secret weapon to youthful skin (which I can attest is gorgeous up close in person) is sweating. Thanks to intense workouts, Ellie revealed that she perspires a ton. And according to the fit pop star, it will help both your body and your skin. "It's really good to sweat," she said. "When you sweat initially and smell a bit, that's because toxins are coming out of your skin — especially if you drink. I sweat a lot from doing high-intensity training, so I'm constantly detoxing my skin without even really trying."
In addition to her MAC collection, Ellie's career has been on fire. In November, she released her newest album, Delirium, which she believes will satisfy her fans. "If you like Halcyon, you'll love this one," she enthused. "Delirium is my most energetic, dance-orientated [album]. But still very deep and still very mindful of everything that's going on around me. It's like a revelation. My friends like to call it an 'era' like an 'era of delirium.'"
Speaking of friends, Ellie's holds a prestigious spot in Taylor Swift's squad, appearing in her famed "Bad Blood" video. When asked about being part of this cool-girl crew, she responded: "I just make sure that I surround myself with really awesome people. If they're in music, it definitely helps, because they can relate a lot to what I do. But it's also good to have friends who have no idea about what I do. It's really refreshing to have those people, like my best friends. My makeup artist [Lucy Wearing] is one of my best friends, and so is my assistant — it's perfect."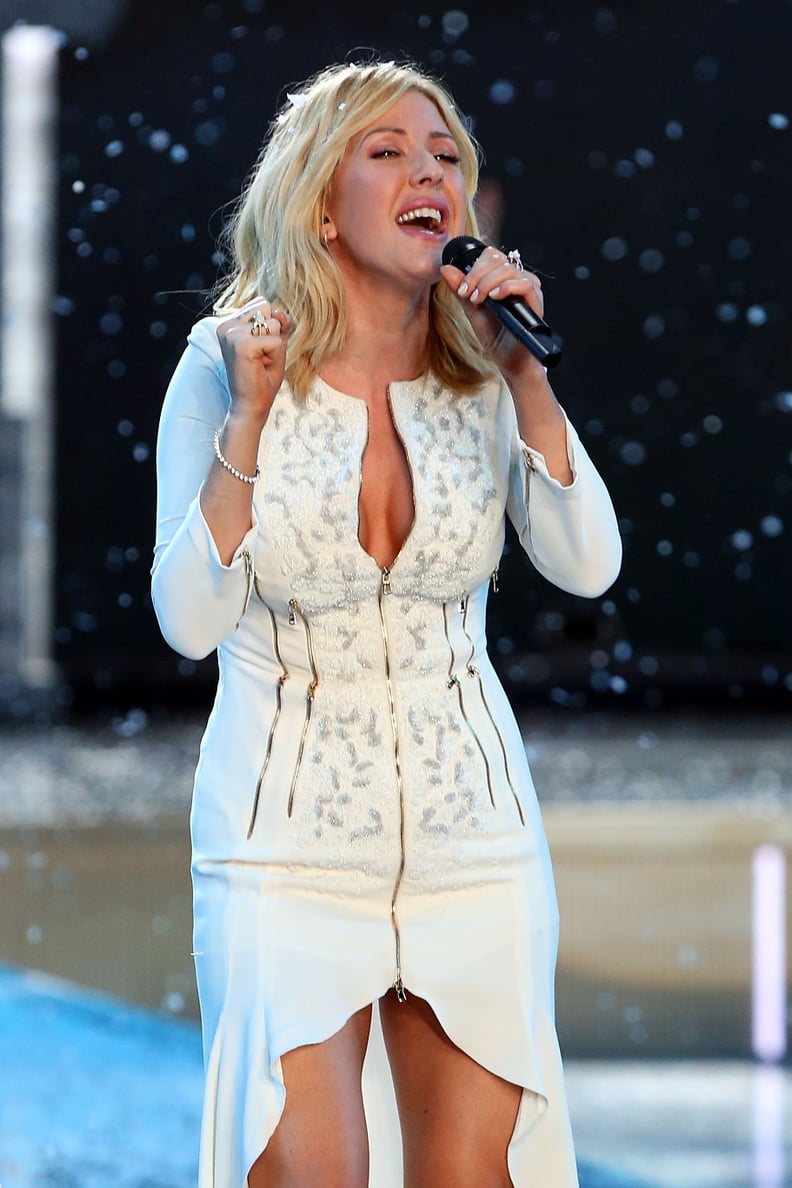 She rejoined many of the "Bad Blood" video stars when she performed in the prestigious Victoria's Secret Fashion Show (airs on Dec. 8). "What an honor!" she gushed about singing on the runway. "I was brought in last minute, and even if I was tenth choice for Victoria's Secret, I'd still be honored because it's such an amazing show to be able to do."
While Ellie rocked on stage (I saw it live!), the quiet moments behind the scenes were special to her as well. "Everyone was just so lovely and genuine fans of what I do. The VS executives, runners, and designers were checking on me and coming to my dressing room to hang out during sound check." But that's not Ellie's only TV performance this week; on Dec. 7, she will take the stage during the semifinals of NBC's The Voice.
So what does it feel like to have Ellie's view from the top? It means a huge amount," she said of her success. "I never expected to be where I am now. It's been a long progression of my career."